Tortured to Disability, 65-year-old Woman Targeted Again for Her Faith
(Minghui.org) Ms. Ji Yunzhi, 65, from Chifeng City, Inner Mongolia, used to suffer from colitis, nephritis, a herniated lumbar disc, and vertigo, among other health issues. She regained her health in 1996, three months after she started to practice Falun Gong, a spiritual discipline based on the principles of Truthfulness-Compassion-Forbearance and includes five exercises.
Due to Falun Gong's popularity, the Chinese Communist Party (CCP) ordered a nationwide persecution campaign on July 20, 1999, seeking to eradicate Falun Gong from China. Since that time, Ms. Ji has been arrested and given two forced labor camp terms, during which she was tortured until she became paralyzed for not renouncing her faith. She was also harassed repeatedly by the authorities after her release.
On September 9, 2021, Ms. Ji's home was ransacked and many of her belongings were confiscated. The police had planned to arrest her but decided against it when they saw how bad off she was as a result of being shocked repeatedly with electric batons in the forced labor camp.
Below is what Ms. Ji has endured.
Three Years of Forced Labor
Ms. Ji was arrested on June 24, 2001, and taken to Zuoqi Public Security Bureau, where she was not allowed to sleep for two nights. She was also threatened, forced to stand, and beaten. Her nephew was arrested and fined 200 yuan for writing "Falun Gong will be redressed sooner or later" on a piece of paper.
The police handcuffed Ms. Ji to a chair for a night before taking her to Chifeng City the next day. She was then forced to walk, beaten, and again not allowed to sleep.
Ms. Ji was later transferred to the Yuanlinlu Detention Center. She was given corn cakes for almost every meal and was forced to do hard labor for over 10 hours every day. She was prohibited from doing the Falun Gong exercises. If she refused to cooperate, she would be hung up and handcuffed tightly. The guards refused to let her down at mealtime until she threatened to go on a hunger strike.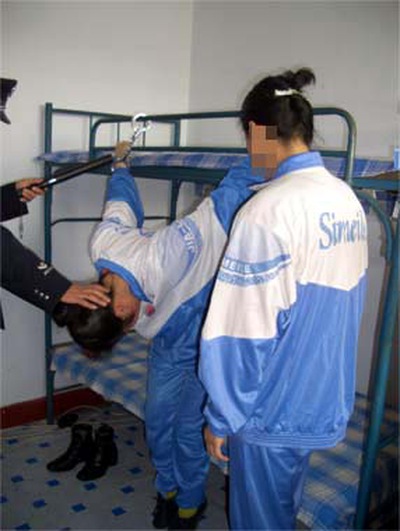 Torture re-enactment: Hung up and handcuffed
When Ms. Ji was handcuffed, the guards slapped her mouth. She was later given three years of forced labor. When she refused to sign the paperwork, the guards grabbed her hand and pressed her thumbprint on the document.
In Tumuji Forced Labor Camp, Ms. Ji and other practitioners were prohibited from crossing their legs, interacting with anyone, or using the bathroom as needed. They weren't allowed to close their eyes while they sat or the guards would assume they were doing the Falun Gong meditation. They were monitored closely and sometimes beaten by inmates instigated by the guards. One guard often swore at them.
On October 13, 2001, Ms. Ji and other practitioners went on a strike and refused to work to protest the persecution. The labor camp hired local gang members and several police officers were dispatched to the labor camp.
When Ms. Ji tried to explain to the labor camp management why they were striking, inmates carried her out and dragged her to a gate. She was later taken to a room and shocked on her face with electric batons. Ms. Ji became incontinent and passed out after two hours of this.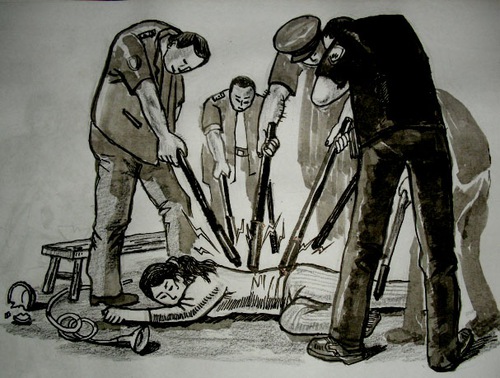 Torture illustration: Shocking with electric batons
Ms. Ji couldn't care for herself the next day and had no appetite. However, the guards insisted that Ms. Ji was faking illness and threatened her. Twenty days later, she was transferred to another team and ordered to do the forced labor. She refused and was beaten. Even though Ms. Ji had difficulty walking, other practitioners were not allowed to help her carry her food, and the authorities threatened to starve her to death. Anyone who tried to help Ms. Ji was verbally abused.
The guards took Ms. Ji to the hospital where the doctors carried out a hasty physical exam and said that she was not sick. After that, the guards became more brazen in torturing her.
Once, Ms. Ji had a seizure when she was taken to the hospital. The police left her on the floor and didn't seek medical help. After she came to, she was taken back to the labor camp without being examined.
Another time Ms. Ji was taken to the hospital for a physical exam, the doctor, who was colluding with the labor camp, said that Ms. Ji was healthy. Ms. Ji, who had muscle atrophy in one arm, criticized the medical team in front of other patients. A nurse from the labor camp got angry and dragged Ms. Ji by her bad arm to a specialist. The nurse told the specialist that Ms. Ji had criticized the hospital for lacking the medical expertise to correctly diagnose her, intending for the specialist to get so infuriated that he would refuse to examine her. But the specialist wasn't fooled and examined Ms. Ji carefully. He diagnosed her with a frozen shoulder.
Back in the labor camp, captain Guo found another doctor to check on Ms. Ji. A guard dragged Ms. Ji by her bad arm, causing her to tremble in pain. The guard told the doctor to give Ms. Ji a cortisone shot, but Ms. Ji's heart rate was over 200 beats per minute and he refused.
Ms. Ji could no longer care for herself, so the guard dragged her outdoors in the freezing cold while other practitioners were forced to crush corn. Once, the labor camp was cleaning the cesspit and the guards dragged Ms. Ji over, forcing her to smell it. Ms. Ji was in critical condition due to all the torture and she suffered from severe constipation.
The labor camp also prevented her family from visiting her. Her sister once cried and knelt on the ground, begging the authorities to let her in. Due to her family's persistent efforts to rescue her, Ms. Ji was released on medical parole in February 2002, nearly eight months later.
Harassed Repeatedly after Her Release
After she returned home, Ms. Ji's family took her to the hospital, where she was diagnosed with muscle atrophy, neuropathy, and heart disease. She couldn't walk or stand for months, and she could feel her heart pounding whenever she heard a noise.
The local authorities harassed Ms. Ji after she had started to recover. A woman from the neighborhood committee came and told her the mayor wanted to talk to her. Ms. Ji said she couldn't go due to her health and told the woman about the torture she had suffered. Just as the woman was leaving, the mayor and three other officers broke in. Ms. Ji tried to tell them about Falun Gong and the persecution. When she started having a seizure, the group quickly called for an ambulance and left.
One day, the neighborhood committee members attempted to harass Ms. Ji. When she wasn't home, they called her husband and told him to take them around to look for Ms. Ji.
In 2007, the Political and Legal Affairs Committee deceived Ms. Ji's husband into cooperating with them in brainwashing her. They found a former practitioner who had renounced Falun Gong and ordered her husband to take the person home to "transform" Ms. Ji. Ms. Ji refused to comply.
Later, the manager where Ms. Ji worked told her to come in for a meeting. Her children told her that the authorities were trying to take her to the local brainwashing center. She tried to escape, but her relatives stopped her.
When the police came and attempted to arrest her, she suffered another seizure. Her family took her to the hospital, and the police followed. Seeing that she was still flailing about and often fainted in the hospital, the police gave up on arresting her.
Second Forced Labor Camp Term
On April 25, 2008, eight police officers arrested Ms. Ji while she was on her way home from her mother-in-law's home. She suffered a heart attack, which triggered a seizure, and she lost consciousness. The officers then confiscated a cell phone and Falun Gong books and materials before taking her to the local detention center. They left her on the cold cement floor.
The detention center doctor treated her with acupuncture, but he jabbed the top of her head and the soles of her feet until she bled. Ms. Ji continued to experience spasms after her treatment. In frustration, she slammed her hands against the floor repeatedly, causing bruises and swelling. The doctor accused her of faking the condition and said, "It's no use to pretend. You've done this many times before, and we are taking you to the forced labor camp anyway."
Ms. Ji's spasms lasted the entire night, but no one took care of her. Two inmates took turns sitting on her arms to hold them still and sometimes slapped her in the mouth.
When the police later interrogated her, the spasms made her to hit her head against the wall. The officers responded by grabbing her hair and smashed her head against the wall. Two male inmates then dragged her out to take photos of her. She lost consciousness when being dragged out. Her toes bled, and her wrists were cut deeply by the handcuffs, leaving a permanent scar.
An inmate slapped her face so hard that it was swollen for over a month. After she regained consciousness, she pointed to her injuries and told the deputy director, "Look at how badly they beat me." The director replied simply, "Don't dwell on it."
Ms. Ji was in the detention center for six days. She did not drink or eat anything. The police force-fed her until she choked and threw up everything she had eaten. She was covered with bruises and scars, which didn't go away until a month later.
On April 30, 2008, Ms. Ji was taken to the Hohhot Women's Forced Labor Camp. Because the detention center guards were afraid the labor camp would refuse to admit her, they wrote on Ms. Ji's medical form that she was healthy. When the labor camp asked what had happened to her, the guards said that it was due to Ms. Ji going on a hunger strike.
Ms. Ji was unable to take care of herself in the labor camp. The guards asked a doctor to put Ms. Ji on a drip, but Ms. Ji refused to allow it. She had a seizure when the doctor hit her. The guards then told an inmate to douse Ms. Ji repeatedly with cold water, almost suffocating her.
The guards ordered an inmate to mix an unknown drug into Ms. Ji's food. She threw it away because it tasted bitter.
Ms. Ji had two heart attacks and was rushed to the Hohhot City First Hospital each time. The guards told the inmates to force-feed and torture Ms. Ji. Later, when the doctor could no longer detect her blood pressure, he told the guards that Ms. Ji was dying.
The doctor issued a critical condition notice for Ms. Ji and kept her on oxygen. When she recovered slightly, she was taken back to the labor camp, only to be hospitalized again shortly after. Because she spat out everything she ate, three inmates forced her to eat. If she refused, they sat on her and force-fed her, which made her faint.
Inmate Liu Aiping, who was assigned to monitor Ms. Ji, stopped torturing her when she saw her symptoms recur. The guards then ordered her to douse Ms. Ji with cold water.
Once, Ms. Ji was drinking soup when the hospital chief instructed her to drink glucose. When she didn't, the chief threatened her, "This is a hospital. We have all kinds of ways to torture you. If you die in the hospital, your family will never know the reason you died!"
The chief put Ms. Ji on a drip and Ms. Ji started to have violent spasms within a few minutes. After the inmate watching her told the chief the second time that Ms. Ji was in danger, he took Ms. Ji's blood pressure and instructed the inmate to take Ms. Ji off the drip.
The inmates became more brazen about torturing Ms. Ji, pushing her to the brink of death many times. She was diagnosed with heart disease, gallbladder disease, and other illnesses. When she was at death's door, the authorities called her family to pick her up from the hospital. Her family was forced to pay all of her medical bills.
Harassed Again
On May 7, 2020, over 10 police officers went to Ms. Ji's home and tried to open her door using the key that they confiscated from her in 2008. Ms. Ji thought it was her children and went to open the door. When she saw the police through the peephole, she quickly locked the door. They rang the doorbell twice and threatened to come back.
The officers from the neighborhood committee and 610 Office continued to harass Ms. Ji. They called her again in July 2021.
Passport Application Denied
Ms. Ji's two sons and daughters-in-law emigrated to the United States. Because her eldest grandson was too young, her son left the child with her in China. When the boy was six in 2017, Ms. Ji wanted to take him to the U.S. and went to apply for a passport. The police first told her that the application was approved and sent her home. The immigration officer called and told her that the passport could not be issued due to technical problems.
Later, Ms. Ji's younger son asked her to come to the U.S. for the birth of his child. She went to the police department several times to apply for a passport but was never allowed to meet with any of the officers.
Ms. Ji finally obtained two officers' contact information and called them. They still denied her passport application and threatened to fine her if she talked to them about Falun Gong again.
Home Ransacked
Ms. Hu Guizhi, 76, a friend of Ms. Ji, had a fight with her husband and son. Her daughter went to see Ms. Ji on September 7, 2021, and asked her to help them out.
The next day, Ms. Hu's husband took his wife to Ms. Ji's home. She suddenly suffered a severe medical condition a day later and died in Ms. Ji's home. Her husband denied that he took his wife there and blamed Ms. Ji for causing her death.
Ms. Hu's family condemned Ms. Ji and reported her to the police.
Lindong Town Police Station officers ransacked Ms. Ji's home. They confiscated a photo of Falun Gong's founder, more than 100 Falun Gong books, multiple media players, one MP3 player, some stickers, some paper bills with the facts about Falun Gong printed on them (as a creative way to overcome the strict information censorship in China), about 1,000 yuan in cash, more than 40 USB drives, and a safe.
Ms. Ji's ID card, her husband's salary card, six bank books with about 28,000 yuan recorded in them, more than 10,000 yuan in cash, Hong Kong reunification commemorative coins, and a necklace that her son sent her from overseas were also confiscated.
Unable to withstand the shock, Ms. Ji suffered another seizure and couldn't talk. She tried to stop the police from ransacking her home but wasn't able to. The police also videotaped her and submitted the recording to the police station.
The police also attempted to arrest Ms. Ji, but relented due to her heart condition.
Related reports:
The Severe Torture of Practitioners at Tumuji Female Labor Camp
Practitioner Ji Yunzhi Persecuted to Disability by Chifeng City "610 Office" in Inner Mongolia
Facts about the Persecution of Ms. Ji Yunzhi in Inner Mongolia Autonomous Region
Police Officer Li Bing from Chifeng City Persecutes Falun Dafa Practitioners
Views expressed in this article represent the author's own opinions or understandings. All content published on this website are copyrighted by Minghui.org. Minghui will produce compilations of its online content regularly and on special occasions.