(Minghui.org) Ms. Che Jinxia made her second appearance in the Xiangyang District Court on November 30, 2020, for refusing to give up her faith in Falun Gong, a spiritual discipline that has been persecuted by the Chinese communist regime since 1999.
Ms. Che, who is from Jiamusi City, Heilongjiang Province, attended the closed-door video hearing in the Jiamusi City Detention Center, where she has been held for 17 months since her arrest on July 25, 2019. Her family was barred from attending the hearing.
The November hearing came one month after her first hearing on October 26, also through a video conference at the detention center and attended by two of her family members.
According to Ms. Che's family, the prosecutor, Li Lifeng, presented a large amount of Falun Gong materials as evidence for the prosecution. Ms. Che argued that, except for the Falun Gong books and magazines that were for her personal use, the 150 Falun Gong banners the police claimed to have found in her bag weren't hers and the DVD burner confiscated from her father wasn't pertinent, either. She added that freedom of belief is her Constitutional right and her reading Falun Gong books at home didn't cause harm to anyone or obstruct the enforcement of any law.
A piece of testimony from Ms. Che's neighbor Song Yuhua was also used to charge her. Song claimed that Ms. Che often went out to distribute Falun Gong flyers and DVDs and had given some to Song. Ms. Che denied the allegation and said she never gave Song any Falun Gong materials and barely knew her.
After the hearing, Ms. Che's husband went to Song to verify her statement. Song said that the police questioned her on December 25, 2019. She said they asked her if she'd seen any Falun Gong practitioners visiting Mr. Che (Ms. Che's father) in apartment 201 (where Ms. Che lives) or if she noticed Mr. Che and her daughter printing and distributing Falun Gong materials. She told the police that she didn't know them or what they did at home. She said she signed the interrogation record without reading it and didn't realize the police had fabricated an account. She told Ms. Che's husband that she was willing to accept cross-examination in court.
After Ms. Che's husband submitted Song's refutation, the prosecutor returned Ms. Che's case to the police for verification.
When Ms. Che appeared in court again on November 30, the presiding judge, Song Tao, didn't allow her family to attend the hearing. They suspected that the judge and prosecutor were trying to cover up the fabricated evidence against their loved one and they worried that Ms. Che would be wrongfully sentenced for her faith.
Tortured after Arrest, Family Threatened for Seeking Justice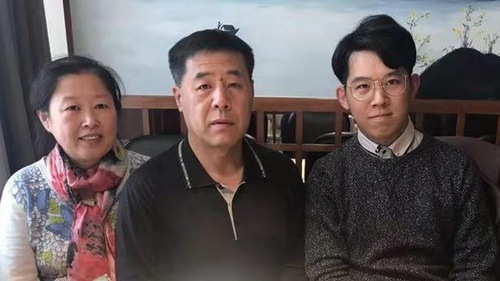 Ms. Che Jinxia and her family
Ms. Che, 54, was arrested on July 25, 2019, while visiting a friend. Changqing Police Station officers forced her to do a handstand and pulled her legs apart. They also sexually assaulted her and tortured her in other ways. Much of her hair was pulled out and she was covered in bruises.
On October 22, 2019, the Jiaoqu Procuratorate charged Ms. Che with "undermining law enforcement," a standard pretext used to sentence Falun Gong practitioners. Her case was later transferred to the Xiangyang District Procuratorate, which forwarded it to the Xiangyang District Court in mid-March 2020.
Ms. Che's husband filed legal complaints with several government agencies against the nine policemen involved. He also reported the police brutality on the special government website. Instead of addressing his complaints, the police threatened him and took away the evidence of the assault.
Ms. Che's then 86-year-old father Mr. Che Weiqi also visited the local police station many times in the snowy winter to seek justice for her, but to no avail.
When Ms. Che's lawyer visited her in the Jiamusi City Detention Center on July 22, 2020, he learned that Ms. Che had never recovered from the torture. She'd been bedridden for six months. She had trouble taking care of herself, walking, and using the restroom. She also had injuries to her skull, right leg, little finger, and lumbar spine. In addition, she had difficulty breathing and eating. She was in pain all over and couldn't sleep at night.
She said she'd asked to see a doctor several times, but the detention center kept finding excuses to put her off.
Learning of her situation, her family entrusted the lawyer to request her release on medical bail with the Xiangyang District Procuratorate and Xiangyang District Court. The lawyer also filed complaints against the police for torturing her but to no avail.
Legal Representation Stymied
Ms. Che's family found prosecutor Li and told him how she had been tortured. Li said, "I've seen Che Jinxia in the detention center. She didn't tell me that she was tortured."
Li also told Ms. Che's family that hiring a lawyer for her would result in a longer prison term for her. If they dismissed the lawyer, the judge would give her a lighter sentence and she could return home sooner.
Her family believed Li and dismissed the lawyer, so judge Song appointed a government lawyer to represent Ms. Che and instructed him to enter a guilty plea for her.
When the court-appointed lawyer visited Ms. Che in the detention center, he deceived her, saying that her husband had been arrested because of her. Only after she wrote a statement to renounce Falun Gong and pled guilty would he be released. Ms. Che believed him and wrote the required statement.
Since July 2019, most Falun Gong cases in the Jiamusi region have been submitted to the Xiangyang District Procuratorate and Xiangyang District Court and handled by prosecutor Li and judge Song. They sometimes use reduced terms or other tactics to convince the practitioners' families to dismiss their lawyers or prevent the lawyers from representing the practitioners.
Related reports:
Woman Tortured and Incapacitated in Custody, Faces Trial for Her Faith
Husband Threatened by Police Officers Who Had Tortured His Wife
Family Files Complaint Against Police for Torture of Woman Who Was Denied Medical Treatment
Heilongjiang Woman Tortured in Custody, Police Refuse to Release Her Even After Prosecutor Returns Her Case for Lack of Evidence