Hunan Woman Dies After Cancer Recurrence While Imprisoned for Her Faith
February 16, 2020 | By a Minghui correspondent in Hunan Province, China
(Minghui.org) Ms. Fan Wenxiu's cancer recurred after she was sentenced for spreading information about her faith in Falun Gong. The Yueyang City, Hunan Province resident was later released on medical parole. She never recovered and passed away on January 21, 2020. She was 53.
Falun Gong, also known as Falun Dafa, is an ancient spiritual and meditation discipline that has been persecuted by the Chinese communist regime since 1999.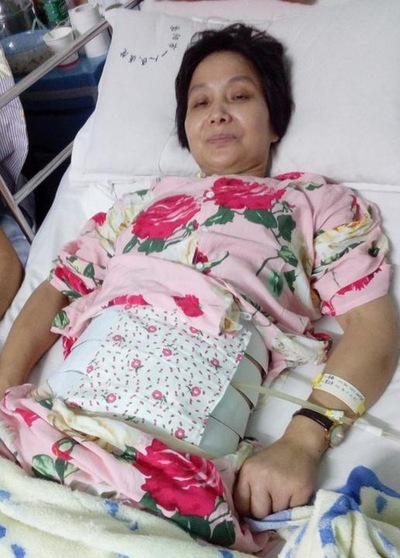 Ms. Fan Wenxiu in the hospital
Ms. Fan's husband was killed in an accident when she was only 29. She struggled to raise her daughter alone and was finally relieved when her daughter landed a job after graduating college. Her joy didn't last long as she was diagnosed with late stage cancer. She had several tumors removed in 2014.
Upon being discharged from the hospital, Ms. Fan began to practice Falun Gong and her health soon recovered. She moved to her older brother's home and helped to care for their mother in her 80s.
Because of distributing informational materials about Falun Gong, Ms. Fan was reported and arrested on September 1, 2017. A group of officers searched her residence when her mother was at home alone. Ms. Fan's cellphone, Falun Gong books and related materials were confiscated.
Junshan District Procuratorate approved her arrest on September 6, 2017 and forwarded her case to Junshan District Court on December 29, 2017.
Ms. Fan stood trial on February 2, 2018 and was sentenced to 3.5 years in prison with 5,000 yuan fine.
Her brother and sisters pushed for her release due to her past medical record, to no avail.
Ms. Fan was sent to Changsha Women's Prison on March 13, 2018. She was subjected to intensive brainwashing aimed at forcing her to renounce her faith. Her cancer soon recurred due to the mental pressure. She also suffered colon perforation.
She had surgery on July 27, 2018 and had an ovarian tumor removed. Only then did the prison approve her medical parole and release her.
Ms. Fan resumed her daily Falun Gong exercises upon returning home and she began to regain her health. She was able to go out for grocery shopping and cook.
In March 2019, officers from Junshan District Justice Bureau harassed her at home and forced her to wear a digital monitoring device. A few days later, she began to have blood in her stool and suffered from edema. Yet the police still harassed her from time to time.
Due to the mental pressure from the persecution, Ms. Fan's health worsened and she passed away at a local hospital on January 21, 2020.
Related report: