Shandong Woman Convicted for Her Faith, Family Members Also Targeted
Nov. 23, 2020 | By a Minghui correspondent in Shandong Province, China
(Minghui.org) A Pingdu City, Shandong Province resident arrested last year for her faith in Falun Gong was sentenced to four years in prison and had her appeal recently rejected. Several of Ms. Zhan Zhongxiang's family members were targeted for seeking justice for her: her sister-in-law was sentenced to one year and two months, her son faces prison time after two court hearings, and her nephew and sister were arrested in late October 2020.
Falun Gong, also known as Falun Dafa, is an ancient spiritual and meditation discipline that has been persecuted by the Chinese communist regime since 1999.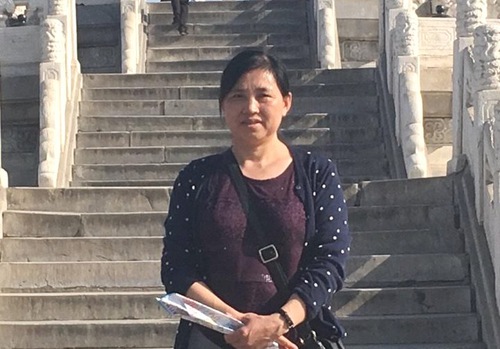 Ms. Zhan Zhongxiang
Ms. Zhan was arrested on September 24, 2019, at a farmer's market. Two other Falun Gong practitioners, Ms. Zhou Jun and her aunt Ms. Zhou Yuxiang, who were arrested with Ms. Zhan, were sentenced to one year and four years, respectively, on July 30, 2020. 
Ms. Zhan's case took longer to resolve. During a video hearing in the Pudong Detention Center by the Huangdao District Court on August 12, 2020, her lawyer entered a not guilty plea for her. 
Ms. Zhan testified in her own defense. She asked the prosecutor, "What did I do wrong by going to the farmers' market?" She also questioned the prosecutor as to why the police ransacked her home without her or her family members' presence. 
Unable to answer her questions, the prosecutor accused her of having Falun Gong materials at home for distribution. He also cited a few witnesses who reported Ms. Zhan for distributing materials. 
The lawyer refuted the accusations and said that according to the testimony submitted by witness Han Xiaodong, there was no evidence indicating that the materials he had received had been distributed by Ms. Zhan.
Then the prosecutor blamed Ms. Zhan for talking about Falun Gong at her son's wedding. Ms. Zhan's lawyer replied, "Every citizen has the right to talk about their faith, including Falun Gong practitioners. This is very normal. It's one's freedom of belief."
Before the end of the hearing, judge Ou Xiaobin asked Ms. Zhan, "Are you pleading guilty?" 
Ms. Zhan said, "I am not guilty. We Falun Gong practitioners are good people. We shouldn't be tried for our faith."
On August 26, the judge sentenced Ms. Zhan to four years. Ms. Zhan asked the judge, "When you sentence a good person like me to prison, doesn't it weigh on your conscience?" 
The judge was first taken aback by her question, but then replied, "As long as I'm following the law."
"You didn't follow the law at all. I didn't break any law in practicing Falun Gong," Ms. Zhan responded. 
The judge lowered her head and remained silent.
Ms. Zhan's lawyer visited her at the detention center on September 1 and filed an appeal for her. Her family recently learned that the Qingdao Intermediate Court has upheld the original verdict.
Family Members Arrested and Tried
Ms. Zhan's son Mr. Shao Zhanpeng, her nephew, and her sister-in-law went to the police station to inquire about her case one day after her arrest on September 24, 2019. Her son was beaten by the police and sustained severe injuries to his right eye and ribs. He also had bruises all over his body.
The police called Ms. Zhan's son, sister-in-law, and nephew on October 22, 2019, asking them to report to the Tonghe Police Station. Her sister-in-law went, only to be arrested at the police station and later sent to Pudong Detention Center, with the charge of "obstructing law enforcement." She was later sentenced to one year and two months on a fabricated robbery charge.
Ms. Zhan's son and nephew escaped arrest by not going to the police station, but they received more calls threatening to arrest them should they keep seeking Ms. Zhan's release.
Jia Shuhao, deputy head of the Renzhao Police Department, blamed Ms. Zhan's family for submitting information to Minghui.org about the beating Ms. Zhan's son sustained at the police station. 
On July 29, 2020, two weeks before Ms. Zhan's court hearing, her son was arrested at a train station, days after he submitted a request to represent his mother in court. Mr. Shao was interrogated and put on criminal detention with the charge of "disrupting social order." 
Mr. Shao was sent to the Chengyang Detention Center on August 14. The police submitted his case to the Pingdu City Procuratorate on August 27, with the additional charge of "robbery." The prosecutor indicted him and moved his case to the Pingdu City Court on August 31. 
Mr. Shao's lawyers went to the court on September 1 to submit the appropriate paperwork. The court staff said they hadn't received his case document, so the lawyers couldn't review it yet. 
In the afternoon, the lawyers visited Mr. Shao at the detention center. He asked the lawyers to deliver the message to his family that he missed his wife and ten-month-old daughter, as well as his grandfather in his late 80s. He said he was sorry that he couldn't help care for his grandfather, who was struggling with poor health.
On September 14, Mr. Shao was transferred to the Pingdu City Detention Center and has been held there since.
Mr. Shao appeared in the Pingdu City Court on October 10. His lawyers said that because he has filed complaints against the police for beating him while he sought his mother's release, it's possible that the police arrested him in retaliation. The lawyers also said that Mr. Shao was innocent of any robbery charge. 
As judge Dou Zaiqiang has revealed that he was planning to sentence Mr. Shao to 3.5 or 4 years, the lawyers questioned the rationale for such a heavy term. The judge replied that it was because Mr. Shao's "attitude was bad" and he refused to plead guilty.
The court held a second hearing on November 6. Mr. Shao's lawyers again entered a not guilty plea for him. They said that it was normal for Mr. Shao to seek justice for his mother and he hadn't done anything that would harm society. On the contrary, it was he who was beaten by the police.
The prosecutor attempted to smear Falun Gong and blamed Mr. Shao for exposing the police violence on Minghui.org, but was stopped by the judge, who reminded him that he didn't have any legal basis for his claims. When the prosecutor listed Mr. Shao's asking the police about his mother's case as "prosecution evidence" to charge him for "robbery," even the judge couldn't help but laugh. 
The judge later told Mr. Shao's lawyers in private that he also thought there wasn't enough evidence for the charges and he didn't want to take the case, but he was pressured to do so by his supervisor and the president of the procuratorate.
On October 26, the police arrested Mr. Shao's cousin (Ms. Zhan's sister's son), with the excuse that he had shouted at the police "Why are you beating my cousin?" on September 25, 2019, when the police beat Mr. Shao when they went to the police station to seek Ms. Zhan's release.
The next day, the Renzhao Police Station told Ms. Zhan's sister to come sign documents about her son's case. When she went there, the police asked whether she had also come to the police station on September 25, 2019, to seek Ms. Zhan's release. They arrested her after she answered in the affirmative.
Related reports:
A Woman and Her Niece Sentenced to Prison for Practicing Falun Gong
New Grandmother Remains Captive for Her Faith – Her Son Beaten and Sister-in-law Detained for Seeking Her Release
Five Shandong Residents Arrested for Practicing Falun Gong
Shandong Woman Arrested, Son Beaten When Requesting Her Release
Related report: