Shandong Woman Arrested, Son Beaten When Requesting Her Release
January 04, 2020 | By a Minghui correspondent in Shandong Province, China
(Minghui.org) Five residents in Pingdu City, Shandong Province, were arrested on September 24, 2019, for their faith in Falun Gong. When one Falun Gong practitioner's family went to request her release the following day, the police beat and injured them.
The five practitioners are now facing indictment after their cases were submitted to the procuratorate on October 24, 2019.
Falun Gong, also known as Falun Dafa, is a meditation system based on the principles of Truthfulness-Compassion-Forbearance. The Chinese Communist Party (CCP) began to suppress the practice in July 1999 and hundreds of thousands of practitioners have since been arrested, detained, and tortured.
Arrests
Ms. Zhan Zhongxiang, Ms. Zhou Jun, and Ms. Zhou Yuxiang (Ms. Zhou Jun's aunt) were arrested at a farmers' market by officers from Renzhao Police Station on September 24, 2019.
The police ransacked the practitioners' homes in the afternoon and arrested Ms. Zhou Jun's mother-in-law, Ms. Zhang Junying.
Ms. Wang Zengmei, who happened to be visiting Ms. Zhang, was also arrested. The police ransacked her home at around 11 p.m.
At Renzhao Police Station, the police attempted to take pictures of Ms. Zhan with Falun Gong related materials confiscated from her home. She refused to comply and questioned why the police ransacked her home when no one was around. The police didn't answer.
The officers later pressed Ms. Zhan into a metal chair and took her photo and blood sample.
Stonewalled While Seeking Information on Ms. Zhan's Case
Ms. Zhan's son, his wife, and his two aunts went to Renzhao Police Station to inquire about her at 11 a.m. on September 25. Officer Wan yelled at them and did not let them speak.
When Ms. Zhan's son asked if his mother had been arrested for her faith in Falun Gong, Wan pushed him on the shoulder and shouted, "Get out of here!"
At that moment, a few more officers came. Li Xuanbang, the head of the police station, asked Ms. Zhan's son why he was there.
"I'm looking for my mother," he answered.
While Li told him to go to the lobby and wait for him, another person in a gray T-shirt whispered on the side, "She [Ms. Zhan] will be taken away in a moment."
One officer then told Ms. Zhan's son to sign her criminal detention notice. When he asked why their family was not notified of her detention earlier as required by law, one officer responded, "It's not too late if we let you know right now."
As the police videotaped Ms. Zhan's family, her daughter-in-law also took videos of the police with her cellphone. An officer snatched her phone and did not return it until she repeatedly requested it.
Chief Li continued to press Ms. Zhan's son to sign her detention notice and when he insisted that he wouldn't sign it, Li drove him and his wife and aunts out.
Ms. Zhan's family waited at the entrance of the police station, in hopes of finding out more information about her.
Son Beaten by the Police, Eyes and Nose Bleed
While Mr. Zhan's loved ones were waiting outside the police station, the officer in the gray shirt came over and defamed Falun Gong. He said Ms. Zhan and other practitioners had committed a crime and would be sentenced to prison.
Ms. Zhan's family stopped him and said, "It's not up to you to decide whether they've committed a crime."
That officer demanded to know the names of Mr. Zhan's family members, but he refused to say. The officer even began to curse Mr. Zhan when the family reminded him that police officers have the responsibility to answer their questions.
At about 12:30 p.m., a police van drove out of the police station. Ms. Zhan's family noticed that Ms. Zhan, Ms. Zhou Yuxiang, and Ms. Zhou Jun were in the van.
They immediately ran to the van to try to stop it. "Where are you taking my mother?" Ms. Zhan's son asked the police.
A group of officers rushed to them. Officer Wan grabbed Ms. Zhan's son by the neck and dragged him back. He and the officer in gray, punched him on the head, especially his eyes, nose, and neck. His eyes and nose were bleeding.
His wife and aunts tried to stop the police, but they were beaten as well. One officer hit the shoulder of Ms. Zhan's sister-in-law, who immediately fell because of the force and the pain. She stood up, only to be knocked down again.
Ms. Zhan's sister was also beaten. She suffered injuries on her arms.
Ms. Zhan's daughter-in-law, who was eight months pregnant, was very nervous and worried to see her husband and two aunts being beaten. She felt unwell and sat on the ground. Only then did the police stop beating her family members.
Li Xuanbang, the police chief, showed up and told Ms. Zhan's son to follow him to the local Appeals Office to resolve his issue.
Just as Ms. Zhan's son walked away with chief Li, the police van carrying Ms. Zhan and the other two practitioners, which had backed inside the police station, came out again.
Ms. Zhan's son heard his family members shout, "Come back! The van is out again!" He ran back toward the vehicle. Li barked an order to his officers, "Stop him!"
Over ten officers surrounded Ms. Zhan's son. In the chaos, one officer instructed others, "Kill him with no mercy! Smash him to death!"
Ms. Zhan and the other two practitioners were eventually taken away in front of her family.
As a result of the beating, Ms. Zhan's son had multiple injuries in his eyes, nose, arm and right ribs. He had difficulty bending. His right eye suffered reduced eyesight.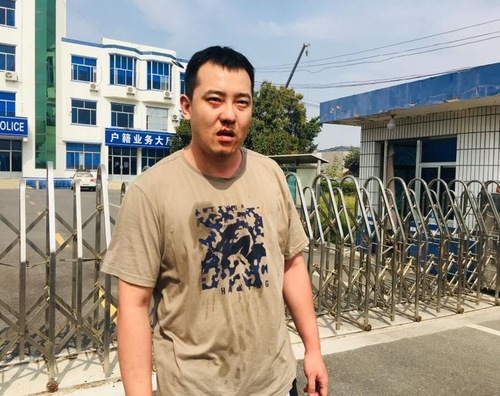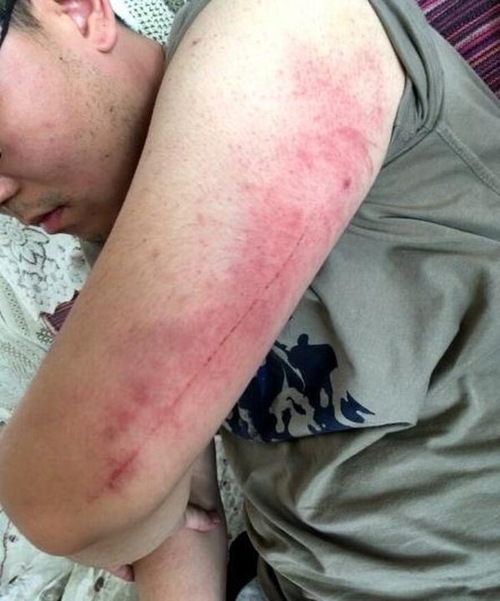 Mr. Zhan's son after the beating
Police Shirked Responsibilities
Ms. Zhan's loved ones reported the police brutality at the Appeals Office of Pingdu Police Department around 4 p.m. that day. While the staff member there promised that they would investigate the case, her family never received any updates.
Ms. Zhan's son and daughter-in-law went to Renzhao Police Station on September 26 again and asked for her release. Chief Li told them to prepare a complaint and submit it to him but then reversed his decision that evening and threatened to arrest the young couple if they came to the police station again.
The couple also went to Liu Jie, the head of the Pingdu Domestic Security Division. Liu initially denied having been involved in Ms. Zhan's case but later admitted that he "supervised" her arrest.
Liu refused to return Ms. Zhan's personal belongings confiscated during the home raid, including 16,000 yuan in cash and her son's work computer. Her son and daughter-in-law only got back the keys to their apartment, which they share with Ms. Zhan.
When the couple returned home, they found cigarette ashes and butts the police had left.
Sister-in-law Arrested for Seeking Her Release
Ms. Zhan's lawyer visited her at Pudong Detention Center on the morning of September 27. In the afternoon, he went to Pingdu Police Department with her son and daughter-in-law to submit their complaint against the police and his legal opinion to dismiss her case.
When the lawyer said that Ms. Zhan didn't violate any law by practicing Falun Gong, officer Guo replied, "We have to do things according to our policy." He threatened to investigate whether Ms. Zhan's son and daughter-in-law also practice Falun Gong and arrest them if they continued to seek justice for her.
Ms. Zhan's lawyer and her son and daughter-in-law also went to Renzhao Police Station to inquire about her case. Officer Wan, who beat Ms. Zhan's son, avoided eye contact with him and refused to provide information about Ms. Zhan to the lawyer, "You are not entitled to know her status. We have a policy about it."
The officer got irritated when the lawyer asked him to provide a hardcopy of their policy and referred the lawyer to chief Li.
The police called Ms. Zhan's, sister-in-law and nephew on October 22, 2019, telling them to report to Tonghe Police Station. Her sister-in-law went, only to be arrested at the police station. She is being held at an unknown location.
Ms. Zhan's son and nephew escaped arrest by not going to the police station, but they received more calls threatening to arrest them should they keep seeking her release.
Previous Persecution
Ms. Zhan was a former employee of a rural credit cooperative. After the persecution of Falun Gong started in 1999, her workplace frequently moved her to several locations, separating her from her husband and children.
Because of going to Beijing to appeal for the right to practice Falun Gong in 2000, she was fined 5,000 yuan by her workplace and ordered to pay for the 1,500 yuan traveling expense her colleagues incurred going to Beijing to bring her back. Her salary was deducted that year. The authorities also punished her workplace and stripped it of an award it won that year and ordered it to reduce everyone's bonus.
Ms. Zhan was arrested again in May 2003 for giving Falun Gong material to an officer at Datian Police Station. The police extorted 6,000 yuan from her husband before releasing her.
When visiting another practitioner in February 2009, Ms. Zhan was arrested and taken to Pantao Brainwashing Center. Officer Zhao Hongbin beat her and released her after extorting 20,000 yuan from the family. He also threatened the family to not expose this on the internet.
Dai Yugang and other agents from Pingdu 610 Office attempted to arrest Ms. Zhan on August 10, 2010. While she escaped, the authorities harassed her husband at work on the next day for over two hours.
On March 5, 2011, Pingdu 610 Office agents harassed Ms. Zhan's husband at work again. They pressured his employer to watch him and Ms. Zhan's home was also monitored.
Ms. Zhan's husband passed away a few years ago. While still mourning their son's death, her ailing parents-in-law were dealt another blow by her latest arrest. Ms. Zhan's son and daughter-in-law are also longing for her return to see her new grandchild.
Key Parties Responsible:
Li Xuanbang, director, Renzhao Police Department: +86-17667595831Jia Shuhao, deputy director, Renzhao Police Department: +86-18660225089Li Chunmin, agent, Renzhao 610 Office: +86-13969706830Liu Jie, officer in Pingdu Domestic Security Division: +86-15866870870, +86-15192722858Guo Yucheng, deputy director, Pingdu 610 Office: +86-15615887178Chengguan Police Department: +86-532-87361724Li Jianwei, director, Chengguan Police Station: +86-532-66587368, +86-532-88383179 (home), +86-18561671789Miao Chunxu, officer, Chengguan Police Station: +86-532-66587362, +86-15865321399Sun Mingchun, officer, Chengguan Police Station: +86-532-66587361, +8613361271699Dai Xiuen, officer in Chengguan Police Station: +86-532-66587368, +86-15065328580Officer Fu: +86-532-66587365
Related Reports:
Shandong Woman Arrested While Visiting a Friend
Five Shandong Residents Arrested for Practicing Falun Gong
Related Article in Chinese: