Falun Dafa Practitioners in the Military in China Respectfully Wish Master Li Hongzhi a Happy Mid-Autumn Festival (20 Greetings)
(Minghui.org) To celebrate the Moon Festival, also known as the Mid-Autumn Festival, Falun Dafa practitioners in China send their heartfelt greetings to the founder of the practice, Master Li Hongzhi, to wish him a happy holiday.
The Moon Festival is one of the most important holidays in Asian cultures. On this special holiday, many practitioners express their gratitude to Master Li for guiding them on their spiritual journey and renewing their lives.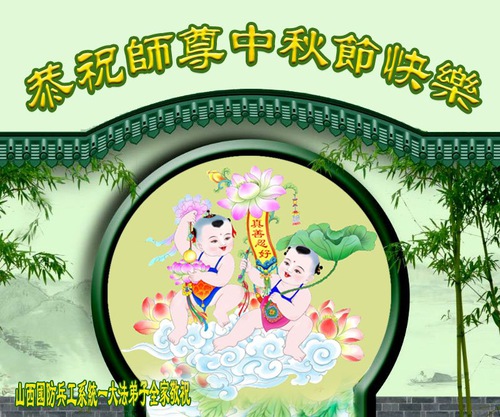 Greetings presented in the report come from practitioners serving in the military in the following regions in China:
Xining, Qinghai ProvinceChongqingWestern Theater CommandPLA Air ForceGuangzhou, Guangdong ProvinceDalian, Liaoning ProvinceVeteransHunan ProvinceBeijingHebei ProvinceDatong, Shanxi Province