Falun Dafa Practitioners in China's Countryside Wish Master Li Hongzhi a Happy Moon Festival
Oct. 2, 2020 | By a Minghui correspondent
(Minghui.org) Falun Dafa practitioners in China have sent their heartfelt greetings to the founder of the practice, Master Li Hongzhi, to wish him a Happy Moon Festival, also known as the Mid-Autumn Festival.
The Moon Festival is one of the most celebrated holidays in Asian cultures. It's a time for families to gather together and enjoy good food, including mooncakes.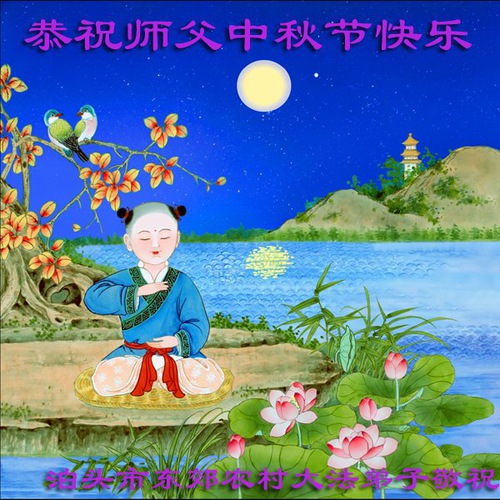 This holiday, which falls on the fifteenth day of the eighth lunar month, was on October 1 this year.
This article is a collection of greetings from Falun Dafa practitioners in the countryside. They express their gratitude to Master Li for introducing Dafa to the public, giving them good health, and improving their character. They cherish the opportunity to practice Falun Dafa and vow to be more diligent in their daily practice.
These practitioners come from:
Haiyang, Qingdao, Yimeng, Qingzhou, Linqu, Xinnan, Tai'an, Penglai and Laixi, Shandong ProvinceHailin, Shuangcheng Shijiazhuang area, Heilongjiang ProvinceShenzhou, Tang County, Baoding and Botou, Hebei ProvinceXinjiang Uygur Autonomous RegionsMeihekou, Jilin ProvinceYuzhou, Henan ProvinceChongqingHeishan County and Qingyuan County, Liaoning Province