Falun Dafa Practitioners Incarcerated for Their Faith Send Holiday Greetings to Founder of the Practice
Oct. 2, 2020 | By a Minghui correspondent
(Minghui.org) In celebration of the 2020 Mid-autumn Festival, Minghui.org has received thousands of greetings from Falun Dafa practitioners in China, wishing Master Li Hongzhi, the founder of the practice, a happy holiday.
Among the well-wishers are those who are currently incarcerated for their faith in China's various prisons and detention centers. Through special channels, they also managed to get their messages to Minghui.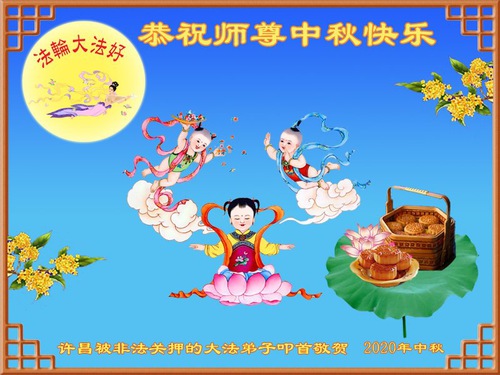 Most of these practitioners expressed their strong determination to uphold their faith, no matter what tribulations or ordeals they face.
One practitioner in Shanxi Province wrote, "Greetings, Master! I started learning Falun Dafa in prison. I'm still in prison, but my fellow practitioner is sending my greetings on my behalf. I memorize Master's teachings and repeat 'Falun Dafa is great. Truthfulness-Compassion-Forbearance is great' countless times every day. I'm following these principles and clarifying the truth to the people around me. I look forward to the day of Fa rectification and reunion with Master and my fellow practitioners!"
Other greetings came from the following regions:
Jiaozhou and Longkou, Shandong ProvinceLiaoning ProvinceGansu ProvinceXinbin County and Shenyang, Liaoning ProvinceYunnan ProvinceNingxiaSunwu County and Harbin, Heilongjiang ProvinceZhejiang ProvinceXuchang, Jiaozuo, Bo'ai, Xinyang, Mengzhou, Wen County, Wushe, Xiuwu and other cities in Henan ProvinceTongliao, Inner MongoliaQingyuan, Guangdong ProvinceShanxi Province
And those who are imprisoned in:
Detention Center of HangzhouWomen's Prison of Zhejiang ProvinceWomen's Prison of Liaoning Province