Falun Dafa Practitioners in the Chinese Education System Wish Master Li Hongzhi a Happy Mid-Autumn Festival (25 Greetings)
(Minghui.org) To celebrate the Mid-Autumn Festival, many Falun Dafa practitioners have sent their heartfelt blessings to the founder of the practice, Master Li Hongzhi, to wish him a happy holiday.
The Mid-Autumn Festival is one of the most important holidays in China. It's a time for family reunions. On this special occasion, many Falun Dafa practitioners feel ever more grateful for everything Master has given them and vow to cultivate themselves more diligently and let people know how wonderful the practice is.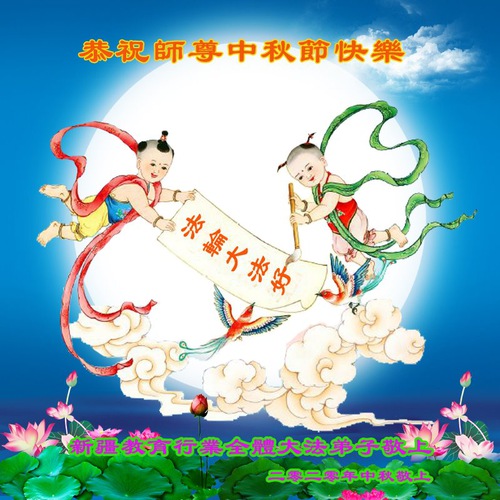 In this report, we present greetings from Falun Dafa practitioners in the education system in the following regions in China:
Liaoning ProvinceNanchong, Sichuan ProvinceYantai and Laiyang, Shandong ProvinceKunming, Yunnan ProvinceTangshan, Hebei ProvinceLengshuijiang and Hengyang, Hunan ProvinceXinjiang Autonomous RegionHaidian District of BeijingChongqingHuaihua, Hunan ProvinceQing'an County, Heilongjiang ProvinceChangchun, Jilin ProvinceAnqing, Anhui ProvinceXi'an, Shaanxi Province
As well as the following universities:
Jilin UniversityPeking University