Tirelessly Spreading Blessings of Falun Dafa Far and Wide, Practitioners in China's Countryside Express Gratitude to Master Li
January 28, 2020 | By a Minghui correspondent
(Minghui.org) To celebrate 2020 Chinese New Year, many Falun Dafa practitioners are extending their warmest greetings to the founder of the practice through the Minghui website. These practitioners thank Master Li for teaching them the practice that has brought them happiness and health and wish Master Li a very Happy New Year.
This article is a collection of greetings sent from Falun Dafa practitioners in China's countryside. They express their gratitude to Master for making them the happiest and most honored lives in the universe. They are determined to cherish the precious time Master has reserved for them and complete their sacred mission.
Practitioners in the villages in Heishan Township, Jinzhou City, Liaoning Province, wrote that Master has pulled disciples out of hell, cleansed karma from their bodies, purified their hearts and souls with the universal Dafa, and enabled them to climb the ladder to Heaven that leads them to return to their original, true selves. They have become Dafa disciples that even divine beings admire.
Practitioners in the countryside in Boye County, Hebei Province, wrote that they will continue with their efforts to improve themselves and help more people learn about Falun Dafa and the persecution in the new year. They will live up to the expectations of sentient beings and be worthy of Master's compassionate and arduous salvation.
They also wrote:"Regardless of heat and cold, disciples tirelessly save people. Traveling to villages, visiting households, and going to farmers' markets, we spread the blessings of Falun Dafa Far and wide.As long as people are blessed, our hearts will be filled with sweetness, despite the bitterness and hardships we have had to endure.Many people have awakened and quit the Chinese Communist Party and its youth organizations, avoiding adversities, and embracing good futures."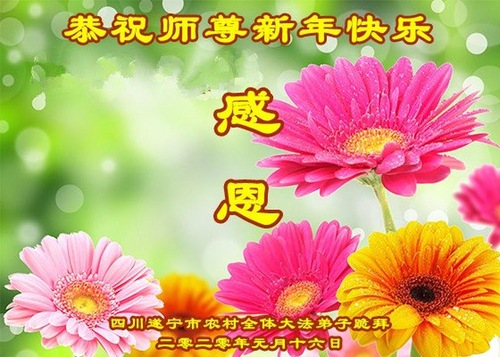 Other greetings come from the towns and villages in the following areas:
Zhaoyuan City, Shandong ProvinceXinji City, Hebei ProvinceTonghua City, Jilin ProvinceZhoukou City, Henan ProvinceTang County, Hebei ProvinceJinzhou City, Liaoning ProvinceJiaozhou City, Shandong ProvinceSuining City, Sichuan ProvinceLiuhe County, Jilin ProvinceShijiazhuang City, Hebei ProvinceFuyu County, Heilongjiang ProvinceLaishui County, Hebei ProvinceBeijingBoye County, Hebei ProvinceShanxi ProvinceBotou City, Hebei ProvinceFangzheng County, Heilongjiang ProvinceCheng'an County, Hebei ProvinceChongqingShouguang City, Shandong ProvincePingshan County, Hebei ProvinceJingxing County, Hebei Province