Senior Falun Dafa Practitioners Thank Master Li Hongzhi for Renewing Lives
(Minghui.org) Among all the Falun Dafa practitioners, many are elderly and veteran practitioners who have cultivated in Dafa for more than 20 years. Through diligent cultivation, these senior citizens have acquired good health. The practice healed their diseases and renewed many lives. Some of them are in their 70s and 80s, but they are as energetic as young people. They have made efforts to help more people learn the benefits of Falun Dafa, rain or shine. At this Chinese New Year, some of them sent greetings to Master Li Hongzhi, expressing their appreciation.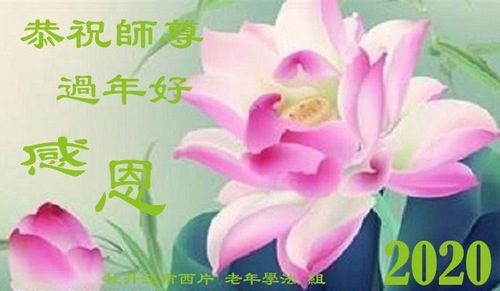 A practitioner from Anshan City, Liaoning Province wrote in his greetings, "I'm nearly 90 years old. But for Master's salvation, I would have long passed away. I'm so fortunate to obtain Dafa. I'm grateful to Master!"
Practitioners in two Fa study groups from Laixi City, Shandong Province wrote, "We are in our 70s and 80s, we study and memorize the teachings every day, and reach people to help them learn the beauty of Dafa and that the Chinese Communist Party (CCP) is wrong to persecute practitioners who follow the principles of Truthfulness-Compassion-Forbearance."
"Many people have understood what we try to explain to them, and many believe Falun Dafa is great and are willing to withdraw from the CCP and its youth organizations."
These practitioners are also determined to be more diligent in improving themselves and respectfully await the day when they are reunited with Master!
A 97-year-old woman practitioner from Pengzhou City, Sichuan Province told Master that she began practicing Falun Dafa in 1997 and has never needed glasses when studying the teachings. She also can read characters in the book accurately when studying the teachings with a group of practitioners.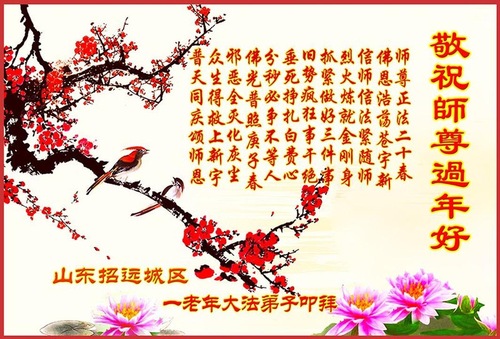 The senior practitioners who sent greetings to Master Li come from the following areas:
Yantai City, Shandong ProvinceYichang City, Hubei ProvincePengzhou City, Sichuan ProvinceAnshan City, Liaoning ProvinceLaixi City, Shandong ProvinceYueyang City, Hunan ProvinceMianyang City, Sichuan ProvinceShenyang City, Liaoning ProvinceInner MongoliaBeijingPingshan County, Hebei ProvinceDalian City, Liaoning ProvinceXianning City, Hubei ProvinceLonghua County, Hebei ProvinceHuai'an City, Jiangsu ProvinceQiqihar City, Heilongjiang ProvinceChongqingChangchun City, Jilin ProvinceMudanjiang City, Heilongjiang ProvinceLeling City, Shandong ProvinceBotou City, Hebei ProvinceZhaoyuan City, Shandong ProvinceHanzhong City, Shaanxi Province