Australia: Vietnamese Falun Dafa Practitioners Wish Master Li a Happy New Year "We Feel So Blessed!"
January 26, 2020 | By a Minghui correspondent in Melbourne, Australia
(Minghui.org) Vietnamese Falun Dafa practitioners in Melbourne, Australia expressed their gratitude to Master Li, the founder of the spiritual practice, on the eve of Chinese New Year. They wished Master Li a happy Lunar New Year and talked about the positive changes that practicing Falun Dafa has brought them and their families.
Falun Dafa was introduced to the public in May 1992. The main book, Zhuan Falun, has been translated into 39 languages. Melbourne is significant for Vietnamese people because the Vietnamese language version of Zhuan Falunwas first published there in May 2000.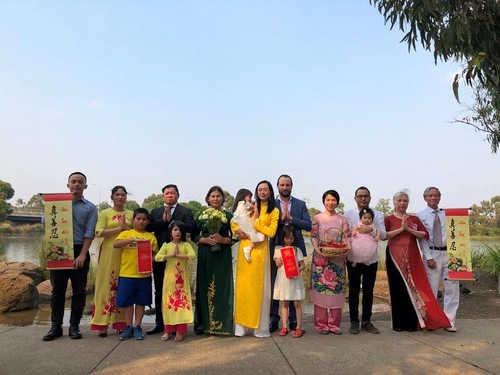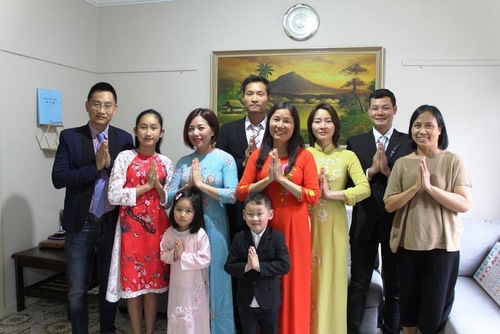 Vietnamese Falun Dafa practitioners in Melbourne wish Master Li a happy lunar New Year.
Significant Improvement in Health and Character after Practicing One Week
Bard Nguyen said he learned years ago about the Chinese Communist Party's (CCP) persecution of Falun Dafa and the state-sanctioned organ harvesting from living practitioners in China.
He was always interested in keeping fit and healthy, so he read fitness magazines. He also read articles about the health benefits of practicing Falun Dafa, and began reading articles on the Minghui.org website.
"In February 2018, I went to study in Australia," he said. "I knew about Falun Dafa and heard there was a practice site near my home, but for some reason I always hesitated."
"In April 2019 practitioners were raising awareness of the persecution near the practice site. I finally decided to learn the exercises. It was one of the best decisions I ever made, and I immediately started practicing."
"I had only practiced for a week, but the first thing I noticed was that my health greatly improved. The second thing I noticed was that I stopped getting so easily annoyed. I was always easily frustrated and got angry with people. I now stop to think of the effect I have on others. It's easier to eliminate my negative thoughts, and my anger has decreased a lot."
"I wish Master a Happy New Year! Words cannot express my thanks. Thank you for what you have done for me and so many other fellow practitioners. Thank you for always helping me even though I still have so many attachments. Thank you so much Master."
New Practitioner's Entire Family Benefits
Xuan Dao, 39 years old, learned about Falun Dafa about eight years ago. It wasn't until February 2019 when she went to see a Shen Yun performance with her husband, that she realized the extent of the persecution.
"I was moved to tears by a performance which showed how practitioners were persecuted for their belief," she said. "After the show, I saw my friend Alice, a Falun Dafa practitioner. Alice gave me the book Zhuan Falun, and I started practicing."
Xuan said she experienced many positive changes after she started practicing. She used to be hot-tempered with her two daughters. She was also anxious and easily pressured. She tried many things hoping for a change, but just couldn't control her temper. She now applies the principles of Truthfulness-Compassion-Forbearance when things get challenging.
She said, "But my husband feels the real miracle is how I've changed since I began practicing Falun Dafa. He says that I'm no longer hot-tempered. I've become calm and patient with the children. I'm also less stressed out and worried about their health, and trivial issues."
Xuan said she had to take pain medicine every day, but after she began practicing she no longer needs it. Her husband was so impressed that he decided to read Zhuan Falun, and he just started practicing Falun Dafa this January, 2020.
"Not only have I benefited, but so have my two children," she explained. "Zoey, 6 years old, no longer has dermatitis, and her asthma is gone."
"My children are more obedient, polite, and calm than before. My husband also recently got a job close to home. My family situation is more harmonious."
"I'm very grateful to Master for giving me the opportunity to practice Falun Dafa," said Xuan. "By following the principles of Truthfulness-Compassion-Forbearance, I've become calm and positive. My family and I sincerely thank Master for introducing Falun Dafa to the world, and we wish Master a Happy New Year!"
"We Feel So Blessed!"
Anna Vu's brother told her and their mother about Falun Dafa soon after he started practicing, and said it was very good. Her mother started practicing soon after.
"I used to get so angry with my two children. But after I began practicing, I became calm and caring," Anna said. "My father saw my changes and also began practicing. For years, my parents fought over his constant drinking and smoking, but he was able to easily give them up after he began practicing."
"Falun Dafa has helped us to become a happy family. My two children have recently started reading Zhuan Falun and their behavior is better."
"We are very grateful and feel so blessed!" Anna said. "On behalf of my family, I would like to express our deepest gratitude to Master. We wish Master a happy New Year. We'd also like to wish practitioners all over the world a happy New Year."
Uplifted by Falun Dafa's Teachings
Flower Dao said she injured her hand in late 2016. "I went to physiotherapy many times but it didn't get better. I thought about practicing Falun Dafa."
She contacted a practitioner she knew and asked to borrow a copy of Zhuan Falun. Flower said she couldn't put it down and read it five times. "I was astonished by the contents of the book! Master clearly answered why we are here; I felt uplifted and reborn. I now strive to follow the principles of Truthfulness-Compassion-Forbearance in my daily life. I now measure my behavior with the teachings."
"Just one month after I began practicing," Flower said, "Not only did my hand pain disappear, but the chronic diseases including insomnia, allergic rhinitis, sore throat seeds, and low blood pressure that I thought I had to live with all my life were also gone."
"I don't take any medicine because my body is healthy. My mind is calm and peaceful, and my family lives in harmony. When they saw the amazing changes in my health and personality, my siblings also started practicing Falun Dafa.
"My entire family and I express our deepest gratitude to Master. We wish Master a Happy New Year!"
Happy to Be a Falun Dafa Practitioner
Emma Vu's mother introduced her to Falun Dafa in Vietnam in 2014. She began practicing in March 2019. She said the most fortunate thing in her life was becoming a practitioner.
"I thank compassionate Master, and wish him a Happy New Year!" said Emma. "I hope that more people will come to know how wonderful Falun Dafa is."
July Nguyen said she always believed that good conquers evil. She used to have a hot temper. She said, "One day, a colleague handed me the book Zhuan Falun and advised me to read it."
"After I observed how my co-worker's temperament greatly improved I felt the teachings could help me. Thanks to Falun Dafa, I know the principles of Truthfulness-Compassion-Forbearance and I now use them to guide my actions. I strive to control myself and actively eliminate my bad habits. I've become a better person."
She explained, "My life changed a lot after I began practicing Falun Dafa. I take profits and money lightly and no longer pursue them. I always do my best at work and no longer think about my own interests."
July said she has become very healthy since she began practicing. Whenever she encountered tribulations she sincerely recites, "Falun Dafa is good. Truthfulness-Compassion-Forbearance is good," and the outcome is positive.
"My family life has become harmonious. We moved to Australia and my daughter was born here. My son is obedient and kind. He respects Master. I found a stable job and I have many good friends who've encouraged me."
"On the occasion of the lunar New Year, I would like to send my deepest gratitude to Master. This predestined opportunity to cultivate is very precious and I will try my best to practice diligently. Master, I wish you a Happy New Year! I also wish all Falun Dafa practitioners in the world a Happy New Year. The world needs Truthfulness-Compassion-Forbearance."