Chicago: Rally to Protest 20 Years of Persecution of Falun Gong Supported by Political Figures
August 09, 2019 | By a Falun Gong practitioner in Chicago
(Minghui.org) Falun Gong practitioners from the U.S. Midwest gathered in Chicago on August 3, 2019 and held events to raise the awareness of the 20-year-long persecution in China. They began the day's activities with a colorful parade. In the afternoon they held a peaceful rally in front of the Chinese Consulate and asked the Chinese Communist Party (CCP) to immediately stop the ongoing persecution in China.
The magnificent grand parade wound its way through the bustling streets of Chicago and drew a great deal of attention. Many spectators recorded the event with their mobile devices.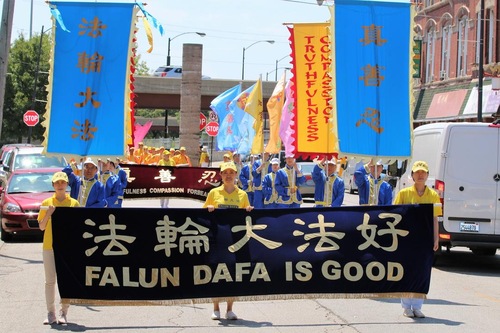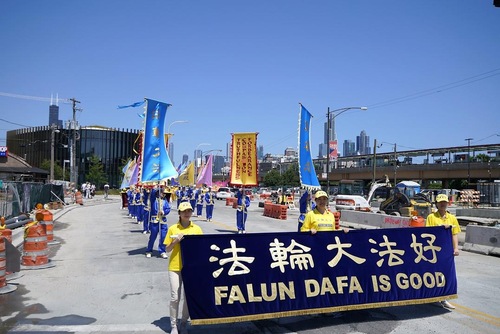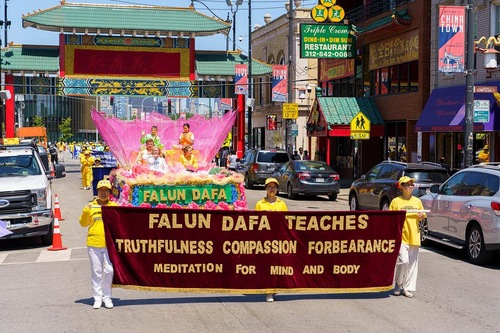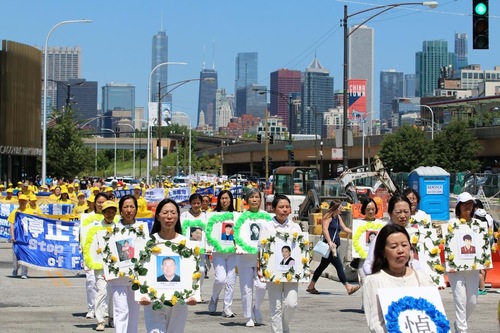 The grand parade in Chicago on August 3, 2019 held by Falun Gong practitioners from 11 states.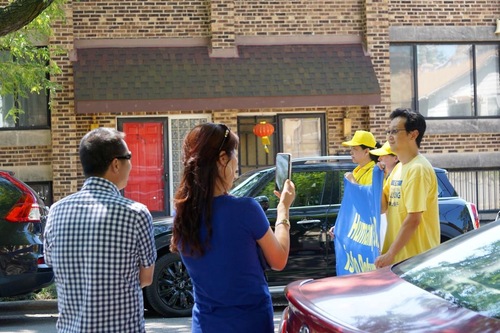 Spectators stopped to admire the Falun Gong parade and took photos and videos.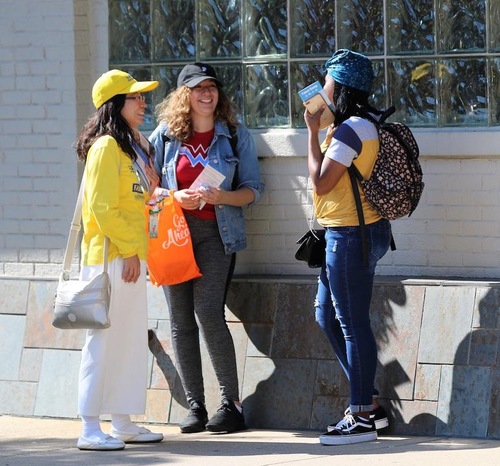 Many people wished to learn more about the practice and the persecution.
Politicians Pay Respect and Show Support for Falun Gong
Many political figures from the Midwestern states sent letters of support and encouragement for practitioners' efforts to bring the persecution to an end.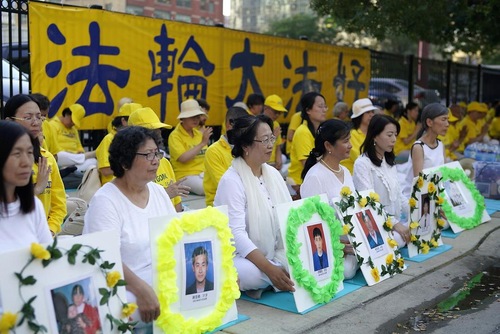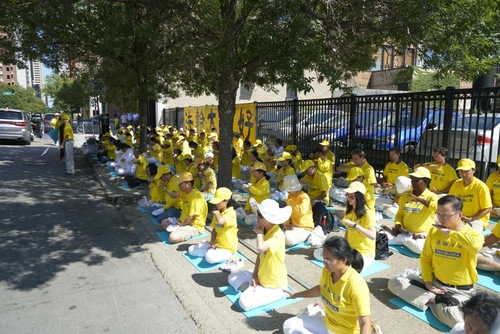 Falun Gong practitioners held a peaceful rally in front of the Chinese Consulate in Chicago on August 3, to raise awareness of the persecution in China.
In her letter of support, Minnesota State Representative Kristin Bahner called for the release of Falun Gong practitioner Ms. Sun Lanying. Ms. Sun's daughter is a U.S. citizen who resides in Minnesota. Rep. Bahner wrote, "In early June, a group of police broke into Ms. Lanying Sun's home intending to confiscate Falun Gong materials and arrest her. Her daughter believes she has gone into hiding. A reward has been offered to anyone who turns her in to the police. Understandably, her daughter and many others are extremely concerned about her safety and well-being." Rep. Bahner called on the Chinese regime to let Ms. Sun return home safely and to stop the persecution, as practitioners "simply seek to exercise their rights to freedom of expression and assembly as outlined in the Chinese Constitution."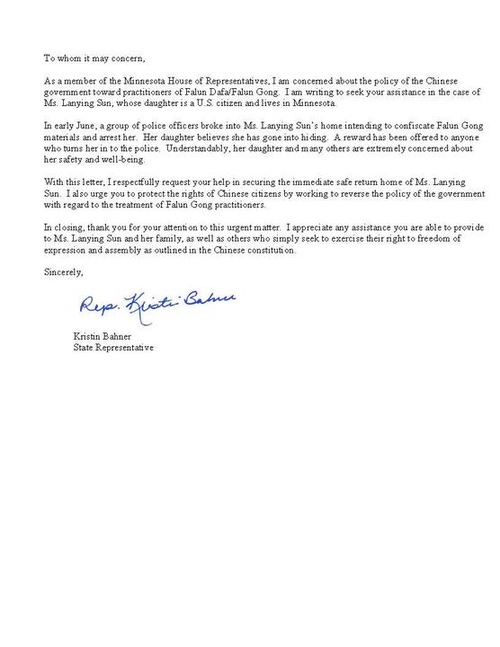 Minnesota Rep. Kristin Bahner expressed her concern for the safety of practitioners in China.
Minnesota Senator David Senjem voiced his support for practitioners' persistent effort in ending the persecution. He wrote, "...I send my support for your determination to bring awareness to this important cause. I applaud your perseverance in urging the Chinese government to end its longtime practice of persecution of Falun Gong practitioners. Please accept my words of support on your efforts to expose the oppression the Falun Gong community encounter."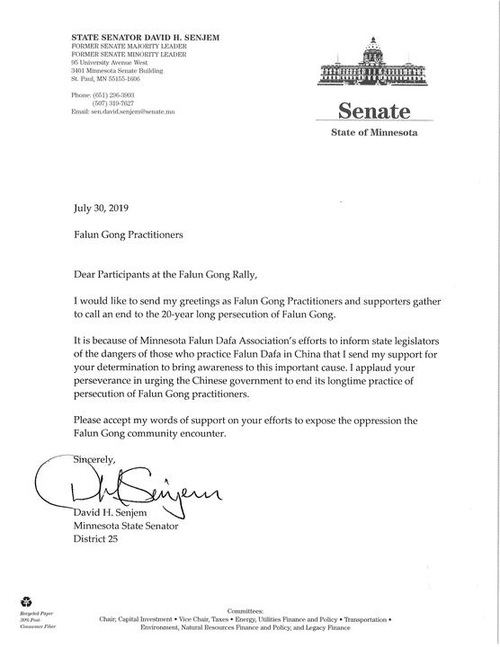 Letter of support from Minnesota Sen. Davide H. Senjem.
Minnesota senator Dan Hall supports practitioners' right to practice their belief. "I would like to send my greetings to all Falun Gong practitioners and supporters at the rally calling for an end to the 20-year-long persecution of Falun Gong in China. The Minnesota Falun Dafa Association has played an important role in bringing awareness of this issue to the Minnesota Capitol and I send my support to your cause of exposing the human rights abuses this community has suffered and restoring their freedom to worship,"said Sen. Hall in his letter.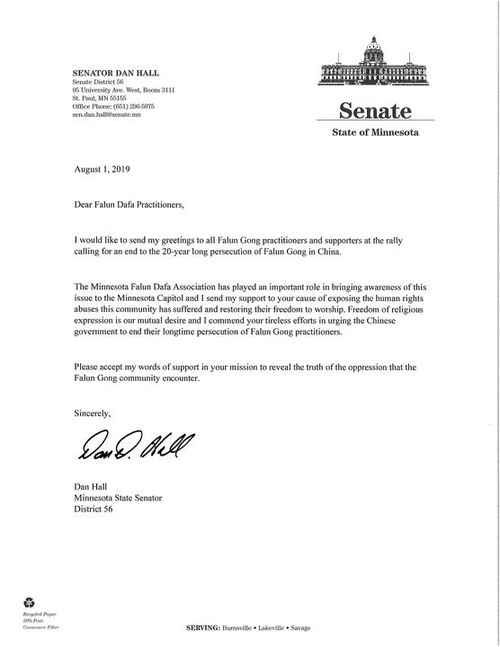 Minnesota Sen. Dan Hall condemned the ongoing human rights abuses in China.
Leslie Love from the Michigan House of Representative commended practitioners' persistent efforts to raise awareness of the persecution. "As a fellow practitioner of meditation, I would like to express my support for your continued fight against the oppression and exploitation by the Chinese government. … I do not believe that a country can truly prosper without defending this essential right, and it is imperative that we not become complacent, but instead speak out when the religious liberties of any people are threatened."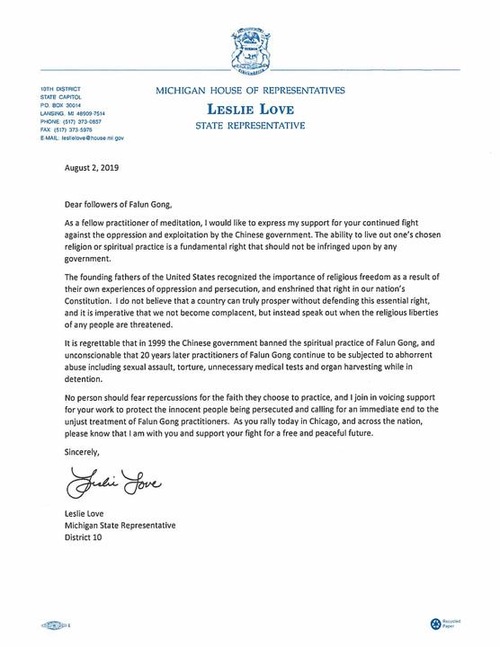 Michigan Representative Leslie Love upholds practitioners' right to freedom of belief, as outlined in the Chinese Constitution.
People in China Should Speak Out
Mr. Xu lives in Chinatown. He was very happy to see the parade and the banners with information about the persecution. He said, "I feel that people in Mainland China should stand up against the CCP regime's wrongdoings."
Mr. Xu was very pleased to see the colorful parade and hopes that the CCP will end the persecution soon.
Antonette and her friends enjoyed the parade. She said that she first heard about Falun Gong in her U.S. Government class; her teacher played a video to help explain the human rights violations in China. She said, "People should have freedom, including freedom of belief and speech. In China people don't, especially with the Internet censorship."
One of Antonette's friends, Jasmine was saddened to learn the details of the persecution. "I don't understand why a practice that allows people to have a healthy body and mind is persecuted. What's wrong?" she said.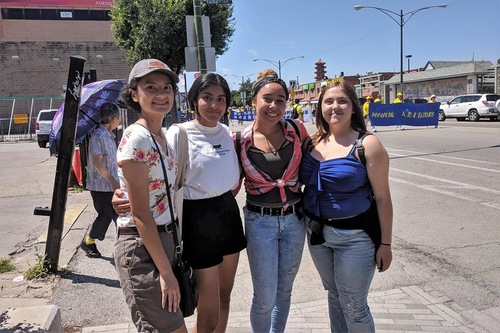 Four friends watch the Falun Gong parade.