Radio Free Asia: Falun Gong over the Past 20 Years
(Minghui.org) Radio Free Asia (RFA) recently broadcast a series of three programs in Chinese focused on Falun Gong. Titled "Falun Gong over the Past 20 Years," these programs were produced by reporters Shishan and Jiaao. They highlighted the growth of Falun Gong outside of China as well as how practitioners continue to actively oppose the persecution that started in July 1999.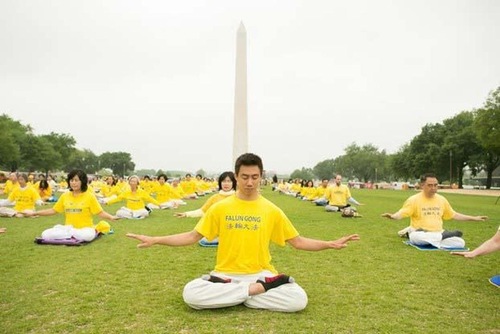 Falun Gong practitioners celebrated World Falun Dafa Day at the National Mall in Washington DC on May 4, 2019.
Popularity and Persecution
Gao Yudong worked for a ministry in Beijing and, like many other young people, had applied to graduate school in the U.K. He had been accepted and landed in London on July 20, 1999. He said he was lucky to have gotten out of China before the persecution began.
Across China there were about 60 to 70 million people practicing Falun Gong in 1999, according to the RFA report. In the big cities, there were many group practice sites in the parks, sometimes with up to 1,000 practitioners.
Yang Jianli, contact person for Citizen Power Initiatives for China, said Falun Gong became popular in China because of its great health benefits. In addition, people were searching for new spiritual paths after the communist ideology collapsed. Nonetheless, Jiang Zemin, then the general secretary of the Chinese Communist Party (CCP), began to suppress the group on July 20, 1999.
Sarah Cook of the human rights organization Freedom House has been studying religions in many nations for years. She said that Falun Gong can be viewed as a belief system. David Kilgour, renowned lawyer and former Canadian Secretary of State for Asia-Pacific, said that the communist ideology clashed with Falun Gong's core principles of Truthfulness-Compassion-Forbearance.
Persecution Illegal
According to data from the Minghui website and human rights organizations, over 4,000 Falun Gong practitioners have died as a direct result of the persecution in China. Hundreds of thousands have been arrested, detained, and otherwise imprisoned.
Teng Biao, a lawyer and overseas visiting scholar, was pursuing a doctoral degree in 1999 at Beijing University Law School. He said many legal experts had doubts about the suppression when it first started. In one case handled by Teng and five other lawyers in 2007, "We referred to international human rights law as well as China's Constitution, Criminal Laws, and Criminal Procedure Law. We found no legal grounds for the persecution of Falun Gong," he remarked.
Growth Despite the Persecution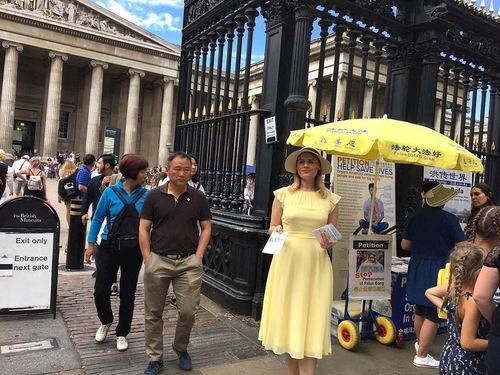 Yulia Hayden distributing Falun Gong materials outside the British Museum in London in August 2019.
Despite what was happening inside China, many people around the world heard about the practice and began to follow it. Yulia Hayden heard about it two years ago after she graduated from performing art school in New York. She now practices the meditation on a regular basis.
Similarly, Victoria Ledwidge from London also came across Falun Gong accidentally. To help stop the CCP's forced harvesting of organs from practitioners in China, she volunteers at the International Coalition to End Transplants in China. In addition, Ms. Ledwidge often goes to the Chinese Embassy in London to peacefully protest the persecution.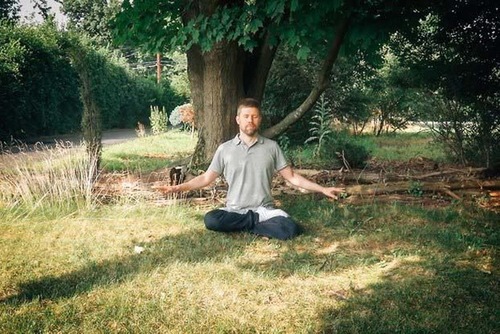 Olli Torma practices Falun Gong in upstate New York.
Olli Torma, 38, is an IT professional who lives in upstate New York. He had a strong interest in Oriental culture, including Buddhism and Chinese philosophy. At age 22, he learned Falun Gong from a friend and his life has improved significantly since then.
Mr. Zhou, 28, is from Hunan Province in China. He went to the United States to study in 2011. On campus, he noticed the Falun Gong group and started to practice it. Having heard only negative propaganda from the CCP about the practice back in China, he initially had concerns. But then he learned the truth about Falun Gong and began to accept it.
Helping Their Voice to Be Heard
Falun Gong practitioners outside of China have participated in many events and distributed informational materials at tourist sites to introduce Falun Gong and raise awareness about the persecution in China. They also make their voice heard through the news media.
Zeng Yong, a graduate of Fudan University, went to the US in the early 1990s and later worked at an IT firm in Silicon Valley. After the persecution started in 1999, he and some IT friends decided to launch a radio station, the Sound of Hope.
"Sixteen years passed and we have established a radio network that can cover 80% of China," said Zeng. In the United States, Sound of Hope works with 15 partner stations to broadcast to listeners in the US.
Besides the radio station, newspaper, and television station, Falun Gong practitioners have also created software to help the people in China circumvent the Chinese government's internet censorship. Zhong Fei, a computer expert, worked with other practitioners to develop such a tool. Because of China's powerful "cyberwall" the software developers need to pay close attention and constantly update the software. "For about three years, we had to work somewhere between 18 and 20 hours a day," she recalled.
Sarah Cook said that Falun Gong practitioners have no political agenda. In the beginning, many people thought that the CCP simply misunderstood Falun Gong and they tried to clarify any issues with the CCP. Later on, they began to share information about Falun Gong with regular citizens.
Yang Jianli believes that the Falun Gong experience over the past 20 years demonstrates that a totalitarian regime cannot win such a war. "It has shown to the world that, when the CCP aims to suppress a group, especially a religious group, it will not succeed," he said.
All articles, graphics, and content published on Minghui.org are copyrighted. Non-commercial reproduction is allowed but requires attribution with the article title and a link to the original article.
Category: Falun Dafa in the Media