During the Battle Between Righteous and Evil, U.S. Elected Officials Choose to Support Falun Gong
Aug. 8, 2019 | By Minghui correspondents
(Minghui.org) July 20 marks the 20th year since the persecution of Falun Gong in China began that day in 1999. Similar to previous years, practitioners from around the globe held many events to commemorate the special occasion, calling to stop the suppression. Government officials in many countries have attended these events in person and sent letters supporting freedom of belief in China.
This indicates that these officials have learned facts about Falun Gong during 20 years of effort by practitioners to raise awareness of the unprecedented human rights violations. Some recent examples from top U.S. officials are included below.
U.S. President Talks with Practitioner about the Persecution
President Donald Trump met with 27 survivors of religious persecution from 17 nations on July 17, 2019. Among them was Zhang Yuhua, a Falun Gong practitioner from Jiangsu Province. This was first time President Trump talked with a Falun Gong practitioner in the Oval Office.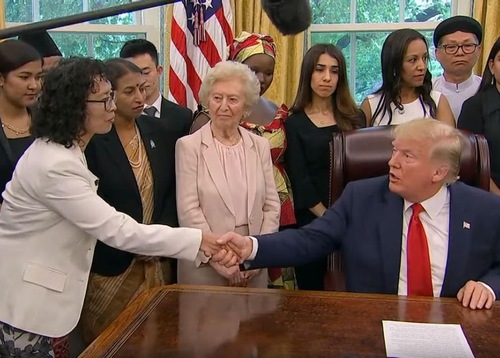 President Donald Trump talks with Falun Gong practitioner Zhang Yuhua in the Oval Office on July 17, 2019.
President Trump said to the survivors, "Each of you have suffered tremendously for your faith. You've endured harassment, threats, attacks, trials, imprisonment, and torture. Each of you has now become a witness to the importance of advancing religious liberty well around the world."
He continued, "In America, we always understood that our rights come from God, not from government. In our Bill of Rights, the first liberty is religious liberty. Each of us has the right to follow the dictates of our conscience and the demands of our religious conviction."
"For everyone here, you've been through a lot more than most people could ever endure and I want to congratulate you. It's really an honor to be with you and I will stand side by side with you forever," he said.
Vice President Meets Representatives from Persecuted Groups
Vice President Mike Pence met on August 5, 2019 with four representatives from persecuted Chinese religious groups in his office. They discussed how religious groups are suppressed in China and what actions could be taken to address the issue.
These representatives were Jeff Chen, a Falun Gong practitioner and spokesperson for the Minghui Publishing Center; Bob Fu, founder and president of the Christian human rights organization ChinaAid; Yang Jianli, founder of Citizen Power Initiatives for China, a group that advocates for democracy in China; and Omer Kanat, director of the Uyghur Human Rights Project. Sam Brownback, ambassador-at-large for International Religious Freedom, also attended the meeting.
Chen said to the Vice President, "The persecution is still severe. In the last 20 years, we have identified over 4,000 people who died of torture or other physical abuses. Due to the information blockade, the actual number would be many times higher. Organ harvesting has been going on for nearly 20 years also. The number of the victims is really high."
Pence responded in a serious manner, saying, "We won't forget you [Falun Gong]. I promise," recalled Chen.
Chen said that all Chinese people are victims, not just the persecuted. In order to persecute Falun Gong, the legal system has been distorted to sentence Falun Gong practitioners, he explained. Religious freedom is guaranteed under the Chinese constitution.
He added, "Meanwhile, Chinese officials willing to carry out persecution have been promoted, fueling corruption. The result has been a deep decline in the level of morality in China."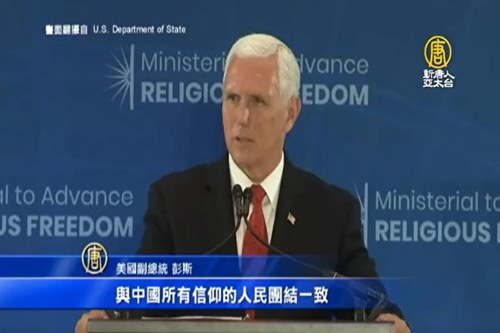 U.S. Vice President Mike Pence
Pence is known for his tough position on China. At the State Department's Ministerial on Religious Freedom on July 18, 2019, he said, "...whatever comes of our negotiations with Beijing, you can be assured, the American people will always stand in solidarity with the people of all faiths in the People's Republic of China."
U.S. Secretary of State Said "The United States Is Watching [Perpetrators]" Who "Will Be Held to Account"
On June 21, 2019, the United States Commission on International Reglious Freedom (USCIRF) published the "2018 Report on International Religious Freedom," which states that, "Based on the Chinese government's systematic, ongoing, egregious violations of religious freedom, USCIRF again finds that China merits designation in 2019 as a 'country of particular concern', or CPC, under the International Religious Freedom Act (IRFA)."
U.S. Secretary of State Mike Pompeo said at the press release of the 2018 annual report, "I'm proud to be here today to speak about the State Department's ongoing mission to advance international religious freedom." He emphasized that the Trump administration will make promoting religious freedom a "top foreign policy agenda" and continue to be the vanguard for international religious rights.
He pointed out that, "This mission is not just a Trump administration priority – it's a deeply personal one... It's a distinctly American responsibility to stand up for faith in every nation's public square."
He also said, "As in previous years, our report exposes a chilling array of abuses committed by oppressive regimes, violent extremist groups, and individual citizens. For all those that run roughshod over religious freedom, I'll say this: The United States is watching and you will be held to account."
"And in China, the government's intense persecution of many faiths – Falun Gong practitioners, Christians, and Tibetan Buddhists among them – is the norm," he explained. "The Chinese Communist Party has exhibited extreme hostility to all religious faiths since its founding. The party demands that it alone be called God."
Secretary Pompeo also spoke at the Ministerial on Religious Freedom held in Washington D.C. on July 16-18, 2019. He condemned the Chinese communist regime's attempts to prevent certain countries from attending the Ministerial. He said, "China is home to one of the worst human rights crises of our time. It is truly the stain of the century."
Pompeo called for an end to the persecution of religious belief and listed many examples of religious persecution, including cases of many Falun Gong practitioners imprisoned for upholding their faith. He brought up the case of Chen Huixia, who was sentenced to three and half years for refusing to renounce Falun Gong.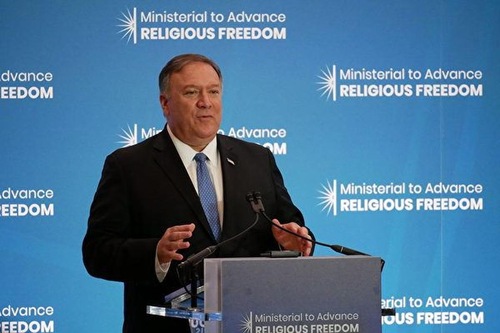 Secretary of State Mike Pompeo speaks at the State Department's Ministerial on Religious Freedom.
Rep. Chris Smith, a long-time supporter and advocate for human rights in China, also spoke at the Ministerial. He said that the Chinese Communist Party has targeted Uighur Muslims as well as Christians, Tibetan Buddhists, and Falun Gong practitioners in its brutal campaign of "sinicization," to forcibly bring religion under its control.
Smith continued, "Under sinicization, all religions and believers must comport with and aggressively promote communist ideology—or else," Smith said, adding the Chinese government has harassed, surveilled, detained, and tortured believers.
As is well known, despite the two decades of brutal persecution, Falun Gong practitioners are still refusing to be brought under the Chinese Communist Party's control. The fact that Minghui.org has been recording and publishing firsthand information of the persecution in real-time is the most powerful testament to the modern day fight for religious freedom.
U.S. Ambassador-at-Large for International Religious Freedom Condemns the Persecution
Sam Brownback, the U.S. Ambassador-at-Large for International Religious Freedom, made a statement on Twitter on July 29, 2019, "July 20th marked 20 long years since the Falun Gong was banned in China. Practitioners today still face persecution at the hands of the Chinese government, including arrests, torture, and the forced renunciation of their faith. The Chinese Communist Party's actions are unacceptable."
Sam Brownback, U.S. Ambassador-at-Large for International Religious Freedom
At the Foreign Correspondents Club in Hong Kong on March 8, 2019, he said, "Chinese government oppression extends to the Falun Gong, whose abuse has been well documented." "Allegations persist that the Chinese government continues to forcibly harvest organs from prisoners held on account of their faith, including Falun Gong practitioners and Uighurs." He indicated the U.S. government would continue to urge the Chinese government to end abuse and mistreatment of Falun Gong practitioners.
CECC Urges to Stop the Persecution of Falun Gong
The Congressional-Executive Commission on China (CECC) issued a statement on July 20, 2019, urging the Chinese Communist Party to stop its ongoing persecution of Falun Gong. "For the past twenty years, Falun Gong practitioners have experienced appalling and unacceptable human rights abuses in China," wrote the statement.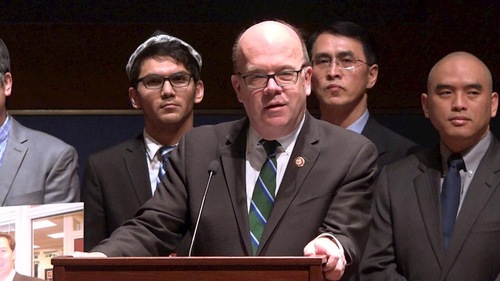 Representative James McGovern, chair of the Congressional-Executive Commission on China (CECC)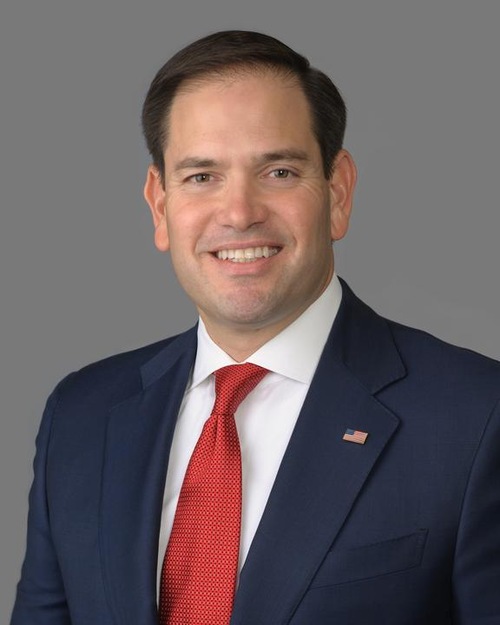 Senator Marco Rubio, co-chair of the CECC.
This statement was issued by Representative James McGovern, chair of the CECC, and its co-chair, Senator Marco Rubio. Since the Chinese Communist Party began to suppress Falun Gong on July 20, 1999, many Falun Gong practitioners "have been subjected to arbitrary detention, torture, forced labor, and constant harassment."
"We also urge the Chinese government to immediately and unconditionally release Deng Cuiping, Zuo Hongtao, and numerous other Falun Gong practitioners, and respect the freedom of all Falun Gong practitioners to hold their beliefs and their right to practice in accordance with those beliefs as guaranteed under international human rights standards and China's own constitution," wrote the statement.
The CECC was created by the U.S. Congress in October 2000 to monitor human rights and the development of the rule of law in China, and to submit an annual report to the President and Congress. It consists of Senators, Members of the House of Representatives, and senior Administration officials appointed by the President.
Support from Members of Congress
During the rally by Falun Gong practitioners in Washington D.C. on July 18, 2019, two House Representatives came to speak at the event, including Steve Chabot from Ohio and Sheila Jackson Lee from Texas. In addition, letters were received from 26 Members of Congress praising practitioners for their efforts and calling for a stop to the suppression in China.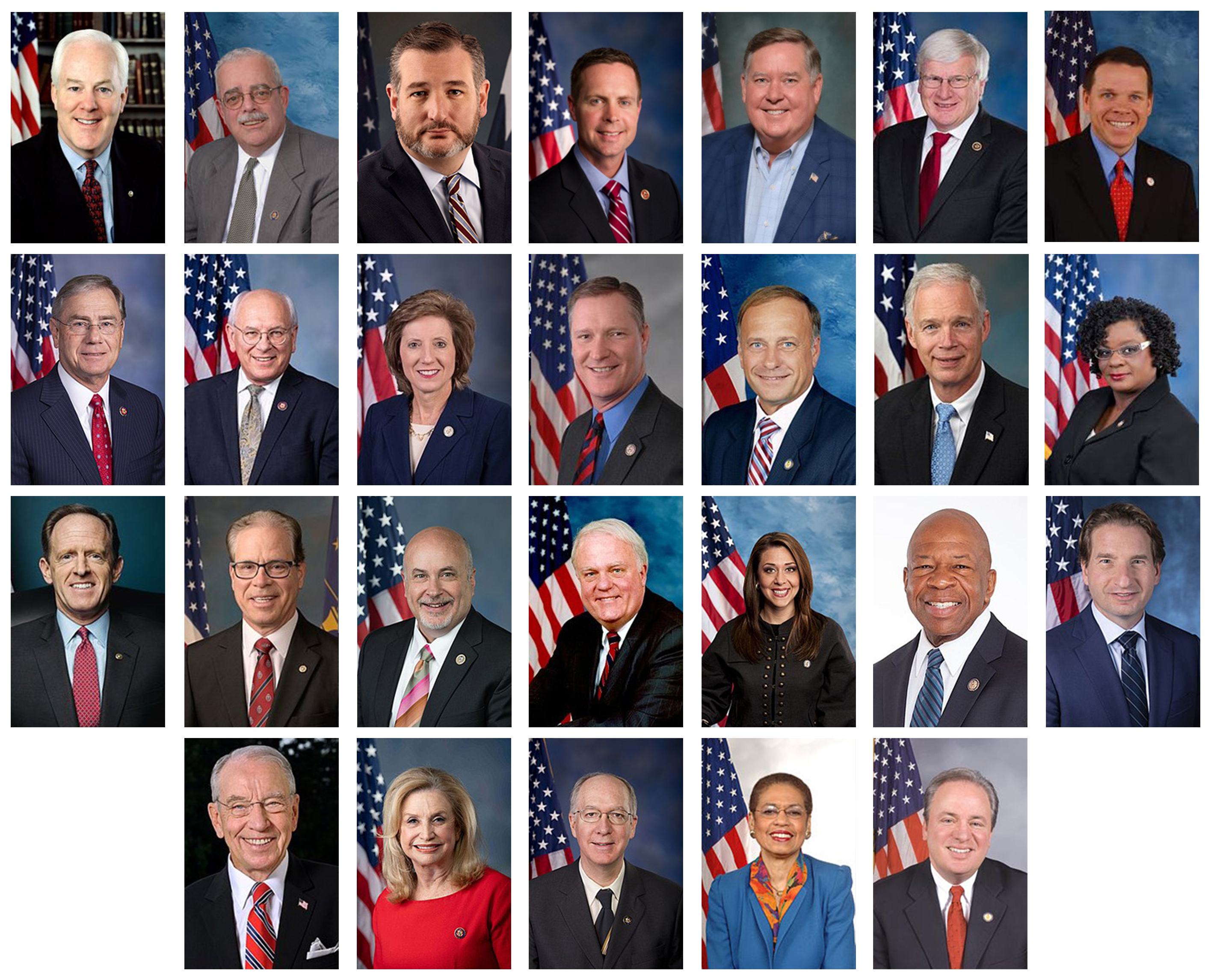 Letters were received from: Senator Charles E. Grassley (Iowa), Senator Ted Cruz (Texas), Rep. Steve King (Iowa), Rep. Rodney Davis (Illinois), Senator Ron Johnson (Wisconsin), Rep. Patrick J. Toomey ( Pennsylvania), Rep. Mike Doyle (Pennsylvania), Rep. Elijah Cummings (Maryland), Rep. Gwen Moore (Wisconsin), Rep. Bill Foster (Illinois), Rep. Jaime Herrera Beutler (Washington), Rep. Mark Pocan (Wisconsin), Rep. Glenn Grothman (Wisconsin), Rep. Eleanor Holmes Norton (District of Columbia), Senator John Cornyn (Texas), Rep. Mike Braun (Indiana), Rep. F. James Sensenbrenner, Jr. (Wisconsin), Rep. Carolyn B. Maloney (New York), Rep. Ken Calvert (California), Rep. Sam Graves (Missouri), Rep. Blaine Luetkemeyer (Missouri), Rep. Gerald Connolly (Virginia), Rep. Paul Tonko (New York), Rep. Steve Stivers (Ohio), Rep. Vicky Hartzler (Missouri), and Rep. Dean Phillips (Minnesota).
For more information, please visit Minghui Publishing Center at: https://www.mhpublishing.org