CECC Urges Chinese Communist Party to Stop Persecution of Falun Gong
July 25, 2019 | By Minghui correspondent Wang Ying
(Minghui.org) The Congressional-Executive Commission on China (CECC) issued a statement on July 20, 2019, urging the Chinese Communist Party to stop its ongoing persecution of Falun Gong. "For the past twenty years, Falun Gong practitioners have experienced appalling and unacceptable human rights abuses in China," wrote the statement.
This statement was issued by Representative James McGovern, chair of the CECC, and its co-chair, Senator Marco Rubio. The statement can be found on the commission's website at www.cecc.gov.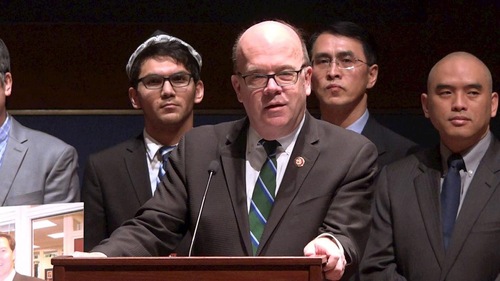 Representative James McGovern (center), chair of the CECC.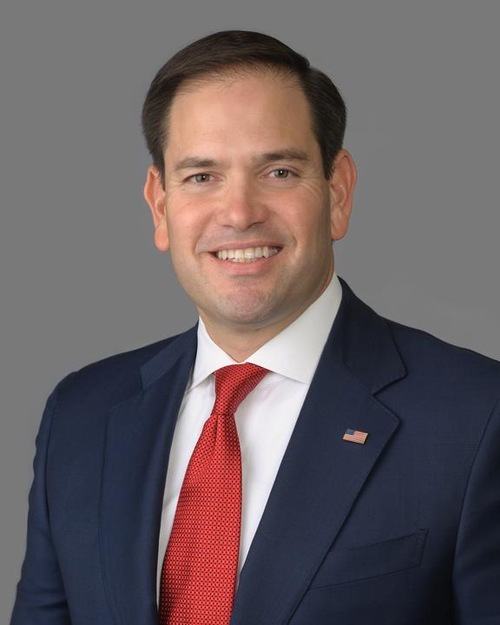 Senator Marco Rubio is co-chair of the CECC.
Since the Chinese Communist Party began to suppress Falun Gong on July 20, 1999, many Falun Gong practitioners "have been subjected to arbitrary detention, torture, forced labor, and constant harassment."
"On this sad anniversary, the Chinese government should end the persecution of Falun Gong and allow an independent and transparent U.N. investigation into the human rights abuses suffered by Falun Gong over the past two decades," continued the statement.
Two Cases Highlighted
The statement cited two cases in which practitioners are currently imprisoned for their belief. "We also urge the Chinese government to immediately and unconditionally release Deng Cuiping, Zuo Hongtao, and numerous other Falun Gong practitioners, and respect the freedom of all Falun Gong practitioners to hold their beliefs and their right to practice in accordance with those beliefs as guaranteed under international human rights standards and China's own constitution," wrote the statement.
Ms. Deng, a 52-year-old resident in Yuxi City of Yunnan Province, began to practice Falun Gong in 1997. Her insomnia went away, and she started to live by Falun Gong's principles of Truthfulness-Compassion-Forbearance. Because of her belief, however, her employment was terminated and she was taken to a brainwashing center. Shortly after her younger sister was arrested for practicing Falun Gong, Ms. Deng was also arrested and detained in late 2000 for going to Beijing to appeal for Falun Gong.
As Ms. Deng continued to tell people about Falun Gong and the persecution, she was arrested again in 2006 and sentenced to three years in prison. She was arrested on July 24, 2016 and sentenced to six years in prison in February 2017.
Mr. Zuo, 44, a practitioner from Qinhuangdao City of Hebei Province, was sentenced to 13 years in prison in January 2019. His wife, not a practitioner, was also detained 19 months (from June 2017 to January 2019) for supporting Falun Gong.
CECC was created by the U.S. Congress in October 2000 to monitor human rights and the development of the rule of law in China, and to submit an annual report to the President and the Congress. It consists of Senators, Members of the House of Representatives, and senior Administration officials appointed by the President.
Related Reports:
Three Practitioners from Yuxi City Sentenced to Prison
Qinhuangdao, Hebei Province: Four Falun Gong Practitioners Appealing Wrongful Convictions for Their Faith