After 20 Years of Opposing the Brutal Persecution, Falun Gong's Principles of Truthfulness-Compassion-Forbearance Is Changing the World
July 25, 2019 | By Zhong Yan
(Minghui.org) As more people began to improve their mind and body through the practice of Falun Gong, a spiritual discipline based on the principles of Truthfulness-Compassion-Forbearance, former Chinese Communist Party (CCP) leader Jiang Zemin launched a nationwide campaign against Falun Gong in July 1999.
This brought an unprecedented calamity throughout China. Under Jiang's order to "defame their [Falun Gong practitioners'] reputation, bankrupt them financially, and destroy them physically," a systematic genocide took place and more than 100 types of torture methods were applied on detained practitioners in attempt to force them to renounce their belief. The methods include brainwashing, psychiatric abuse, sexual abuse, forced labor, forced organ harvesting and others. This brought countless tragedies to tens of millions of practitioners and their families.
Minghui.org has confirmed more than 4,000 cases of practitioners tortured to death. The deceased practitioners came from over 30 provinces and centrally-controlled cities in China. And yet, the real death toll is feared be much higher with the information blockade amid the ongoing persecution.
Violence and brainwashing failed to defeat Falun Gong practitioners. Their peaceful efforts to oppose the persecution—through rationality and wisdom—have made the world aware of the brutality in China, and in the meantime brought enormous changes to the world.
Support from the U.S. President
In the afternoon on July 17, 2019, United States president Donald Trump met 27 survivors of religious persecution from 17 nations. This included Ms. Zhang Yuhua, a Falun Gong practitioner from Nanjing City in Jiangsu Province. This is the first time a Falun Gong practitioner met a U.S. president in the oval office inside White House.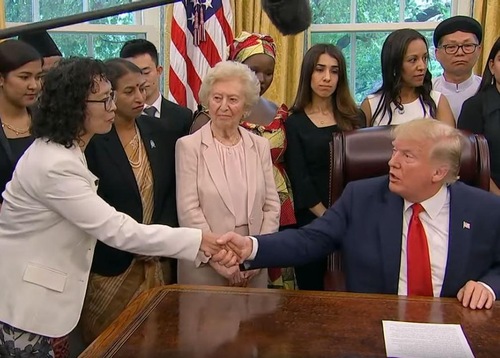 Donald Trump, the United States President, meets survivors of religious persecution from 17 nations including Falun Gong practitioner Zhang Yuhua.
Ms. Zhang was a former department chair in the School of Foreign Languages, Nanjing Normal University. She briefly talked about the suppression she and her husband had suffered. In addition, she said forced organ harvesting from Falun Gong practitioners still continues and she hoped president Trump could bring the tragedy to an end.
Because of his belief in Falun Gong, Ms. Zhang's husband, Mr. Ma Zhenyu, has been arrested multiple times. He is currently kept in Suzhou Prison in Jiangsu Province. He was once tortured for four days and four nights, including being handcuffed and hung up high for beating. Mr. Zhang had previously been sent to labor camps three times and prison once, serving a total of 7.5 years. He suffered various forms of abuse, including being forced to run under the burning sun or stand still for a long time, as well as sleep deprivation.
"In America, we've always understood that our rights come from God, not from government," Trump said during the meeting. "Each of you has suffered tremendously for your faith. Each of you has now become a witness to the importance of advancing religious liberty all around the world."
Brutality Exposed in the International Community
Ms. Zhang was one of the survivors who attended the Ministerial to Advance Religious Freedom, hosted by the U.S. Department of State from July 16 to 18, 2019. Several practitioners participated in the conference, in which Secretary of State Mike Pompeo welcomed Falun Gong practitioners and other attendees in the opening ceremony.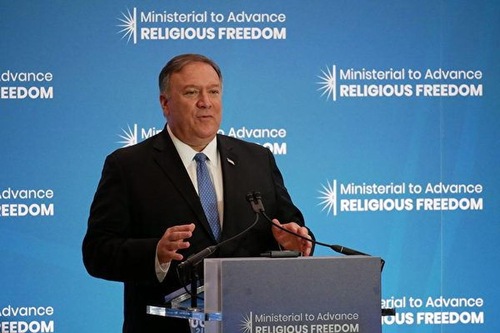 Secretary of State Mike Pompeo spoke at the Ministerial to Advance Religious Freedom on July 16, 2019.
Former congressman Frank Wolf said the human rights situation had been deteriorating. "I think it is worse now than at any time than I've been dealing with these issues," he said during the conference on July 16.
When the State Department released its annual annual report on global religious freedom on June 21, Pompeo was also concerned about China's "staggering religious abuses." "In China, the intense persecution of many faiths—Falun Gong practitioners, Christians, and Tibetan Buddhism among them—is the norm," he stated. He added that the Trump administration will make promoting religious freedom a "top foreign policy agenda" and continue to be the vanguard for international religious rights.
On April 18, 2019, European Parliament passed a resolution calling for sanctions against human rights abusers in China. The resolution wrote the "freedom of religion and conscience has reached a new low point" in China since the 1970s. It urged the immediate release of detained Falun Gong practitioners and other prisoners of conscience as well as minorities.
Holding Key Perpetrators Responsible
Over 200,000 Falun Gong practitioners and their families have filed criminal complaints since May 2015 against former CCP leader Jiang Zemin. These complaints were submitted to the Supreme People's Court and Supreme People's Procuratorate in China to report Jiang's crime against humanity, crimes of torture and genocide during the persecution of Falun Gong. In Asia alone, more than 1.38 million people have signed petitions to support this movement.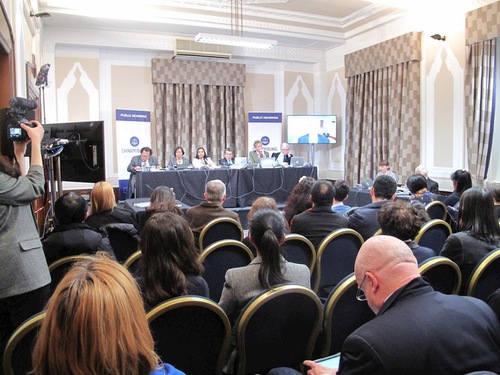 The second public hearing of the Independent People's Tribunal/China Tribunal was held in London on April 6-7, 2019
An independent people's tribunal in London, established to inquire into forced organ harvesting from prisoners of conscience in China, announced its findings on June 17, 2019. The panel concluded that the CCP has been harvesting organs from living Falun Gong practitioners in China for many years, and that this brutality still continues today.
An official from the United States Department of State (DOS) told various religious groups earlier this year that the agency is tightening visa vetting and may deny visas to human rights violators and those who persecute religious beliefs. This includes both immigration visas and non-immigration visas such as tourism and business visas. Visa holders, including those already granted permanent residence (green card), may be denied entry. As a follow-up of this decision, Falun Gong practitioners have recently submitted a name list that contains some key perpetrators against practitioners.
On March 14, 2019, the European Parliament adopted a resolution urging EU human rights sanctions to punish state and non-state human rights violators. Inspired by the US Magnitsky Act, similar legislative frameworks are also in place in Canada and several EU countries. This resolution called for a sanction mechanism to be established at EU level "to impose asset freezes and visa bans on individuals involved in grave human rights violations."
News Media and Public Awareness
Bill Melugin from FOX 11 reported on May 20, 2019, the persecution that happened to Wang Kefei, a Falun Gong practitioner from Liaoning Province who died at 35 on December 20, 2001. This 9-minute investigational video report was broadcast in many cities across U.S., helping the public to understand the brutality practitioners have experienced in China.
As more and more people are aware of the CCP's vicious nature in mistreating innocent citizens, over 337 million Chinese people have withdrawn their Communist Party organization memberships.
Resisting influence and infiltration of the CCP was also observed elsewhere. More than two million people took to the streets in Hong Kong on June 9 to oppose the extradition bill. Tens of thousands of Taiwan residents rallied on June 23 against news media infiltration by the CCP.
The principles of Truthfulness-Compassion-Forbearance will help us understand what is right and wrong, and lead us towards a brighter future.