Family Destroyed in Persecution of Falun Gong with Deaths of Father, Son and Daughter-in-Law
August 06, 2019 | By a Minghui correspondent in Shandong Province
(Minghui.org) Because of the Chinese communist regime's persecution of Falun Gong, one family in Shandong Province has suffered tremendously. The son died at 35 due to torture. The daughter-in-law developed a mental disorder due to torture and brainwashing, and she passed away as a result. The elderly father, a retired teacher, was heartbroken and died in 2018.
The family lived in Wucheng County, Shandong Province. Mr. Chen Guibin, the son, became paralyzed as a result of beatings prior to his death. The widowed daughter-in-law, Ms. Zhou Haitao, was deprived of food, sleep, and toilet access while in detention. The father, Mr. Chen Jinghua, was also detained. The authorities repeatedly extorted money from the family despite their poverty.
Death of the Son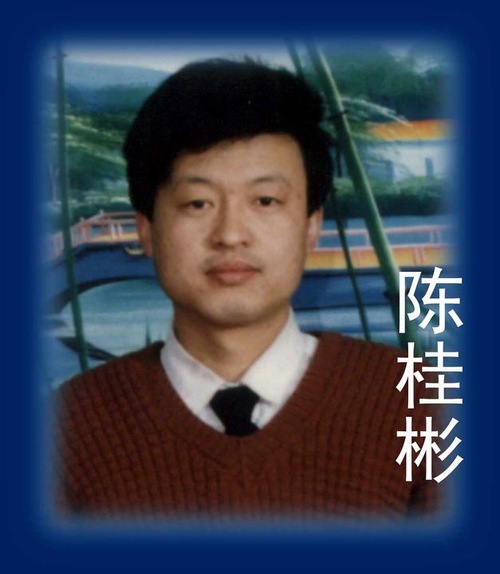 Mr. Chen Guibin, former employee of Wucheng Cotton Mill in Shandong Province, died at 35 in 2001 as a result of the persecution of Falun Gong.
Mr. Chen Guibin worked at the Wucheng Cotton Mill in Shandong Province. In childhood, he developed tracheitis, a bacterial infection of the trachea, producing airway obstruction.
After he began to practice Falun Dafa in March 1995, Mr. Chen's health was restored. He also followed the moral teachings of Falun Dafa, and his honesty and work ethic earned respect at his workplace and in the community.
After the persecution started in July 1999, Mr. Chen went to Beijing to appeal for justice for Falun Gong and was detained for over a month. After being released, he was ordered to report to the Wucheng Police Department daily. He and his wife were later detained for more than 10 days around any dates with worldwide significance in the practice of Falun Gong. Wucheng Police also ransacked Mr. Chen's home on July 25, 1999, confiscating property worth over 3,000 yuan and cash of more than 2,500 yuan.
In late December 2000, Mr. Chen and his wife were arrested again and kept at a detention facility inside Wucheng Cotton Mill. Hou Jincai, the security manager of the factory, suspected that Mr. Chen had told others to go to Beijing to appeal for the right to practice Falun Gong. Hou handcuffed him and ordered four people to abuse him. One person pushed Mr. Chen hard from the back, making him fall. With both hands cuffed, he could not stop himself, and his head struck a metal file cabinet. He was paralyzed instantly, and a medical exam revealed severe fractures of the cervical vertebrae.
Hou and others continued to beat Mr. Chen while he lay on the ground motionless and unconscious. Hou then removed Mr. Chen's shoes and socks and unbuttoned his clothes. The assailants then took Mr. Chen outside, where it had snowed, and left him there for over an hour. After that, Mr. Chen was brought inside and put on a wooden board in an unheated room.
Mr. Chen's wife, Ms. Zhou, was also kept at the same detention facility. She heard about his beating and reported it to the company president, Wang Yumin, but she was ignored. Multiple requests from Mr. Chen's mother and younger brother to see her were denied.
Ms. Zhu Guixiang, Mr. Chen's mother, heard about her son's injury during a visit the following day. She and a doctor repeatedly contacted company officials, and Mr. Chen was finally transferred to a hospital 28 hours after he was injured. He died on February 7, 2001.
Zhang Ruijun, the head of the domestic security division at Wucheng Police Department, supervised Mr. Chen's beating on site.
Death of Daughter-in-Law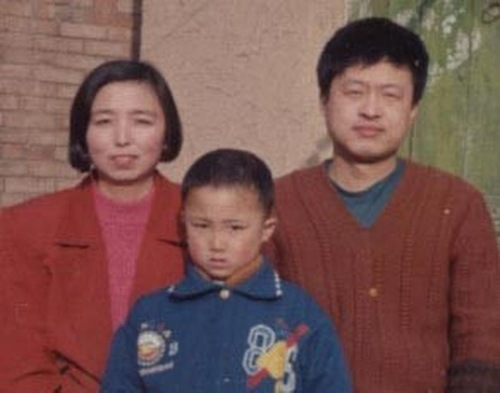 Mr. Chen Guibin, Ms. Zhou Haitao, and their son.
The sudden death of Mr. Chen destroyed the harmonious life of Ms. Zhou and her 10-year-old son. They lived in poverty. She went to the Supreme Procuratorate in Beijing to seek justice in early 2001.
An officer said, "You do have a strong case, and I agree that your family was wronged. But there is nothing I can do about it now. You will win the case in the future."
Wucheng Police took Ms. Zhou to Dezhou Brainwashing Center and held her there for more than three months. There, she was beaten, starved, deprived of sleep, and denied access to a toilet. She was also forced to watch videos that slandered Falun Gong and its founder. After that, officials took her to the Jinan Women's Labor Camp, where she was detained for over six months and shocked with electric batons and hung up by her arms while being beaten.
The torture quickly weakened her health, and she was unable to hold down a job. The financial difficulty and stress led to a mental disorder, forcing her to live with her parents-in-law. She died in 2017.
Suffering of the Parents
Mr. Chen Guibin's parents, Mr. Chen Jinghua and Ms. Zhu Guixiang, used to have many ailments, including heart disease, stomach problems, leg pain, and a uterine tumor. After practicing Falun Gong, they returned to good health. By following the principles of Truthfulness-Compassion-Forbearance, they also had a harmonious family life and improved their relationships with their neighbors.
Mr. Chen Jinghua was detained at the Datun Township Government on July 22, 1999. He was deprived of food, water, sleep, and toilet access. He was ordered to write a statement that defamed Falun Gong and read it while kneeling. Officials at the school where he worked later took him to a brainwashing center in Zhuzhuang County, where he was also forced to pay for the facility expense.
This was followed by more brainwashing classes and financial extortion. On April 23, 2000, Mr. Chen was detained at Datun Police Station, where he was ordered to write statements renouncing Falun Gong and fined 1,000 yuan.
He was taken to the Datun Township Government on July 19, 2000 for a few days and again fined 1,000 yuan. Since he had no money, the village Party Secretary had to act as his guarantor for his release.
In January 2001, Mr. Chen was detained again in January 2001 and fined 1,000 yuan. He escaped when police went to arrest him in December 2001. After he and his wife went into hiding, the police raided their home. Mr. Chen Jinghua died in 2018.
Related Reports:
Ms. Zhou Haitao Suffers a Mental Collapse from Torture After Her Husband Was Killed in the Persecution (Photo)
Chen Guibin from Wucheng County, Shandong Province Died from Beating by Security Officers at His Place of Employment in 2001