Cangzhou Woman Tried for Her Faith, Authorities Obstruct Defense Lawyers and Threaten Husband
August 13, 2019 | By a Minghui correspondent in Hebei Province, China
(Minghui.org) A Cangzhou City, Hebei Province, resident appeared in court on June 18, 2019 for practicing Falun Gong, a spiritual discipline that has been persecuted by the Chinese communist regime since 1999.
Ms. Chen Shumin's lawyer entered a not-guilty plea for her. She also testified in her own defense.
Ms. Chen, in her 60s, is a retired bank employee. She began to practice Falun Gong shortly after she lost her daughter in a car accident, and she was severely injured herself. She credits the practice for restoring her health and helping her find hope after the loss of her only child.
After the persecution of Falun Gong began, she never shied away from sharing her personal story with people and clearing up the Communist Party's defamation of Falun Gong.
Ms. Chen was arrested on December 4, 2018 while talking to people about Falun Gong at a farmer's market. The police ransacked her home and submitted her case to the procuratorate within ten days.
Ms. Chen was indicted in March 2019 with the charge of "undermining law enforcement with a cult organization," a standard pretext used by Chinese courts to frame and imprison Falun Gong practitioners. Prosecutor Kong Lingxia repeatedly refused to meet with her lawyers to discuss her case.
When her lawyer went to Cangzhou City Detention Center to visit her on May 16, guards rejected the meeting with the stated reason that Ms. Chen protested the persecution and refused to wear the inmate's uniform.
The Yunhe District Court initially scheduled her trial for May 30, 2019, but because her family and local Falun Gong practitioners passed out invitations to local residents to attend her hearing, the court canceled it at the last minute and rescheduled it to June 18.
The local Political and Legal Affair's Committee, a nonjudicial government agency tasked with carrying out the persecution of Falun Gong, pressured Ms. Chen's two lawyers' law firms and local bar associations to stop them from defending Ms. Chen in court.
Authorities prevented lawyer Liu in Tianjin from attending her hearing, but lawyer Wang in Henan Province defended her innocence despite being pressured.
The bailiffs also attempted to keep Ms. Chen's husband, Mr. Bao, from attending the hearing, but they later relented upon his protest.
Lawyer Refutes Allegation Against Client
During the hearing, lawyer Wang argued that no law criminalizes Falun Gong in China. While Prosecutor Kong accused his client of "undermining law enforcement," she did not provide evidence to support which law was undermined and how.
Kong also accused Ms. Chen of printing Falun Gong-related materials at home. Lawyer Wang refuted that while Ms. Chen did have Falun Gong materials, a computer and a printer at home, it didn't mean that she printed the materials herself.
Kong then alleged that Ms. Chen broke the law by distributing the book, The Ultimate Goal of Communism. The lawyer countered that the book discussed the ideology of communism and was legal, adding that his client didn't violate any laws in distributing the book.
Ms. Chen testified during the hearing that the police had forced her to admit that she had made the materials herself by threatening to arrest her husband. She said the confessions were extracted against her will and were inadmissible as evidence.
She also revealed that the police tried to pressure her husband to provide witness testimony against her using a prepared script. He refused even though the police threatened to arrest him.
Surveillance Outside the Court
Many police officers and police cars surrounded the courthouse during the hearing. The officers photographed and questioned local practitioners and residents who came to show their support for Ms. Chen.
Some officers pretended to be passersby and attempted to get the practitioners' personal information by talking to them. Some practitioners' purses were searched by the police. Those who were found to have Falun Gong flyers in their bags also had their homes ransacked later on.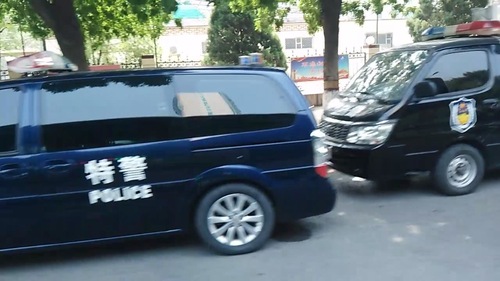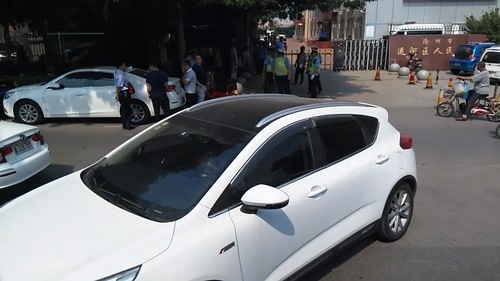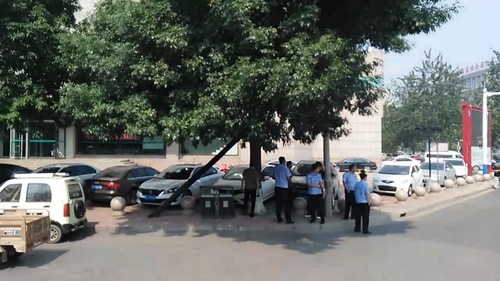 Police cars outside of the courthouse during the hearing
Related report: