Scotland: Public Learns About Falun Gong at 2019 Edinburgh International Festival
August 13, 2019 | By a Falun Gong practitioner in Scotland
(Minghui.org) The Edinburgh International Festival runs from August 2 to 26, 2019. Many artists from around the world attend the annual event, which transforms Scotland's capital into a multicultural art showcase. Tourists pack renowned attractions such as the historic Royal Mile, Prince Street and Meadows Park, and street performances and the array of stalls draw large crowds to the popular event.
Local Falun Gong practitioners also participated in the event, setting up their display next to the central footpath at Meadows Park.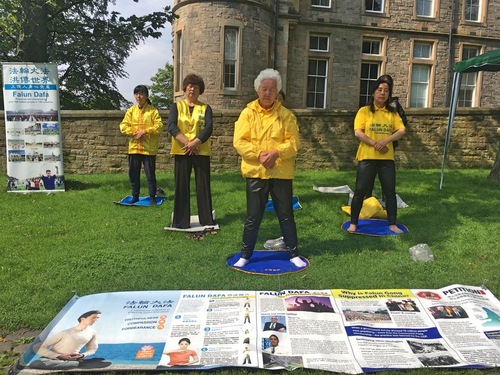 Practitioners participate in the Edinburgh International Festival, which runs from August 2 to 26, 2019. The melodious exercise music attracted many people.
Drawn by the soothing exercise music, several people stopped to watch as practitioners did the exercises. Some carefully read the information display boards and asked practitioners questions.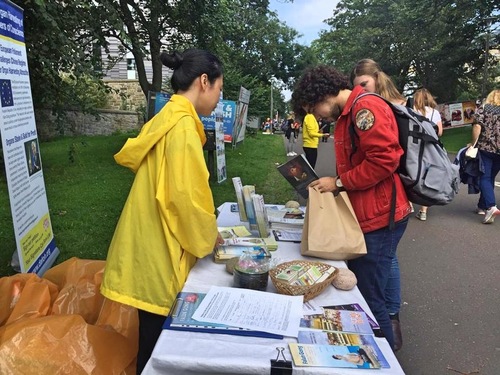 Passersby read the information about the ancient spiritual practice.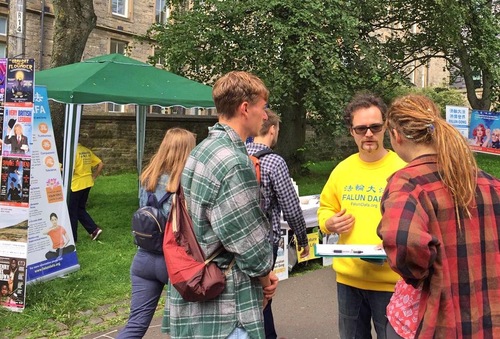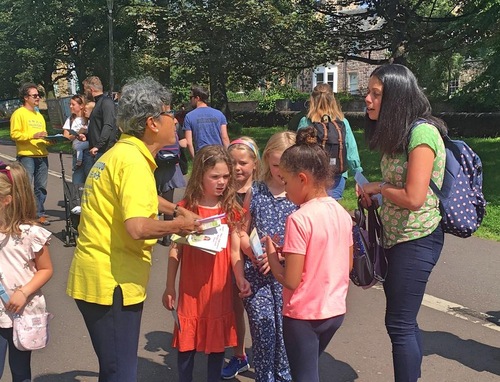 Practitioners introduce Falun Gong and tell people about the persecution.
A woman signs the petition calling for an end to the persecution in China.
Jack, a second-year student at the University of Edinburgh, said he agrees with the principles of Falun Gong–"Truthfulness, Compassion, Forbearance"–and expressed interest in attending a class to learn the meditation practice. Several mainland Chinese accepted brochures or stopped to read more about Falun Gong.
A young father and his daughter stopped to watch the practitioners doing the exercises for a long time. He read about Falun Gong and how it is persecuted by the communist regime in China. He signed the petition and encouraged practitioners to keep raising awareness of the issue.
When Morag and her young son saw the display, her eyes filled with tears and shock. An elderly woman asked practitioners what the UK government was doing to help stop the forced organ harvesting in China.
As soon as one woman heard the words "petition to stop forced organ harvesting," she turned back and signed the petition. She later returned to take a photo of the display. She told practitioners that she planned to post it on social media to let more people know about the persecution.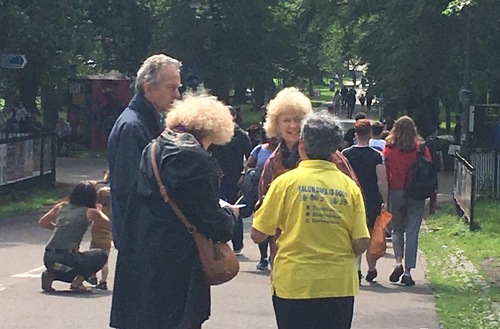 Three Britons learn about Falun Gong and the persecution.
Three Britons in their 50s signed the petition but said they did not understand why the Chinese regime persecutes Falun Gong. When a practitioner explained that the principles of Falun Gong did not align with communist ideology, one of them said, "Of course, if everyone follows these values, the Chinese Communist Party will not be able to control people's thoughts."
A Japanese woman and her English husband stopped to read the display. The lady knew about the persecution and asked to sign the petition. Her husband asked why the Chinese Communist Party persecutes practitioners. After learning more about the subject, he also signed the petition and encouraged practitioners to continue their efforts.
Rachel is a fourth-year history student at the University of Edinburgh and a member of Amnesty International. She learned about Falun Gong through a documentary screened at the university several years ago. She wants to introduce the meditation practice to new members of Amnesty International and invited practitioners to give a presentation and show a movie about Falun Dafa. She said, "It's very important to let people know that this is happening now."