Twenty Years of Persistence: Practitioners from Singapore Recount the Journey of Peaceful Resistance
July 25, 2019 | By a practitioner from Singapore
(Minghui.org) "Has the persecution gone on for 20 years?" Many people were shocked when passing by Falun Gong practitioners' memorial event at Fanglin Park in Singapore on July 15.
When tourists passed by practitioners' banners, which read: "End the persecution of Falun Gong now," "Stop the state-sanctioned organ harvesting from living Falun Gong practitioners," "The world needs Truthfulness-Compassion-Forbearance," and "Falun Dafa is good," they were touched by the peaceful spirit of the resistance and condemned the brutality of the persecution.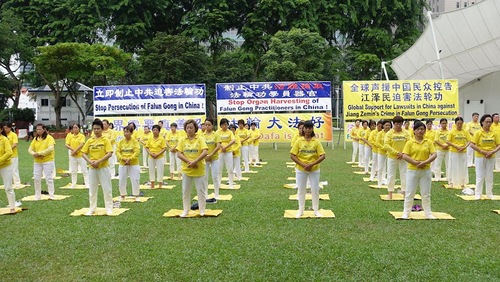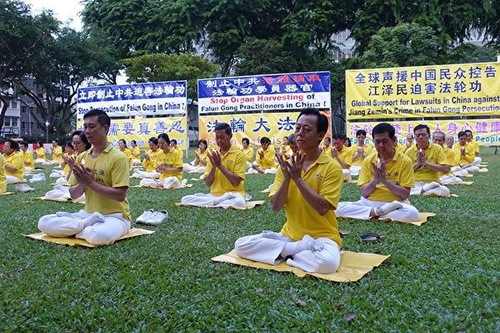 Demonstrating the Falun Gong exercises.
"It is urgent. The persecution must end now," says local businessman
Local businessman Mr. Chen said to practitioners, "This inhumane persecution must end now. It is urgent."
Steve, a retired local citizen, echoed the same sentiment, "Falun Gong's guiding principles, Truthfulness-Compassion-Forbearance, are universal. If a political party is against these principles, it must have problems." He continued, "The whole world should boycott communism."
Steve praised practitioners' peaceful resistance and encouraged them to keep up the good work and let more people know the facts of the persecution.
He added, "I often see you doing exercises in the parks. It benefits body and mind; it is very healthy. It is sad that the Chinese Communist Party (CCP) persecutes such an exercise that has roots in its own country and spreads lies all over the world."
Twenty-year-old Ms. Chen asked practitioners what she can do to help. She knows that the CCP has been persecuting the Chinese people and mentioned what is happening in Hong Kong these days. "The CCP tries to deprive people of freedom. The persecution of Falun Gong is an example," Ms. Chen accepted fliers from practitioners and signed a petition that condemns the persecution.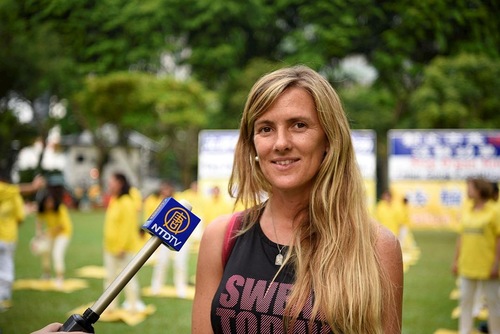 Vale Baumann learned the Falun Gong exercises at home in Argentina. "It was a wonderful experience," she said. But she didn't know that the persecution is still ongoing. "It is so sad. It must end now," she said, "I will tell my friends and people I run into on this trip about the persecution."
The Precious Memory
Ms. Shen first heard about Falun Gong right before the persecution started in July 1999. Several practitioners around her were arrested soon after Jiang Zemin, the former CCP head, launched the persecution.
Although Ms. Shen has not started practicing, she is sympathetic and has helped practitioners hide Falun Gong books in her apartment.
"If there is only one thing in the world that I completely agree on, it must be Falun Gong," she said, "The practitioners are the best people I've ever met."
In March 2000, she went to Beijing for a business trip. On the train, the police stopped everybody, searched their luggage for Falun Gong materials, and forced every passenger to say something attacking Falun Gong.
"Although I was not a practitioner, I couldn't tolerate Falun Gong being insulted," she recalled. "I cannot do anything against my conscience. I refused to comply with the police."
As a result, she was put on a blacklist, arrested three times, and imprisoned for a total of 80 days.
"I never thought I would be jailed," she said. "In the prison, I met more practitioners, and learned why they are so persistent about their belief and why they try their best to protect it." She went on to say, "They told me more about the teachings and more touching stories of cultivation."
"An imprisoned practitioner was a warehouse clerk. The manager of his factory came to the prison with cash to bail him out. The manager said to the prison staff that they have around a thousand workers in the factory and they had hired many warehouse clerks, but this practitioner is the only person who has never stolen anything from the warehouse. He is a very honest person."
"Even the criminal inmates were touched by the imprisoned practitioners' peacefulness and compassion," Ms. Shen said. "Many inmates told me that Falun Gong practitioners are good people, and they admired them."
Upon her release, a police officer told her quietly, "The CCP is evil. It will kill more practitioners. If you have a chance, you should go abroad."
In June 2001, Ms. Shen escaped from China and came to Singapore.
"It has been 20 years. I still remember those great practitioners. Their spirit is very impressive. This memory is locked in me. I will never forget."
Telling People the Truth About Falun Gong and the Persecution
Seventy-two-year-old Xiuyun started practicing Falun Gong in Singapore 18 years ago.
"Many people around me were deceived by the CCP's lies and they didn't understand why I practiced Falun Gong at the height of the persecution," she said.
"Actually, I had tried many kinds of qigong which all disappointed me until I found Falun Gong. Master Li answered all my questions about life and the universe. I practiced for two weeks and I felt that my body and mind were renewed."
"Falun Gong healed many diseases of mine in a few weeks. My body was lighter, and I didn't feel tired when climbing stairs."
The CCP's lies saddened Xiuyun. She felt that it was her responsibility to let people know what Falun Gong really is.
She started to pass out fliers in residential buildings and she has been doing it for 18 years.
"It was exhausting because many buildings do not have an elevator. But I didn't give up," she said. "About 10 years ago, I started talking to people face to face on the street, telling them the truth of Falun Gong and the persecution."
"At the beginning, many people, especially those from China, didn't understand me. They insulted me and cursed me. I try to follow the principles of Truthfulness-Compassion-Forbearance and try to improve my patience and kindness. When I calmed down, I found it easier to communicate with people."
She added, "Now, more and more people have learned the truth. Many people treat me as their friend because they found that I care about them."
Veteran and New Practitioners
Fred Wollner from Austria had spent decades looking for a real cultivation practice. After trying many things and being disappointed, he found Falun Gong in 1999.
When he first read Zhuan Falun, the main book of Falun Gong, he asked in his heart if he could practice and then he heard the voice of Master Li, the founder of Falun Gong, saying, "Yes."
"Many great enlightened beings came from China and spirituality has been one of the most important components of Chinese culture. But all of those have been destroyed by the CCP," Fred said.
"The persecution of Falun Gong is a shame," he said, "and the Party has been lying."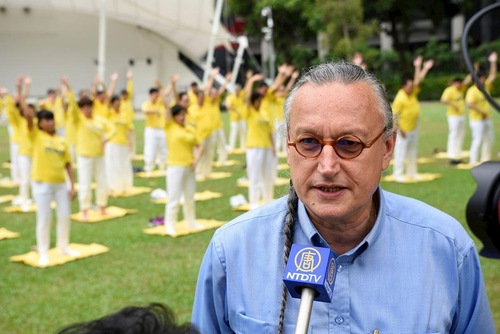 Austrian practitioner Fred Wollner said it's a pity that the persecution was launched.
Jody started practicing one month ago. She, however, heard about Falun Gong and the persecution six years ago while traveling in Norway.
"Falun Gong is true cultivation and the persecution saddens me," she said.
Last May, she ran into practitioners at a health expo and started practicing.
"After listening to the nine lectures, I was completely attracted to the teaching," she said excitedly, "and I started to ask what kind of person I want to be. Then I made up my mind to practice Falun Gong."
"Falun Dafa is righteous. If everybody in the world practices it, human society will become a peaceful world." She said, "Falun Dafa helped Chinese society and it will help the entire world."
She encouraged practitioners in China to keep up the good work. "We must have hope for the future," she said.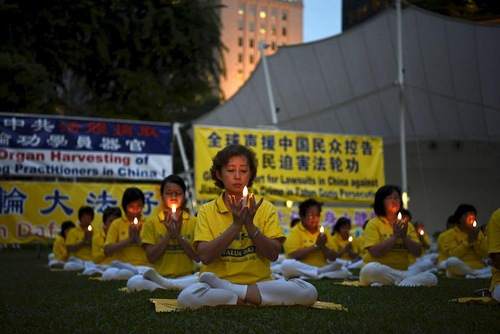 At night, practitioners held a candle light vigil commemorating those who lost their lives in the persecution.
http://www.minghui.org/mh/articles/2019/7/19/反迫害二十年-新加坡民众支持法轮功(图)-390231.html