Gansu Woman Detained for Two Years for Not Renouncing Her Faith
July 24, 2019 | By a Minghui correspondent in Gansu Province, China
(Minghui.org) A Lanzhou City, Gansu Province resident has been detained for two years for not renouncing her faith in Falun Gong, a spiritual discipline that has been persecuted by the Chinese communist regime since 1999.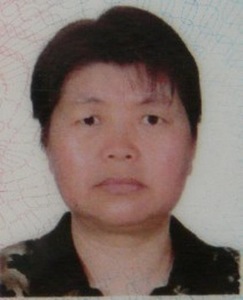 Ms. Wang Xiongzhen
Ms. Wang Xiongzhen was arrested at home on June 18, 2017. The police took her to the local police station around noon and interrogated her until 8 pm. They brought her to the police hospital for a physical checkup around 10 p.m. and sent her to Lanzhou City No.1 Detention Center around midnight, where she has been detained since.
The Chengguan Procuratorate approved Ms. Wang's arrest on July 21, 2017. The prosecutor indicted her on November 16, 2017 and submitted her case to the court. She appeared in Chengguan District Court on November 2, 2018 and is now awaiting the verdict.
While Ms. Wang was held in custody, her daughter visited many government agencies to seek her release, only to be threatened that Ms. Wang may get a longer sentence if she keeps trying to secure her release.
Past Persecution
Ms. Wang used to suffer from many ailments, including kidney infection and anemia. She and her husband, who also had health issues, were both admitted to the hospital, leaving their daughter at home alone. After Ms. Wang was laid off by her workplace, the family's financial situation became more difficult.
Ms. Wang came across Falun Gong in June 1996. Her health recovered quickly, and she was able to take on a lot of household chores. Her family was very supportive of her doing the practice.
After the communist regime ordered the persecution of Falun Gong in 1999, Ms. Wang was arrested several times for not renouncing her faith.
She was first arrested in January 2000 when she went to Beijing to appeal for Falun Gong. After three days of detention, the police ordered her previous workplace, the Lanzhou City Enamel Factory, to take her back. She was forced to pay thousands of yuan to the authorities, while she only received a 50-yuan monthly subsidy after she was laid off.
Officers from Qilihe Domestic Security Division interrogated her and forced her to write statements renouncing Falun Gong. She was detained for 15 days at Yanjiaping Detention Center and then released.
The authorities continued to harass her. At one point, the police forced her teenager daughter to hand-copy pages of slanderous materials against Falun Gong, as Ms. Wang never went to school and didn't know how to write. She said it broke her heart to see her young daughter being forced to do that.
The pressure from the persecution and constant harassment took a toll on her husband's health. He was unable to eat or sleep well. He became ill and passed away on September 25, 2012.
Related reports:Two Gansu Women Remain Detained Despite Return of Cases to Police by Procuratorate
Gansu Women Expose Abuse at Detention Center
Daughter Threatened for Trying to Seek Mother's Release
Four Falun Gong Practitioners in Gansu Province Sentenced to Prison Since January 2018