Gansu Women Expose Abuse at Detention Center
December 21, 2017 | By a Minghui correspondent in Gansu Province
(Minghui.org) Two women in Lanzhou City disclosed to their lawyers how they were abused at the Lanzhou City First Detention Center.

Ms. Yuan Xiuying and Ms. Wang Xiongzhen were arrested on June 18, 2017 for refusing to renounce Falun Gong, a spiritual discipline being persecuted by the Chinese communist regime. The local procuratorate returned the case to police, citing insufficient evidence, but the latter refused to release the two practitioners. Ms. Wang's daughter was threatened when she tried to see, her mother's release.
Ms. Yuan's and Ms. Wang's lawyers arrived at the detention center at 3 p.m. on December 6, 2017, and they were each given only five minutes to meet with their clients. The guards claimed that they needed to get ready to get off work at 4 p.m.
Ms. Yuan told her lawyer that she was handcuffed and shackled for eight straight days in November for refusing to wear the inmates' uniform. The way she was restrained (see illustration below) made it impossible for her to straighten her back, much less stand up. She also suffered one month of diarrhea due to poor conditions at the detention center. Her lawyer observed that she needed assistance to walk to the meeting room to see him.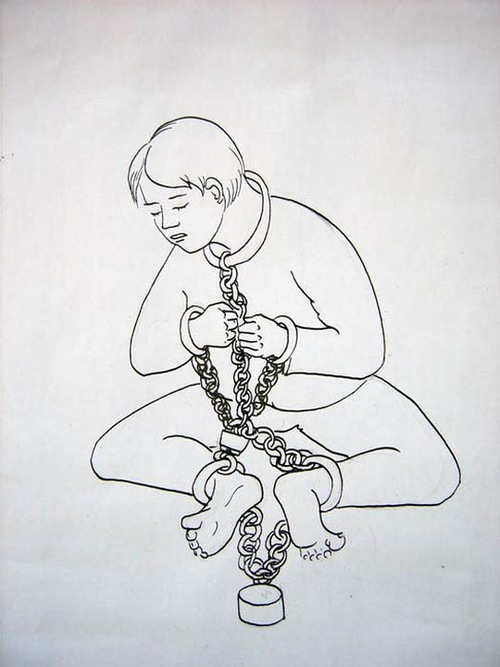 Illustration: Handcuffed and shackled
Ms. Yuan's family requested that she be released on medical parole, but the detention center said that only the local police department could make that call.
Ms. Wang told her lawyer that she developed various symptoms, including kidney problems and infrequent urination, following her arrest. She also said she had a lump on her breast, and the detention center doctors recommended surgery.
The two lawyers visited the local court the following morning and submitted their power of attorney documents. Judge Liu Dongyu said that their clients would probably be tried around January 2018.
Related Reports:
Two Gansu Women Remain Detained Despite Return of Cases to Police by Procuratorate