U.S. Elected Officials Express Concern About the Persecution of Falun Gong Practitioners
July 23, 2019 | By Falun Gong practitioners in Minnesota and Pennsylvania
(Minghui.org) A U.S. Congressman and a Member of the Pennsylvania House of Representatives each wrote letters to their respective local Falun Dafa associations ahead of July 20, which this year marks 20 years that Falun Gong practitioners have been persecuted in China.
Both men expressed concern about the Chinese Communist Party's (CCP) persecution of Falun Gong and stated that they would seek solutions to help stop the persecution.
Congressman Dean Philips Expresses Concern about the Persecution of Falun Gong Practitioners
U.S. Congressman Dean Phillips wrote to the Minnesota Falun Dafa Association on July 16, 2019.
In his letter, Congressman Philips expressed concern about Falun Gong practitioner Sun Lianying of Hebei Province. Ms. Sun is in her 60s and has been missing since June 3, 2019. Police ransacked her home on June 3, 2019, and attempted to arrest her on June 4, 2019. She is likely being held by police with bogus charges.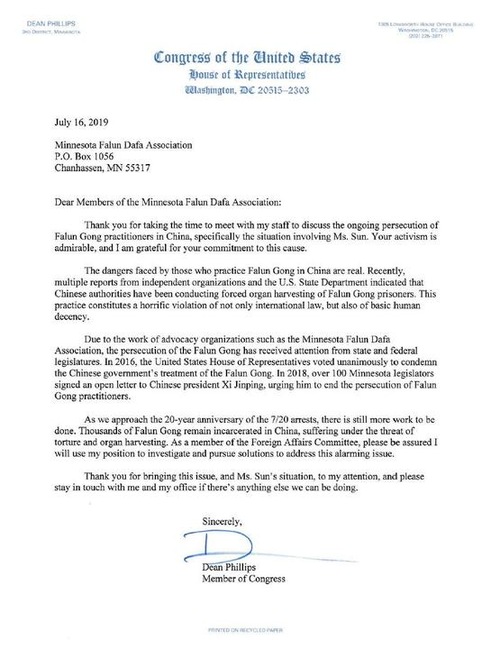 Letter from Congressman Dean Philips to the Minnesota Falun Dafa Association
Congressman Dean Philips stated in the letter, "The dangers faced by those who practice Falun Gong in China are real. Recently, multiple reports from independent organizations and the U.S. State Department indicated that Chinese authorities have been conducting forced organ harvesting of Falun Gong prisoners. This practice constitutes a horrible violation of not only international law, but also of basic human decency."
He also stated, "As we approach the 20-year anniversary of the 7/20 arrests, there is still more work to be done. Thousands of Falun Gong remain incarcerated in China, suffering under the threat of torture and organ harvesting. As a member of the Foreign Affairs Committee, please be assured I will use my position to investigate and pursue solutions to address this alarming issue."
Member of the Pennsylvania House of Representatives Calls for an End to the Persecution
Falun Gong practitioners in Philadelphia held a rally to mark the 20th anniversary of protesting the CCP's persecution on July 13, 2019, and invited elected officials to attend or send their greetings.
Member of the Pennsylvania House of Representatives Brian Sims wrote a letter to the Philadelphia Falun Dafa Association. He stated that he would continue to speak for the rights of Falun Gong practitioners until the persecution stops and all practitioners enjoy freedom of belief.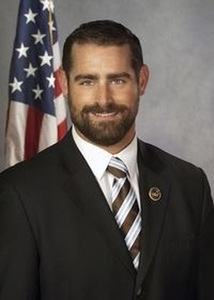 Brian Sims, Member of the Pennsylvania House of Representatives from the 182nd district.
Relevant article in Chinese: Pennsylvania