Detained Over Two Years, English Teacher Now Sentenced to Four Years in Prison
(Minghui.org) Ms. Hao Mingmei, an English teacher from Daqing City, Heilongjiang Province, was arrested in March 2017 because she practices Falun Gong. After being detained for more than two years, she was admitted to Heilongjiang Women's Prison on June 11, 2019, to serve a four-year term. Her daughter visited her on June 20 and Ms. Hao said she misses her family very much.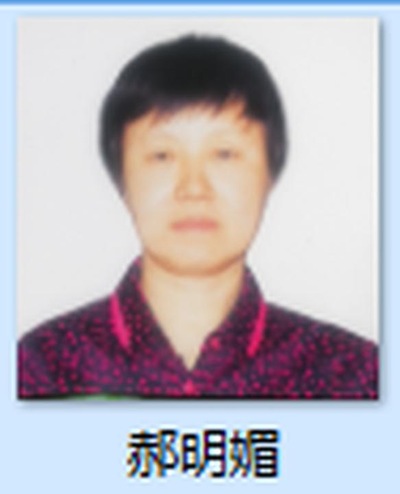 Ms. Hao Mingmei, an English teacher from Heilongjiang Province, is now serving four years in prison.
Falun Gong, also known as Falun Dafa, is a meditation practice that includes five exercises and following the principles of Truthfulness-Compassion-Forbearance. The Chinese Communist Party began to suppress Falun Gong in July 1999, and countless numbers of practitioners have arrested, detained, and tortured ever since.
Good Health and a Responsible Teacher
Ms. Hao Mingmei, also known as Ms. Hao Yingwu, is a 53-year-old English teacher from Bei'an City, Heilongjiang Province. She was involved in a major accident in 1996 when she was 23 that seriously affected her health.
After she began to practice Falun Gong in fall 1998, her health improved dramatically. The insomnia that had bothered her for nearly three years also disappeared. The butterfly rash on her face that she'd had for two years completely faded in three weeks and her skin turned fair.
Besides the improvement in her health, Ms. Hao applied the principles of Truthfulness-Compassion-Forbearance in her daily life. In her English tutoring class, her students accepted her advice and became better children with good manners. "I am very impressed by how honest Falun Gong practitioners are," said one parent. "I have seen many other tutoring class teachers go after money, while you Falun Gong teachers reap happiness."
Arrests and Detentions
Not long after Ms. Hao moved to Daqing City, plainclothes officers from Daqing Police Department arrested her at a train station on April 21, 2016. An officer said their orders came from the Daqing City 610 Office. After ransacking her residence and confiscating Falun Gong materials and 1,000 yuan in cash, officials said that Ms. Hao would be held in the Daqing Second Detention Center for 15 days.
Because of severe lumbar disc problems, Ms. Hao was unable to move, so she was released on April 26, five days later. They authorities kept the 1,000 yuan they'd confiscated as a "fine." They returned her computer, printer, and cell phone three months later.
On March 22, 2017, officers from Daqing Police Department and Chengfeng Police Department went to Ms. Hao's place again. Pretending to be property management personnel, they deceived her into opening the door and confiscated a computer and cell phones. They videotaped Ms. Hao and took her to the Chengfeng Police Department.
An officer said that Ms. Hao's April 2016 arrest was still "on the books." They forced her to sign paperwork and forwarded it to Ranghulu Procuratorate and Ranghulu Court to charge her.
Yang Bo from the Heilongjiang Province 610 Office and Feng Haibo from the Daqing City Police Department went to the detention center five times between April 6 and 11, 2017. Pretending to be caseworkers, they bypassed local officials and interrogated Ms. Hao, pressuring her to admit to falsified charges.
When she met with Liu Xiaochen, an official from the Procuratorate, on April 25, 2017, Ms. Hao reported the illegal actions of Yang and Feng. But Feng ignored her complaint and issued an arrest warrant on April 27, 2017.
Multiple Hearings
Following instructions from the Daqing 610 Office, judge Li Chenyong held five hearings for Ms. Hao: three in 2017 (November 20 and December 11 and 18) and two in 2018 (September 21 and November 22).
When Ms. Hao reported the illegal actions of Yang and Feng in the first three hearings, both judge Li Chenyong and prosecutor Li Kai ignored her.
Throughout the hearings, Ms. Hao and her lawyer argued that her arrest and the charges brought against her were not carried out legally. When officials said that Ms. Hao had written articles to the Minghui website and sent text messages, her lawyers countered, "Even if these articles were written by the defendant or the text messages came from her, all these actions are legitimate and they are protected by freedom of speech."
Freedom of speech and freedom of belief are specified in the Chinese Constitution (Articles 35 and 36) and Chinese Criminal Law (Article 251)
Sentence and Appeal
Judge Li Chenyong sentenced Ms. Hao to four years in prison with a fine of 20,000 yuan on November 29, 2018. This indictment against an innocent citizen violates Article 399 of Chinese Criminal Law.
Ms. Hao appealed the verdict to the Daqing Intermediate Court, which upheld the verdict on March 26, 2019, without a trial. This violates Articles 223 and 234 of China's Criminal Procedure Law.
Key Responsible Personnel:
Li Chenyong, presiding judge of Ranghulu Court: +86-13359596120Bai Jingquan, director of Ranghulu Court: +86-459-5509009 5509001, +86-13936708080
Related Report:
English Teacher Detained for Her Faith Files Complaints Against Prosecutor and Police
English Teacher Arrested Again for Her Faith