Hawaii: Practitioners Promote Falun Dafa at Independence Day Celebration
July 10, 2019 | By Falun Dafa practitioners in Hawaii
(Minghui.org) Practitioners set up an informational display at Ala Moana Beach Park in Honolulu at its annual July 4, 2019 celebration of 243 years of independence. The local residents and tourists planning to watch the fireworks show that night would pass by the Falun Dafa display.
The practitioners demonstrated the exercises, clarified the truth about Dafa, and talked to people about the ongoing persecution of it in China.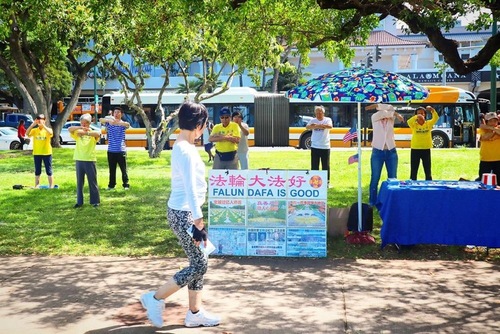 Practitioners demonstrating the exercises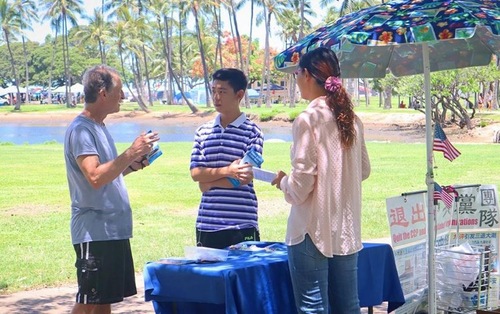 Talking to people about Falun Dafa
Many people stopped to watch the exercise demonstrations and some decided they wanted to learn them. Some took photos while others read the informational brochures that were handed out at the booth. When told about the suppression of Falun Dafa in China, some people expressed sympathy, and others criticized the communist regime for the persecution.
Holger is a yoga instructor from Germany. He is touring Hawaii for three weeks and unexpectedly saw the Falun Dafa. Display. He expressed interest in learning the practice.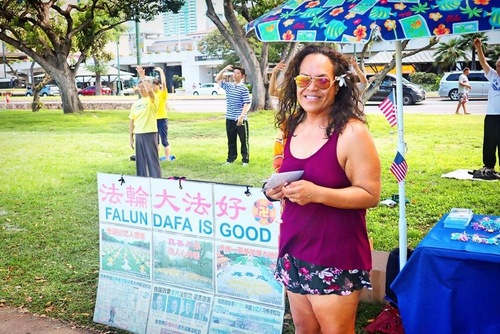 Ms. Micky wants to learn Falun Dafa
Ms. Micky is a resident of Honolulu. She saw practitioners meditating and was very interested in learning more about the Falun Dafa cultivation practice.
Currently, meditation is a very trendy form of getting fit among Westerners. When she learned there were no costs involved in learning Falun Dafa, she told practitioners that there would be no need for her to go to a gym or yoga center to learn meditation. She said she will go to a local practice site this weekend to learn the exercise movements.
A few tourists and local residents expressed their respect for practitioners by putting their palms in front of their chests (a gesture called heshi in Chinese), or bowed when they realized Falun Dafa teaches one to live by the principles of "Truthfulness-Compassion-Forbearance".
Kim, a woman from Korea, was shocked to hear about the persecution in China. She could not believe that it was true and that such atrocities have been going on for 20 years. She thinks practitioners are doing a good thing to raise awareness about the persecution and hopes more people will hear the truth about Falun Dafa.