Pennsylvania: Falun Dafa in Philadelphia Independence Day Parade 19 Years in a Row
July 09, 2019 | By a Falun Dafa practitioner in Philadelphia, PA
(Minghui.org) Falun Dafa practitioners were invited to participate in the Independence Day Parade in downtown Philadelphia for the 19th time, on July 4, 2019.
Spectators applauded the Waist Drum Team and Dancing Dragon as they celebrated America's 243th birthday. The 4th of July parade is always the high point of the week-long festivities in the first U.S. capital and the birthplace of the Declaration of Independence.
Waist Drum Team's Lively Performance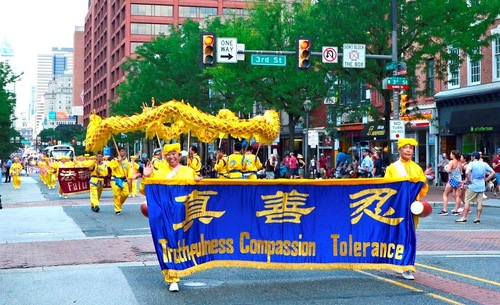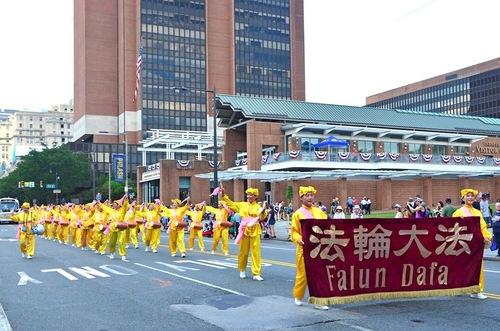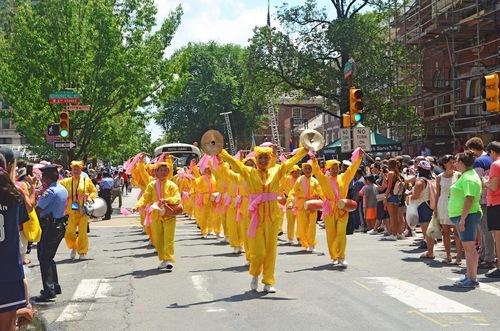 Waist Drum Team and Dancing Dragon in the Independence Day Parade
Despite the heat, thousands of people lined the streets to watch the parade, consisting of over 5,000 participants and 100 groups. Falun Dafa's Waist Drum Team was led by a large golden Chinese dragon that was cheered on as it moved up and down.
With their bright yellow costumes and coordinated movements, the waist drummers were a powerful presence as the drum beats complemented the melody of the song "Falun Dafa Is Good."
Introducing Falun Dafa at Independence Day Party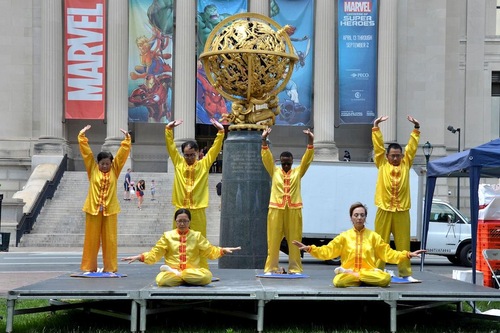 Falun Dafa practitioners demonstrate the five health-improving exercises on Benjamin Franklin Parkway.
Following the parade, a culminating party with concerts and dozens of tables was held on Benjamin Franklin Parkway.
Falun Dafa practitioners demonstrated the beauty of Chinese calligraphy and taught the five exercises. They introduced the visitors to Falun Dafa, a mind and body improvement system first taught in China in 1992.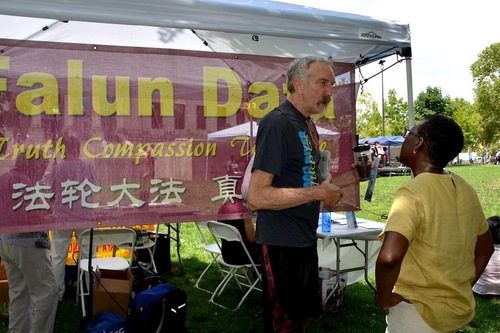 Herbert Siemens (left) discusses the persecution of Falun Dafa.
Herbert Siemens said he knew about the Chinese communist regime's persecution of Falun Dafa. He also knew about the regime's harvesting of organs for transplant from unwilling living practitioners incarcerated for their faith. Talking with a practitioner, he commented, "It's brutal and shocking, but I believe that it did happen." He also said that the cruelty against innocent practitioners was a severe violation of human rights. "Beijing deprives its people of freedom of belief and the U.S. presidential candidates should speak up," he added.
Parade in Glenside
After the parade in Philadelphia, the practitioners went to Glenside, a town north of Philadelphia, to perform in their local parade and join in their celebration.
Falun Dafa practitioners' dancing dragon at the Independence Day Parade in Glenside, PA.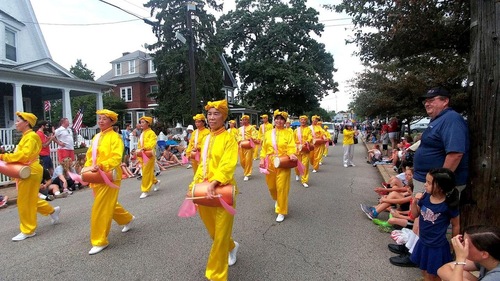 Falun Dafa's Waist Drum Team in Glenside's Independence Day Parade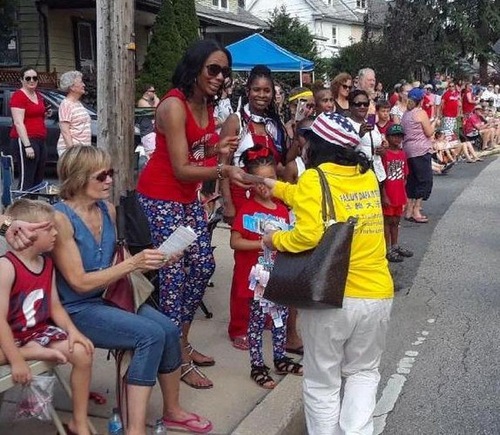 A practitioner gives out fliers to the spectators.
This was Glenside's 116th Independence Day Parade, and the second time the waist drum team was invited to participate. The crowds packed both sides of the parade route and cheered and applauded as the team went by. Practitioners distributed fliers with information about Falun Dafa to the spectators.
Two Tibetan women in traditional dress asked to be photographed with the members of the team and expressed interest in learning the practice.