Former Rocket Researcher Mistreated in Beijing Prison
June 08, 2019 | By a Falun Gong practitioner in Beijing
(Minghui.org) Mr. Wang Liangqing, a former rocket researcher, was sentenced to two years of imprisonment in Beijing last year because of his belief in Falun Gong. With injuries caused during a prior detention, the intensified drills and brainwashing in the prison has inflicted tremendous suffering.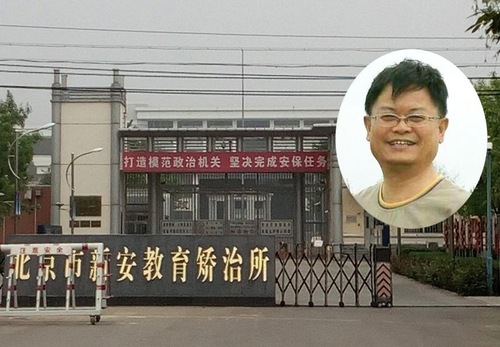 Mr. Wang Liangqing, a former rocket researcher, has been incarcerated and mistreated at the Tianhetang Branch of Beijing Prison.
Mr. Wang, 58, graduated with a master's degree in 1989 and worked as an engineer at the China Academy of Launch Vehicle Technology. Because he practiced Falun Gong, his employment was terminated in December 2000.
Later on, he went to study at Beijing University of Aeronautics and Astronautics and earned a Ph.D. After beginning to work at Sany Heavy Machinery Research Institute, he led numerous key projects that required strong technical skills.
After he started to practice Falun Gong in 1995, he was impressed by its principles of Truthfulness-Compassion-Forbearance. He found that his creativity and memory improved and was able to publish four scientific papers in one year. His physical change was also dramatic. His health improved, and new hair grew in the bald area of his head.
Falun Gong is a meditation system that consists of gentle exercises and moral teachings based on the principles of Truthfulness-Compassion-Forbearance. The Chinese Communist Party (CCP) began to suppress Falun Gong in July 1999, and a large number of practitioners have since been detained and tortured for their faith.
Arrest and Detention
Mr. Wang was arrested at work on October 15, 2017. Police kept him at Changping Detention Center and ransacked his home. The Changpi 610 Office and police submitted his case to the Changping Procuratorate, and the case was returned twice for lack of evidence.
The Changping Procuratorate forwarded this case to Changping Court in June 2018, which sentenced Mr. Wang in July 2018 to a two-year imprisonment and a fine of 2,000 yuan. He appealed the case to the Beijing First Intermediate Court, but his attorney notified his family members on September 4 that the original verdict was upheld.
After Mr. Wang appealed again, his family received a notice in February 2019 that the case was accepted by the Beijing First Procuratorate.
Torture
Mr. Wang is currently incarcerated in the Tianhetang Branch of Beijing Prison. Formerly known as Xin'an Labor Camp, this facility currently holds short-term detainees. Mr. Liu Chun, a 52-year-old Falun Gong practitioner from Beijing, died of torture there on January 19, 2011.
Prisoners there are forced to squat, stand motionlessly, and conduct military-style marches. In addition to singing songs praising the Communist Party and reciting prison rules, they are also forced to watch propaganda videos. They are also forced to sit still on small stools designed for children without talking to each other.
Mr. Wang, in particular, suffered much more due to a lower back injury caused by earlier torture in the Changping Detention Center. He has difficulty squatting and doing drills. Like other detained practitioners, he is watched by assigned inmates and often punished for talking to others.
Mistreatment of Family
Mr. Wang's suffering started shortly after the persecution of Falun Gong began in July 1999. Between August 1999 and May 2000, he was detained three times for petitioning the government for the right to practice Falun Gong. In addition, he was sentenced to one and a half years at Tuanhe Labor Camp in 2000.
One arrest happened in the evening when his wife was working overtime. Police officers arrested him, leaving his daughter of only several years crying and unattended at home.
Mr. Wang's arrest and imprisonment put great stress on his 86-year-old mother, who became depressed. His wife, who does not practice Falun Gong, was hospitalized after developing high blood pressure and symptoms of a brain hemorrhage.
His elder sister, Ms. Wang Sanxiu, wrote a letter to the police and detention center to seek his release. Seven plainclothes officers went to her home on March 21, 2018. They ransacked her apartment, took her to the Ruijinlu Police Station, and detained her for about five hours before releasing her on bail.
In a criminal complaint filed with the Supreme Procuratorate in May 2015, Mr. Wang said the CCP's persecution of Falun Gong had negatively affected tens of millions of practitioners and their families.
He wrote, "It has violated the Chinese Constitution on freedom of belief as well as Chinese Criminal Law. Jiang Zemin, the former Communist Party leader who launched the persecution, and his followers should be held responsible for the massive catastrophe."
Related reports:
Rocket Technology Engineer to Face Trial for His Faith in Falun Gong
Beijing Rocket Technology Engineer Arrested for His Faith in Falun Gong