Korea: Falun Gong Participates in the Daegu Colorful Festival Parade
May 12, 2019 | By a Falun Gong practitioner in Korea
(Minghui.org) Falun Gong practitioners in Korea participated in the 2019 Colorful Festival Parade in Daegu on May 4th. Both the spectators and the parade organizers had high praise for the Tian Guo Marching Band, Falun Gong exercise demonstration, celestial maiden float, and waist drums.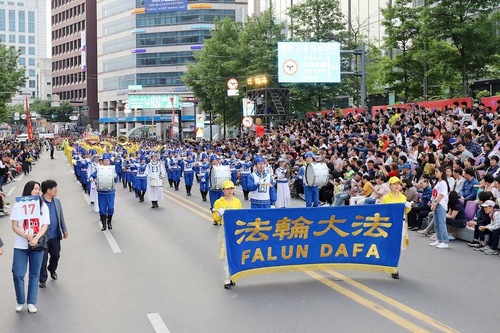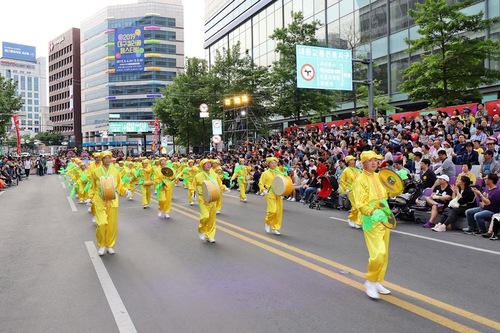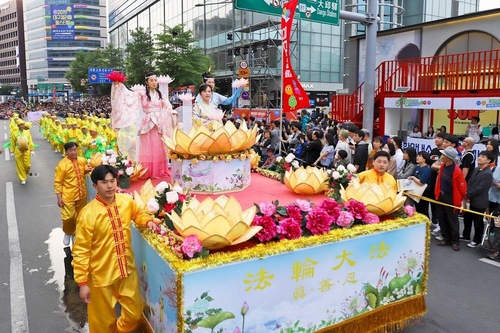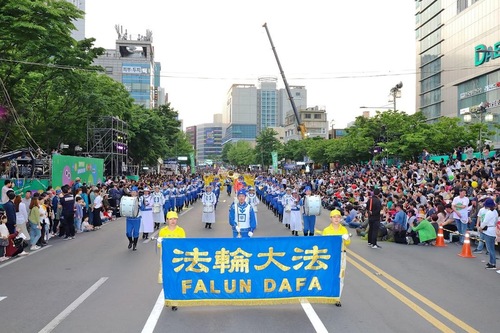 Falun Gong practitioners in Korea's 2019 Colorful Festival parade in Daegu
The theme of this year's parade was "Colorful Shouts of Freedom." As one of the largest parades in Asia, 86 groups and 5,000 people participated in the parade itself. There were 22 groups from other countries, including Japan, China, the Philippines, Cambodia, Russia, Vietnam, and others.
Falun Gong practitioners were participating in the parade for the fourth year. The Tian Guo Marching Band dressed in Tang Dynasty costumes played powerful and beautiful music, including "Falun Dafa Is Good" and "A Holy Song." Many spectators recorded their performance, saying "The music of the Tian Guo Marching Band is superb!" "They look so cool!"
Practitioners in yellow exercise uniforms demonstrated the exercises with graceful movements. They were followed by a float of elegant "celestial maidens." The waist-drum team danced to a compelling beat. Parade spectators cheered, "Pretty!" They couldn't help taking pictures of the beautiful performance.
A media reporter interviewed several practitioners. Mr. Li Daxiong, a member of the exercise demonstration team, told the reporter, "Falun Gong cultivates Truthfulness-Compassion-Forbearance." Another member of the team Ms. Yu Zhenlan said, "Falun Gong cultivates the mind and the body. It benefits one's health and soul."
Local residents and tourists from other countries called out, "Falun Gong! It's great!" Some stood up from their seats and clapped. Many took out their cameras to capture the beautiful moment.