Changchun Woman Sentenced to Ten Years in Prison for Calling People about Falun Gong
April 22, 2019 | By a Minghui correspondent in Jilin Province, China
(Minghui.org) A Changchun City, Jilin Province resident was sentenced to 10 years in prison in early April for raising awareness about the persecution of Falun Gong.
Falun Gong, also known as Falun Dafa, is a spiritual discipline that has been persecuted by the Chinese communist regime since 1999.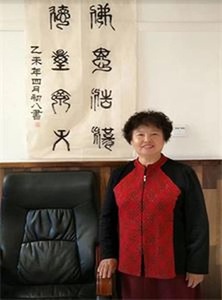 Ms. Li Jing
Ms. Li Jing's latest sentencing was preceded by two labor camp terms for a total of three years in the early years of the persecution. Her husband and son have already passed away. Her 86-year-old mother is now left at home alone, saddened by her imprisonment.
Ms. Li, 64, was arrested on March 14, 2018 outside her apartment. The police ransacked her place and confiscated her Falun Gong books and related materials, as well as her computer and 16 cellphones that she had been using to make automated phone calls to the public to inform them about the persecution.
She learned during a two-day marathon interrogation that the police had located her phone number and tracked her location from calls she had made from home.
Ms. Li was sent to the Changchun No.4 Detention Center. It took her a month to recover from the leg pain incurred during the interrogation.
The procuratorate approved her arrest on March 28, 2018 and indicted her on August 16, 2018.
Ms. Li appeared in court on November 7, 2018. None of her family members were informed of the hearing. The judge didn't allow her to defend herself when she attempted to debunk the propaganda spread by the communist regime in order to justify the persecution. The judge adjourned the hearing in just 20 minutes. Prosecutor Chen Yaping threatened to have Ms. Li sentenced to seven years in prison.
She received the 10-year verdict on April 2, 2019. Her lawyer has appealed the sentence on her behalf after visiting her at the detention center on April 13, 2019.
Related report:
63-Year-Old Widow on Trial for Her Belief Not Allowed to Defend Herself