Toronto, Canada: Introducing Falun Gong at the Total Health Show
April 22, 2019 | By a Falun Gong practitioner in Toronto
(Minghui.org) Falun Gong practitioners in Toronto participated in the Total Health Show on April 19, 2019. The Falun Gong booth provided information about this traditional mind-body cultivation practice from China, with practitioners demonstrating the Falun Gong exercises and teaching the exercises to anyone who wanted to learn.
Total Health 2019 is a major North American natural health show, promoting good health and disease prevention through natural methods. The show provides information to the public in many diverse areas, including good nutrition, herbs, natural supplements, organic agriculture and gardening and energy medicine. This year the show included 200 exhibitors and 60 speakers in the natural health field.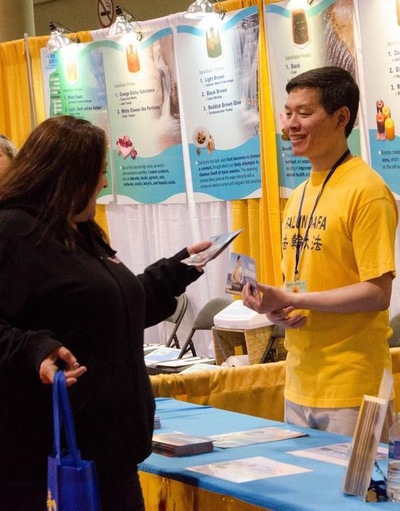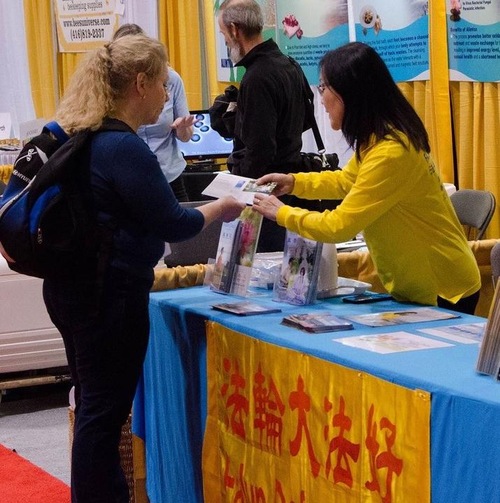 Introducing Falun Gong at Toronto's Total Health Show
Many visitors to the exposition were interested in Falun Gong, and stopped to pick up informational materials and watch the exercise demonstrations. A number of people tried the exercises and remarked about their relaxing effect.
Toronto residents Rob and his wife passed by the Falun Gong booth and paused to watch practitioners doing the sitting meditation.
A practitioner explained to the couple that Falun Gong was introduced to the public in China in 1992, and within just a few years, over one hundred million were benefitting physically, mentally and spiritually from the practice. Rob told the practitioner that he was looking for something "that lets me calm down."
The practitioner said that practicing the five Falun Gong exercises and living by the practice's principles of Truthfulness, Compassion, and Forbearance teaches practitioners to gradually maintain a calm approach to life. When he suggested that Rob give the exercises a try, Rob was happy to learn the first exercise.
He said he felt great afterward and appreciated the practitioners' efforts to address his needs. Upon learning that there was going to be a free nine-day Falun Gong seminar, he left his contact information and asked to be informed of the time and location.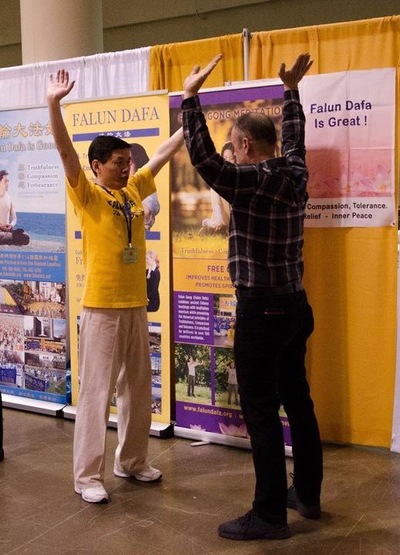 Rob learns the first Falun Gong exercise from a practitioner.
Another visitor to the Health Show, Telesa expressed great interest in Falun Gong. She learned the fifth exercise – the sitting meditation and remarked afterward that she felt refreshed.
Janna and her friend listened to a practitioner's introduction to Falun Gong and learned the exercises. They also wanted to be notified about the upcoming nine-day seminar.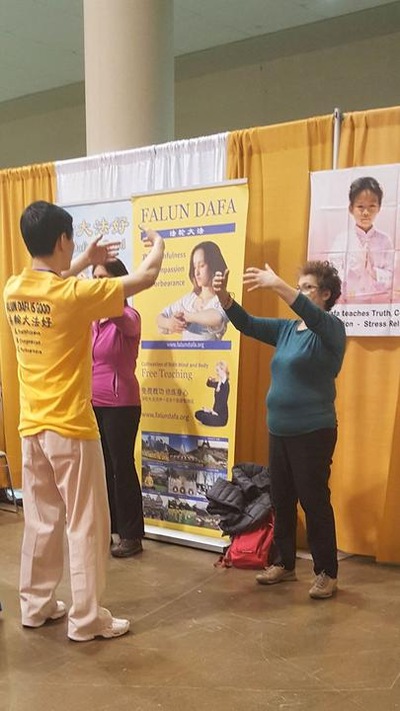 Janna learns the second exercise.
Debrian stopped by the Falun Gong booth and told practitioners that he had already encountered Falun Gong in California. He said, "The principles espoused by Falun Gong are what the world needs."
Another man paused in front of the Falun Gong booth and talked with a practitioner. He said he had heard about the persecution of Falun Gong in China, which has been ongoing since 1999. He wondered, "How can the Chinese communist regime persecute practitioners like you? It is not right. How can it persecute good people?"
The practitioner, who is originally from China, told him that his parents were detained in China for practicing Falun Gong. Fortunately, they were able to emigrate to Canada and can practice freely now. The man said, "You are doing something very meaningful. Keep it up!"