UK: "Letter from Masanjia" 'Will resonate in my heart'
March 09, 2019 | By a Minghui correspondent in the U.K.
(Minghui.org) "The film told us an important story. A story like this should be passed on to more people. If not for this film, this story might not be heard. It's very important to let the entire society hear this story," said Ms. Sita Brand, founder of Settle Stories, after watching the documentary, "Letter from Masanjia."
On the afternoon of February 24, 2019 in the quiet, historic township of Settle in York, the Settle Stories Club screened the documentary, "Letter from Masanjia," a story about Falun Gong practitioner Mr. Sun Yi, who was jailed and tortured in China's notorious Masanjia forced labor camp.
This was the second public screening of the documentary in the U.K. after it won second place at the Cambridge Film Festival in October 2018.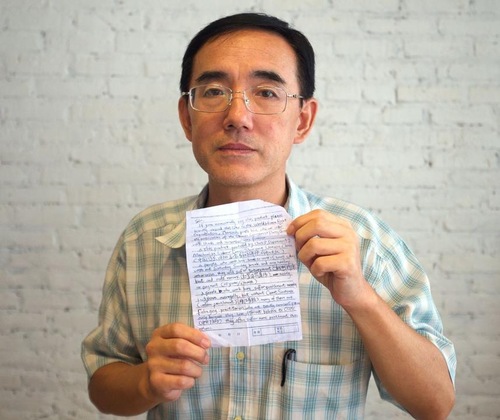 Sun Yi holds the letter he wrote appealing for help, which he hid inside Halloween decorations at Masanjia Forced Labor Camp.
The audience was moved by the documentary about Sun Yi, a Falun Gong practitioner who described his experience of being brutally persecuted by the communist regime. Audience members said they were inspired to think of ways to help end the persecution in China, which has lasted for nearly 20 years.
Settle Stories Founder: "I felt uplifted"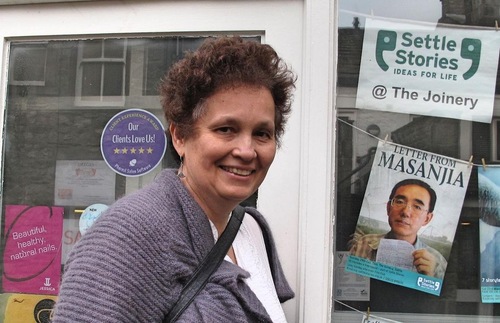 Ms. Sita Brand, founder of Settle Stories Club.
Ms. Sita Brand has been an actress, author, producer, and director. Now she's a professional story teller and an art and history heritage consultant. She established Settle Stories nine years ago.
"I felt uplifted," Ms. Brand said after watching the documentary.
"Sun Yi was an extraordinary man. After such a challenging life, he was still so generous, open and compassionate. I believe it's a tribute to humanity and something we can all learn from," she said.
Ms. Brand said she was very happy to host a screening of the film and feels that films like this improve society by helping people become, "...more caring, more understanding, and more generous."
After a question and answer session, Ms. Brand said she could understand why Falun Gong has spread so fast and why practitioners would safeguard their belief with their lives. "They could torture him but they couldn't destroy his belief. It's the power of cultivation practice," she said.
Referring to the practice of Falun Gong, Ms. Brand said, "It's amazing, it's incredible. It's an internal mental power. It couldn't be controlled by the communist party. The persecution can only make you more steadfast in your belief, more resilient, and your belief more deeply rooted. Justice eventually will defeat evil."
Amnesty International Member: Letter from Masanjia "Very moving"
"The film should be broadcast on TV. This story should be seen by more people and people can understand the content and the meaning," said Heather Chappell, a member of Amnesty International.
"It's a very moving story. Sun was an amazing man. The film will also make me think about whether the product was made inside a forced labor camp when I purchase something. This film totally exposed the darkness of forced labor camps inside the communist regime," Ms. Chappell said.
As a human rights advocate for several years, Ms. Chappell said the film showed her that the communist regime was using all means to suffocate Falun Gong practitioners. "The police wanted to arrest him. He was followed after he was released from the labor camp. Surviving a persecution of this scale was very difficult for him."
"This film will resonate in my heart"
Mr. Gram worked in China for years and he said the film reminded him of what he observed there. He said, "This story is important. It urges me to think. This film will resonate in my heart for a long time.
"The film is very forceful, very important. The more people that watch it, the better. Showing the film around the world will have a positive effect and help end the persecution."