Jilin Practitioner Mr. Shi Xingjia Detained Again for More than Four Months
March 07, 2019 | By a Minghui correspondent in Jilin Province, China
(Minghui.org) Mr. Shi Xingjia, a Falun Gong practitioner from Meihekou City, left his hometown to avoid being arrested for his belief in the principles of Truthfulness-Compassion-Forbearance. He rented a home in the Fuhaohuayuan Residential Community in Chaoyang District, Changchun City, Jilin Province, where he was illegally arrested on October 11, 2018. His home was ransacked. He has been held in a detention center for more than four months. The October arrest is not the first for Mr. Shi, who has experienced years of persecution for his faith.
Mr. Shi, 67, has been placed in solitary confinement at the Changchun No. 2 Detention Center.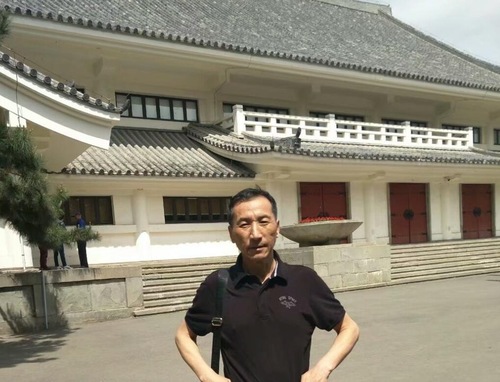 Photo of Mr. Shi Xingjia in front of Mingfang Palace in Changchun City.
His lawyer visited Ms. Shi in the detention center on February 26, 2019. According to the lawyer, his client was arrested by officers from the Kuanpingdalu Police Station in Changchun City. The police forced their way into Mr. Shi's home at around 4:00 p.m. on October 11, 2018. They ransacked the apartment and confiscated a notebook computer, a cell phone, Falun Gong books, and other personal belongings.
Mr. Shi was interrogated at the Chaoyang District Police Department. The police demanded that he sign the interrogation notes, but he refused. He was officially arrested one month later by the Chaoyang District Procuratorate. Zhou Haifeng was the procurator-general.
After being held in the Changchun City No. 2 Detention Center, Mr. Shi's health deteriorated and he became extremely weak. He also suffered from bleeding in the stomach and coughed up blood. His weight dropped to 121 pounds.
Mr. Shi was later taken to the Changchun City No. 208 Hospital, where he was diagnosed with atrophic gastritis and duodenal ulcer. The doctor prescribed medicine, but he insisted that he would recover after doing the Falun Gong exercises.
He gradually regained his health after doing the Falun Gong exercises over the following months. He put on weight, and got up to 154 pounds. Everyone in the detention center witnessed the power of Dafa through his recovery.
Mr. Shi was the former director of the Meihekou Paper Mill in Tonghua City. People who know him well call him "Big Brother Shi" because of his kindness and helpfulness.
Despite having spent nine years in a forced labor camp and later in the Shiling Prison, Mr. Shi remains steadfast in his belief in Falun Gong.
Related report: Changchun, Jilin Province: 26 Confirmed Arrested in October Raid of Falun Gong Practitioners