Taipei, Taiwan: Welcoming Chinese Tourists and Raising Awareness of the Persecution (Part 3)
March 05, 2019 | By a Minghui correspondent
(Minghui.org) (Continued from Part 2)
The National Palace Museum in Taipei, also known as the Taiwan Summer Palace, has been a must-see destination for Chinese tourists since Taiwan was opened to China in July 2008. It's also the first location in Taiwan where Falun Gong practitioners began letting people know about the persecution of the meditation and spiritual discipline in China.
In Taiwan, Chinese tourists are able to obtain information that they normally don't have access to in China. Some took pamphlets, others photographed the exhibit boards, and some asked practitioners to help them renounce their memberships in Chinese Communist Party organizations.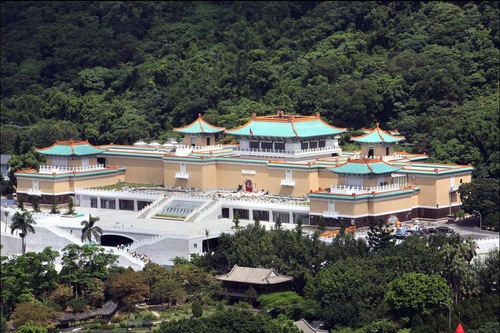 The National Palace Museum in Taiwan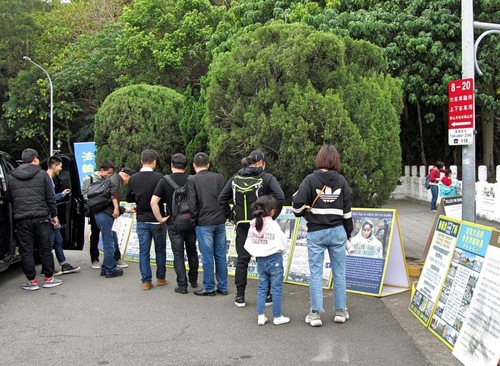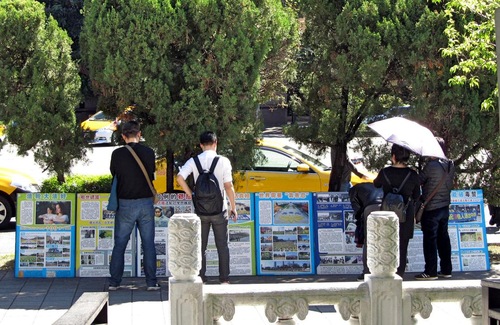 Falun Gong practitioners have displayed exhibition boards outside the National Palace Museum in Taiwan since 2002. For more than a decade, many Chinese tourists have learned about the persecution of Falun Gong here.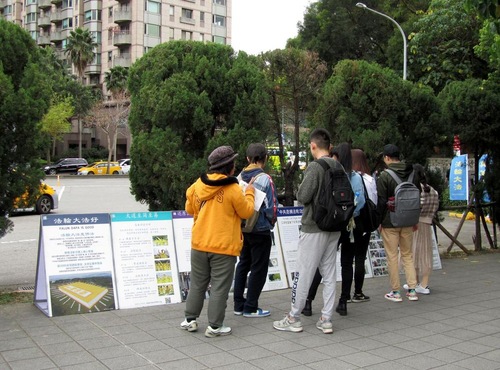 Chinese tourists read the information about Falun Gong and about the persecution.
Directly Engaging Chinese People
Practitioners began talking to people about Falun Gong and the persecution at the National Palace Museum in 2002. The launch wasn't easy, according to local practitioners. At first, the museum staff didn't understand why practitioners stood outside holding banners and exhibit boards. The practitioners told museum officials about the persecution in China and the urgency of telling Chinese tourists the facts. After the officials observed practitioners' peaceful demeanor for some time, they became supportive.
Local practitioners cherish the opportunity to directly clarify the truth to mainland Chinese and maintain a consistent presence at the site.
Ms. Ma is one of them. Now 83 years old, she started practicing Falun Gong in February 1998. She has been clarifying the facts of the persecution at the National Palace Museum for about eight years.
She recently chatted with a family of three generations. The grandson had already quit the Communist Party organizations in China. The aunts and uncles expressed their wish to do the same. The grandmother wasn't sure, so she started climbing the stairs. Ms. Ma caught up with her to lend her a hand.
The grandmother emphatically told Ms. Ma, "I want to quit the Chinese Communist Party (CCP)!" Ms. Ma was surprised and said, "But you just told me you wouldn't." The grandmother repeated her wish, and Ms. Ma smiled.
Ms. Ma said,"I realized that I shouldn't have given up so easily. It's an important, life-changing decision. Quitting the communist organizations frees them from the CCP's ideological control. It's a big step forward. I'm so happy for them!"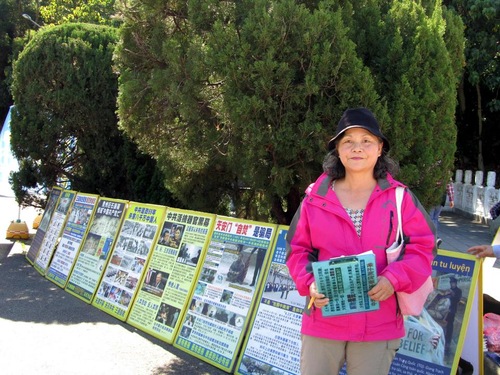 Ms. Li Suzhen
Ms. Li Suzhen has been volunteering at the National Palace Museum site for 10 years. She has observed that the first reaction Chinese tourists have is usually shock and denial, as the information practitioners present is in contrast to what they've heard from state propaganda inside China. It is difficult to acknowledge the fact that one's fellow citizens are subjected to brutal torture and even killed for their organs–all simply for their faith.
Some Chinese avoid the practitioners and sometimes even furiously curse them. Ms. Li and the other practitioners don't give up and have helped many Chinese tourists by explaining that by quitting the Party, they will not be held accountable for the countless innocent people it has killed, including Falun Gong practitioners.
Ms. Li has had more and more encouraging experiences. She was recently handing newspapers to a tourist group as they boarded their van. A man asked her, "Everyone is quitting the CCP. How come I haven't done it yet?" It was his indirect way of inviting Ms. Li to ask him to quit. Ms. Li assured him that she would submit his name via the overseas website for renouncing CCP memberships. He smiled and thanked her.
Right after one young man quit the CCP, he asked Ms. Li, "Can I give you a hug? I am so touched. You Falun Gong are great!" Ms. Li was pleasantly surprised, as hugging in public for a mainland Chinese is an important gesture of affection and gratitude. She responded, "You are welcome. We appreciate being able to help you!"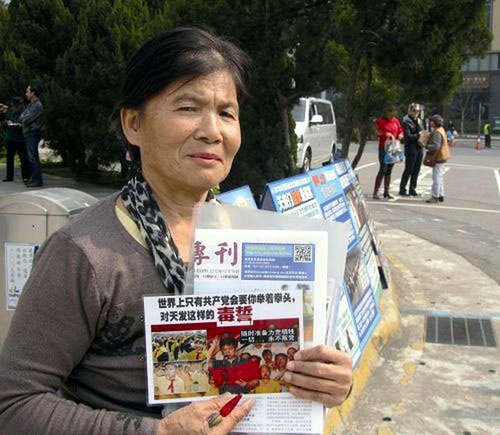 Ms. Li Xinju
Ms. Li Xinju married a Taiwanese and moved from China to Taiwan over 20 years ago. She remembers that her younger sister was always ill, but when Ms. Li visited her family in 1998, her sister was very healthy. This inspired her to practice Falun Gong.
When Ms. Li talks to Chinese tourists who were deeply indoctrinated by the Party's propaganda, she shares her own experiences with them. Having lived in both China and Taiwan for decades provides her with unique perspectives that she explains to tourists: China's traditional culture–which is preserved in Taiwan–teaches kindness and caring for others. In contrast, the CCP teaches hatred and struggle.
She tells tourists about her own experiences and that renouncing the CCP empowers and frees them from the Party's mind control.
"Most Chinese people immediately understand what this means," said Ms. Li, "In just two and a half days during the Chinese New Year, I helped 140 people quit the CCP. More are still waiting!"