Dutch Students Learn Falun Gong in Belgium
March 05, 2019 | By Minghui correspondent Rong Fa
(Minghui.org) Forty-eight undergraduate students from the Department of Psychology at Leiden University in the Netherlands learned the Falun Gong exercises in Leuven, Belgium on Sunday, February 24, 2019.
The students were on a weekend trip that the study association for Leiden psychology students organizes each year.
One of the trip organizers contacted the Leuven Falun Gong practice site coordinator in December of last year. Ms. Zandvliet said that all nine people from three classes in the department who had organized the trip wished to learn Falun Gong.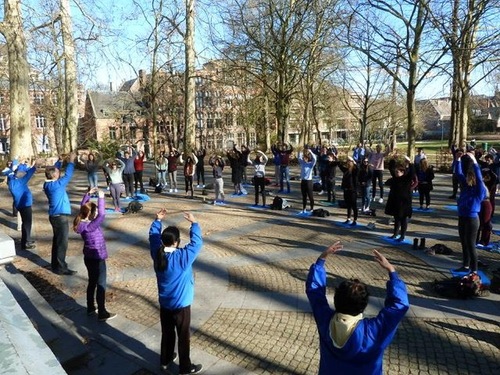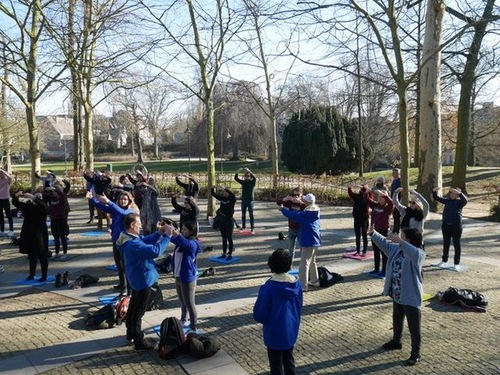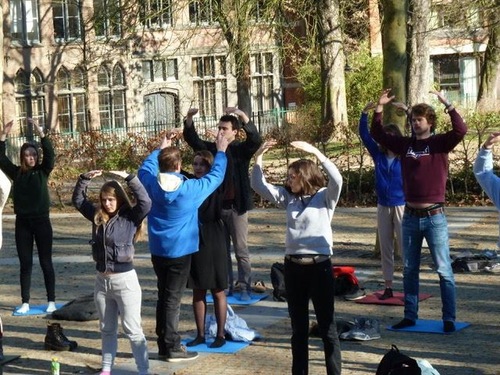 Undergraduate psychology students from Leiden University learn Falun Gong.
Ms. Zandvliet had seen Falun Gong practitioners' events in Austria and learned that Falun Gong was being brutally persecuted in China by the Chinese Communist Party, which also kills Falun Gong practitioners for their organs.
After learning the Falun Gong exercises for two hours, the students happily shared what they had experienced. Justin, one of the organizers, said excitedly, "We were hungover from drinking last night. But now we all feel better."
Lonneke learned the exercises carefully. "I feel the practice is peaceful and comfortable," she said. "Though I have participated in a few meditation events before, I was able to concentrate my mind the most at this one today."
The students told the local practitioners that they had an excellent experience learning Falun Gong and had enjoyed their weekend in Leuven. Local practitioners gave each student an origami lotus flower and a bookmark with a website on which they could learn Falun Gong.