Chifeng City, Inner Mongolia: 18 Falun Gong Practitioners Sentenced to Prison Between January 2018 and March 2019
March 21, 2019 | By a Minghui correspondent in Inner Mongolia, China
(Minghui.org) At least eighteen Falun Gong practitioners in Chifeng City, Inner Mongolia have been sentenced since January 2018 for not renouncing their faith.
Falun Gong, also known as Falun Dafa, is a mind-body discipline that has been persecuted by the communist regime since 1999.
In addition to the sentenced practitioners, there are another 28 practitioners arrested and hundreds harassed during the same period for holding firm to their faith.
Mr. Song Xiandong was arrested on September 25, 2018, one day before his daughter, Ms. Song Sijuan, was set to fly to New York to attend a vocal competition hosted by NTDTV, an American TV station known for reporting uncensored news about China, including the persecution of Falun Gong.
While Mr. Song's daughter and his wife were not home during the police raid, the younger woman's travel documents and other identifications were confiscated. The police dispatched a large number of officers to track down the two women.
Below is a snapshot of the cases.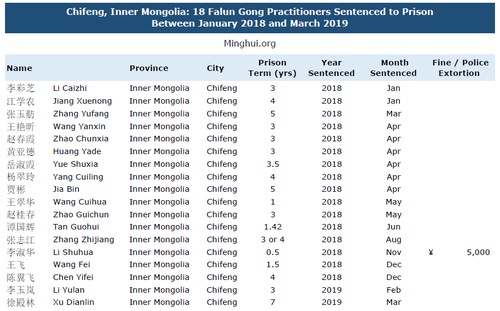 Mr. Tan Guohui
Mr. Tan Guohui, in his 70s, was arrested on April 26, 2018 for putting up posters about Falun Gong. The police ransacked his home and confiscated his Falun Gong books and other personal belongings.
Mr. Tan suffered severe physical problems while being held at Aohan Banner Detention Center. He was released on medical parole on May 16, 2018.
He appeared in Aohan Banner Court on June 29, 2018, and was sentenced to one year and five months. He is now serving time outside of the prison because of his physical problems.
Ms. Li Shuhua
Ms. Li Shuhua was sentenced to six months in prison by Hongshan District Court on November 29, 2018.
She was arrested on August 22, 2018, after the police obtained her information from another practitioner, Ms. Song Jiqin, who had been arrested earlier that day after being reported for talking to people about Falun Gong.
Ms. Li has been released after serving six months.
Ms. Wang Fei
Ms. Wang Fei was sentenced to 18 months in prison and fined 5,000 yuan on December 5, 2018, after two hearings at Hongshan District Court, first on August 22 and then on October 18. She has appealed the verdict.
Ms. Wang was arrested on January 31, 2018, after going from place to place for over five years to avoid further persecution. The police submitted her case to the procuratorate six days after her arrest.
Because of not renouncing her faith, Ms. Wang had been arrested multiple times in the past and was once imprisoned for three years. Her husband divorced her because of the persecution.
Ms. Chen Yifei
Ms. Chen Yifei appeared in Heshigten Banner Court on November 21 and was sentenced to four years in prison on December 28, 2018.
Ms. Chen was arrested on April 25, 2018, on her way to deliver food to her 83-year-old mother-in-law, who suffered from a psychiatric disorder. The police ransacked her home, confiscated her computer and sent her to Heshigten Banner Detention Center.
The police tricked her 12-year-old daughter into signing falsified documents against her.
Her family has appealed against the verdict.
Ms. Li Yulan
Ms. Li Yulan was tried by Bairin Banner Court on December 19, 2018, and sentenced to three years in prison in February 2019.
Ms. Li was arrested on December 25, 2017, for passing out informational materials about Falun Gong.
She was detained at Bairin Right Banner Detention Center, where the guards shocked her with electric batons and force-fed her. She suffered discomfort in her heart afterward and lost consciousness once. She also experienced difficulty breathing and was unable to fall asleep at night.
Related reports:
Two Women Prosecuted by Same District Court for Practicing Falun Gong
Mother Arrested for Belief; 12-Year-Old Daughter Forced to Sign Falsified Evidence Documents
Inconsistent Prosecution Evidence Presented at Trial of Falun Gong Practitioner
Court-appointed Lawyer Pressures Falun Gong Practitioner to Plead Guilty, Or Else Face Heavier Sentencing for Her Faith
Related article in Chinese: