Falun Dafa 9-Day Lectures Held in Russia
March 21, 2019 | By a Falun Dafa practitioner in Russia
(Minghui.org) Falun Dafa nine-day lectures were held for the first time in Kazan from March 2 to 10, 2019. More than 30 new Falun Dafa practitioners attended the classes.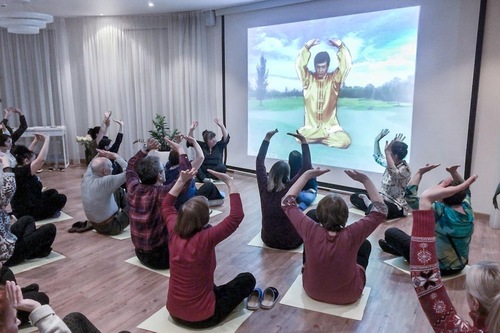 Attendees learn the meditation exercise
Khusainova Alsou was noticeably excited after completing the lecture sessions. "It is astonishing! I could feel the spiritual elevation. I was so energetic!" she said.
"I have been looking for a way to elevate my spirit in harmony with the universe. From the very first minute of the lectures, I believed every sentence of Master Li's. I know that I need to perfect my mind and body through kindness and tolerance. I want to study the Fa and do the exercises," Ms. Alsou said.
Yapparova Irina said that what struck her the most was seeing that Falun Dafa cultivators included children, young people and the elderly. This showed her that the practice was for everyone, and transcends the limits of age or geography.
Ms. Irina spoke about the changes she had experienced through attending the lectures. "My relationships with my friends have become deeper and more sincere. The mutual understanding and appreciation have taken our relationships to another level," she said.
Her 78-year-old mother had also attended the lectures. Ms. Irina said her mother showed significant improvement physically and mentally after attending the lecture sessions and has begun to smile and joke again. She has turned off the TV set that seemed to always be on in her house. She was also gentler and warmer to Ms. Irina.
Afanasyeva Anna said, "I really like everything about the nine-day lectures. I have been looking for this for a long time. I'm so happy to know Falun Dafa!"
Elene remarked about her experience: "Falun Dafa helps many people live a fulfilling life and recharge their life energy. It helps balance our emotions."
Retunskaya Lyudmila said, "The knowledge gave me confidence. I have clear thoughts. Love, patience, and kind intentions entered my heart."
"I see positive things in everyone," she said. "The most important thing is to have a clear goal, harmonize and care about people around us, overcome difficulties with determination, follow the principles, and move forward. I am very thankful for the practitioners' kindness and love. They have shared their experience with us. The light of their soul brought us Falun Dafa."