Husband Arrested One Day Before Wife's Prison Release for Their Faith
December 27, 2019 | By a Minghui correspondent in Hebei Province, China
(Minghui.org) A Qianxi County, Hebei Province resident was recently arrested for his faith in Falun Gong, one day before his wife was released from a four-year term, also for her faith in Falun Gong.
Falun Gong, also known as Falun Dafa, is a spiritual and meditation discipline that has been persecuted by the Chinese communist regime since 1999.
Mr. Chuai Zhiang was home alone working on his laptop on the morning of December 12, 2019 when a group of officers opened his door and broke in. The police had arrested his mother, Ms. Guo Hualian, days before for talking to people about Falun Gong. They confiscated her keys, including the one spare key she had to her son's apartment, and held her at Chengguan Police Station for one day.
The officers videotaped Mr. Chuai working on his laptop before attempting to take away the computer. When he resisted, the police blamed him for interfering with their law enforcement. They arrested him and confiscated his Falun Gong books.
Mr. Chuai was sent to Qianxi County Detention Center in the afternoon and given 14 days of detention. No family member has been allowed to visit him at the time of writing.
Wife Twice Imprisoned
Mr. Chuai and his wife, Ms. Chai Junxia, have both been repeatedly persecuted for refusing to renounce Falun Gong.
Ms. Chai was sentenced to four years in prison in 2008, and Mr. Chuai struggled to care for their son, who was nine years old at the time. Ms. Chai filed a criminal complaint in 2015 against Jiang Zemin, the former head of the communist regime, for ordering the persecution of Falun Gong that resulted in her imprisonment. She was arrested on December 14, 2015 and later sentenced to another four years in prison and fined 5,000 yuan.
Ms. Chai was transferred to Hebei Province Women's Prison on January 16, 2017. She was held at the 13th ward, a area designated to persecute Falun Gong practitioners who refused to give up their faith. She was beaten for not cooperating with the guards. Ms. Chai was transferred to the 5th ward in December 2017.
The prison authorities only allowed Ms. Chai's husband and son to visit her two or three times during her four-year prison term.
Ms. Chai returned home on December 13, 2019, only to find her husband arrested the day before.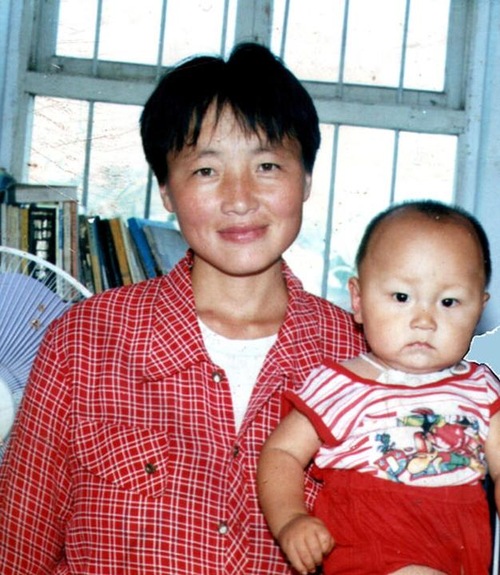 Ms. Chai Junxia and her son
Related reports:
Teenager Visits His Mother in the Same Prison Twice in Eight Years
Hebei Woman Serving Second Four-Year Term for Her Faith, Denied Family Visits
Ms. Chai Junxia Arrested for Filing a Criminal Complaint Against Jiang Zemin
Hebei Woman Denied Proper Medical Attention Despite Worrisome Symptoms