Ms. Chai Junxia Arrested for Filing a Criminal Complaint Against Jiang Zemin
February 07, 2016 | By a Minghui correspondent in Hebei Province, China
(Minghui.org) Ms. Chai Junxia, a Falun Gong practitioner in Qianxi County, Tangshan City, was illegally arrested on December 14, 2015, at her family's business.
The police questioned her about the lawsuit she filed against former Chinese dictator Jiang Zemin and took her to the Tangshan No.1 Detention Center. The Qianxi County Procuratorate approved the arrest on December 25.
Officer Wei Yutao from the Preliminary Hearing Section of the Qianxi County Police Department asked her in the detention center on December 29 whether or not she wrote the complaint letter.
Ms. Chai Junxia has suffered multiple arrests, detention, torture, and forced brainwashing, and was imprisoned for four years after the persecution of Falun Gong started in 1999. Her home was ransacked and her personal belongings were seized. Her family has suffered greatly, both emotionally and financially. She filed a criminal complaint against Jiang Zemin in 2015, holding him responsible for initiating the persecution of Falun Gong.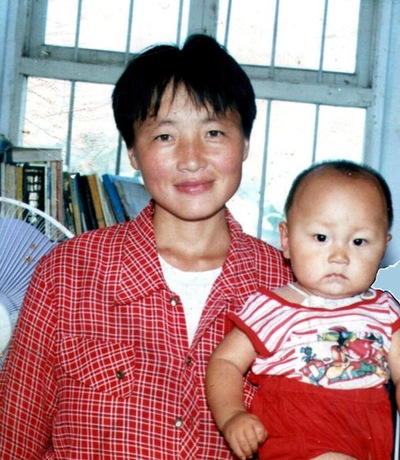 Ms. Chai Junxia and her son
Details of Her Arrest
A plainclothes officer from the Xinzhuangzhi Township Police Station went to Ms. Chai's family's shop on December 14, 2015. He pretended he was a customer and asked questions. Several officers waiting in two police cars nearby then rushed into the shop and arrested Ms. Chai.
Ms. Chai was taken to the Qianxi County Domestic Security Division to be interrogated. She was questioned about the lawsuit she filed against Jiang Zemin and was forced to put her fingerprints on a blank sheet of paper. The police later placed her in criminal detention.
When she was given a medical examination, she was diagnosed with arrhythmia—a heart problem. Despite her condition, she was taken to the Tangshan No.1 Detention Center that night. She suffered from the heart problem several times while in detention.
Before they arrested her, officers from the Xinzhuangzhi Police Station harassed Ms. Chai's family twice. Yu Pengfei, deputy chief of the police station, is in charge of Ms. Chai's case.
Multiple Arrest, Detentions, and Forced Brainwashing
On March 17, 2004, police from the county Domestic Security Division searched Ms. Chai's home without a warrant and illegally detained her for 48 hours.
Ms. Chai refused to pay the extortion the county Domestic Security Division demanded, so the police came to the market and took her from her booth during business hours.
She was held in the Qianxi Detention Center for 15 days, from March 27 to April 12, 2004. The prison doctor, Zheng Yuan, slapped Ms. Chai in the face. She was handcuffed behind her back with one arm up and one arm down for 24 hours. When the prison doctor force fed her a concentrated salt solution, her esophagus ruptured and she vomited blood.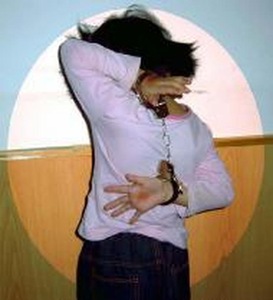 Torture reenactment: Handcuffed behind one's back
On May 14, 2004, the county police searched her shop without a warrant.
On July 17, 2004, Ms. Chai was put on the wanted list by the Qianxi County 610 Office. To avoid further persecution, Ms. Chai had to leave home for more than six months.
On November 8, 2004, Ms. Chai was arrested again and sent to the forced brainwashing center located inside Tangshan Textile University for about 50 days. She was deprived of sleep and was forced to attend brainwashing sessions. She was often verbally abused and made to stand for long hours.
On April 16, 2007, Ms. Chai and her husband went to the Qianxi Court to ask the judge, Qi Guiliang, about the sentence against her sister-in-law, Chuai Cuijun. The police beat and arrested them. Ms. Chai was detained for one day, and her husband was detained for 15 days.
On the night of July 18, 2007, Zhu Zhengang, head of the Qianxi County Domestic Security Division; Zhang Yinbo, chief of Chengguan Police Department; and more than 12 plainclothes officers entered Ms. Chai's home, while everyone was asleep. They arrested Ms. Chai and ransacked the house. They confiscated several personal belongings, including a TV, a VCD player, a desktop computer, an MP3 player, a printer, and several Falun Gong books The police did not give the family a list of items they took.
Brutally Tortured and Forced to Do Hard Labor During 4 Years in Prison
On April 12, 2008, Ms. Chai was sentenced to four years in prison by the Qianxi County Court. She was detained in Hebei Province Woman's Prison. At that time, her son was not yet 10 years old. Under the intense stress, her father suffered a stroke right after she was sentenced. He never recovered or was able to think clearly.
Ms. Chai Junxia was tortured and made to do hard labor in prison.
Guard Wu Hongxia shocked her face and back with electric batons. They hung her up on a door on the coldest winter days. She was put in solitary confinement. She was forced to do hard labor for more than 14 hours a day and sometimes 18 hours a day.
Torture reenactment: Shocked with electric batons
Ms. Chai was called to the office on January 8, 2009. Guard Wu Hongxia shocked her with electric batons on her face, head, and neck. Later she hit Ms. Chai's back with electric batons, causing large, purple bruises. Ms. Chai was later put in solitary confinement and had to sit on the cold concrete floor. During that time, the guard order inmate Shi Jun to sit on Ms. Chai's head to prevent her from sleeping. She was beaten and berated by the inmates after she was returned to the group cell, in front of the prison division head Li Hongzhen.
To try to force Ms. Chai to renounce Falun Gong, she was deprived of sleep and was forced to stand from 10:00 p.m. to 1:00 a.m. every day in February and March 2009. She was not allowed to speak to others and was not allowed to wash her face or brush her teeth.
The intense abuse caused Ms. Chai's health to deteriorate, and she began experiencing frequent heart pain.
Practicing Falun Gong: Happy and Healthy
Ms. Chai started to practice Falun Gong at the end of 1997. She was deeply impressed by the profound principles of Dafa.
After practicing Falun Gong, the migraine headaches she had suffered from for eight years disappeared. The allergies she had had since childhood also disappeared. For years, she had severe pain in her eyes when she tried to read at night, but now she was able to.
Before she began practicing Falun Gong, Ms. Chai used to have a hot temper and often argued with others. The most significant change was that she became more tolerant, open-minded, optimistic, and kind. After she began practicing she learned to think from the other person's perspective and became considerate. After the family moved in 2003, she opened a store. Because she was honest and sincere, her business enjoyed a good reputation.
There were 9 people in Ms. Chai Junxia's family: two parents-in-law, the three members of her own family (her husband Chuai Zhigang, herself, and her son), and four members of her brother-in-law's family. Everyone practiced Falun Gong, and all three generations lived together happily for more than 10 years. Because they were so happy and prosperous, their neighbors admired and respected them.
The 16 years of persecution of Falun Gong has brought tremendous pain to Ms. Chai's family. Many family members have been arrested and detained.
Parties involved in the persecution of Ms. Chai:Li Chaoying, head of the Qianxi County Politic and Law Committee, 86-13831527098(c), 86-315-5615885(o)Li Shaofeng, head of the Qianxi County Domestic Security Division, 86-315-5623455(o), 86-13832988248(c)Li Xiaofei, head of the Xinzhuangzhi Township Police Station, 86-13832983653(c)Yu Pengfei, deputy, Xinzhuangzhi Township Police Station, 86-13532986237(c)Sun Yansong, head of the No.1 Tangshan Detention Center, 86-315-2532517(o), 86-13832980206(c)