Teenager Visits His Mother in the Same Prison Twice in Eight Years
June 23, 2017 | By a Minghui correspondent in Hebei Province, China
(Minghui.org) 18-year-old Chuai Fulin took a few days off from school and boarded a train to Shijiazhuang, the capital of China's Hebei Province. He went to meet his father, and the two of them set off for Hebei Women's Prison to visit his mother.
Fulin's mother, Ms. Chai Junxia, is currently serving a four-year sentence for filing a criminal complaint against former head of the Chinese Communist Party Jiang Zemin, who ordered the nationwide persecution of Falun Gong in 1999. This was the second time she has been sentenced to four years for her belief in Falun Gong.
She had been denied family visits since she was incarcerated on January 16, 2017, and her family had been kept in the dark regarding her situation.
Remembering how badly she had been tortured the first time she was imprisoned, Fulin and his father were very worried about her.
Fulin's father, Mr. Chuai Zhigang, had repeatedly asked to visit his wife since January, and the guards finally agreed to allow them to meet on May 11, 2017.
Father Turned Away, Son Sees Mother Alone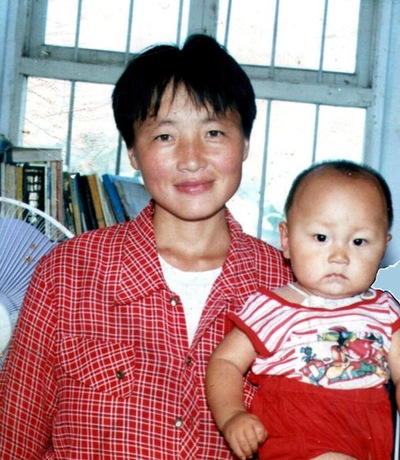 Little Fulin and his mother, Ms. Chai Junxia
Fulin and his father arrived at the prison early on May 11. Although Mr. Chuai had called the guards to confirm his visit before he came, when he got there, the guards changed their minds.
Only 18-year-old Fulin was allowed to see his mother. He only talked to her briefly before the guards ended the meeting and told him to leave.
Mr. Chuai went to protest to the prison warden, who happened to be hosting an open house that day. The warden referred Mr. Chuai to officer Gao and said he would take care of the matter.
Mr. Chuai spoke to Gao, who insisted that there were certain rules that made visiting his wife impossible, but Gao refused to produce proof of any such regulations.
Eight Years Ago: 10-year-old Not Allowed to Visit His Mother
The first time Fulin went to the prison to visit his mother in prison was in the winter eight years ago. It had been more than a year since he had seen her and he really missed her.
It was just before the 2009 Chinese New Year. His mother was in prison and couldn't come home to celebrate the New Year with them, so Fulin wanted to bring her some food.
On the afternoon of January 12, 2009, Fulin and his father got on the bus to Shijiazhuang.
That evening, their bus crashed into a car, and Fulin was thrown under the seats. Both vehicles caught on fire. His father broke the bus window and escaped with Fulin. They waited in the dark, barefoot, for more than two hours before emergency personnel arrived and took them to a hotel.
Despite the accident, father and son arrived at Hebei Women's Prison the next morning, only to be told that Ms. Chai was now being held in solitary confinement for not giving up Falun Gong and was not allowed to receive visitors. The guards refused to tell them how long she would be in solitary.
Mr. Chuai told the guard about the bus accident and that Fulin really missed his mother. In fact, Fulin was so worried that he was crying. Mr. Chuai asked the guard if they would allow the boy to see his mother by himself. No matter what he said, the guard refused to let him see her.
They had no idea that, at the time, Ms. Chai was being brutally tortured for not giving up her belief.
A Sad Childhood
From the time he was a little boy, the police had often harassed Fulin's mother and searched their home. He couldn't remember how many times she had to leave home to avoid being arrested. He lived in constant fear of losing her.
Sometimes while he was playing outside with other kids, he would run home when he heard a police siren and hold his mother as tightly as he could, fearful that the police would take her away.
Previous Reports:
Hebei Woman Serving Second Four-Year Term for Her Faith, Denied Family VisitsMs. Chai Junxia Arrested for Filing a Criminal Complaint Against Jiang ZeminHebei Woman Denied Proper Medical Attention Despite Worrisome Symptoms