Belated News: Blind Woman Harassed by Police
November 14, 2019 | By a Minghui correspondent in Guangdong Province, China
(Minghui.org) Ms. Wu Yangzhen, 75 and retired from the Guangdong Province Institute of Metrology, lost the sight in her right eye after being detained for 19 days in a brainwashing center in 2016.
Since her release, she has been frequently harassed by the local street committee members and police, either over the phone or in person. As a result, her health deteriorated and she has lost vision in both eyes.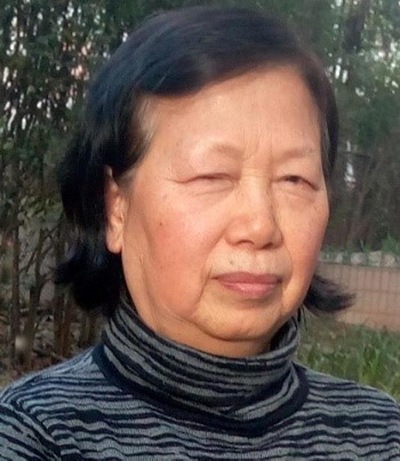 Ms. Wu Yangzhen
Sent to Brainwashing Center for Suing Jiang Zemin
Ms. Wu, a Falun Gong practitioner, was arrested and detained many times after the persecution of her faith began in July 1999. She filed a criminal complaint with the Supreme Court and Supreme Procuratorate on July 3, 2015, against former Chinese dictator Jiang Zemin.
That prompted members of the Linhe Street Committee to harass her. They threatened her, saying that she would be sent to jail for filing the lawsuit. They told her to register her residency elsewhere. They even ordered her to swear at Falun Gong, which she refused to do.
On November 2, 2016, Linhe Street Committee members removed Ms. Wu from her home and took her to a local brainwashing center, an extra-legal facility used to detain Falun Gong practitioners.
In China, community committees are designed to be voluntary, non-governmental organizations, but they are under the control of their local governments. Under the persecution policy, such committees are tasked with monitoring their local Falun Gong practitioners. Although they have no legal authority to arrest people, they often work with the police in detaining Falun Gong practitioners.
Ms. Wu was abused and tortured while in detention. By the time she was released on November 21, 2016, she had gone blind in her right eye, and the vision in her left eye was severely impaired.
Filing Complaints Against the Perpetrators and Judge
Ms. Wu filed a criminal complaint in June 2017 against the Linhe Street Committee, which was responsible for taking her to the brainwashing center. The Guangzhou City Railroad Transportation First Court registered her case but dismissed it on July 17, claiming that she failed to provide sufficient evidence.
There are two ways to file appeals in China. One is to submit appeal documents to a trial court, which is then obligated to forward the files to a corresponding appeals court. The alternative is for the plaintiff to submit the documents directly to an appeals court.
Ms. Wu decided to submit her appeal to the Guangzhou City Railroad Transportation Intermediate Court via the local trial court (Guangzhou City Railroad Transportation First Court). Judge Huang at the trial court accepted her appeal after twice rejecting it, but he never forwarded her appeal to the higher court as required by law.
Ms. Wu sent her appeal directly to the appeals court around August 2017. She also filed a complaint against Judge Huang and his two assistant judges for refusing to forward her appeal.
Harassed at Home
Local police harassed Ms. Wu at home, once on August 4 and again on September 7, 2017. They questioned her family and told them to fill in forms.
Seven people, including three uniformed police officers, harassed Ms. Wu again on November 13, 2018. None of them showed their IDs. Ms. Wu explained to them how she was abused and tortured in the brainwashing center for practicing Falun Gong, but she was interrupted repeatedly.
Below are photos taken by the security camera in Ms. Wu's home when the police came to harass her.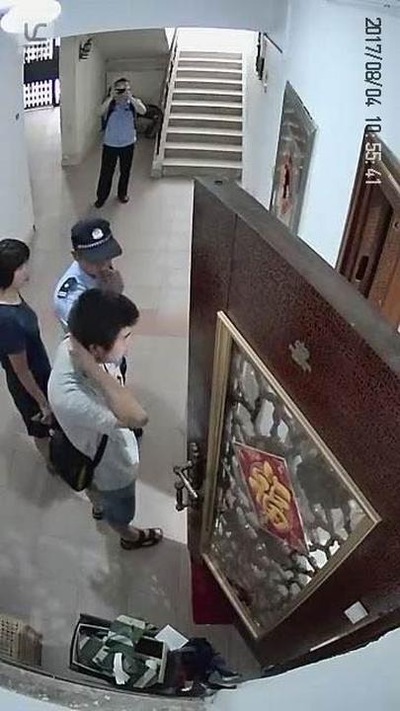 Three men and one woman (two of them in uniform) harassed Ms. Wu on August 4, 2017.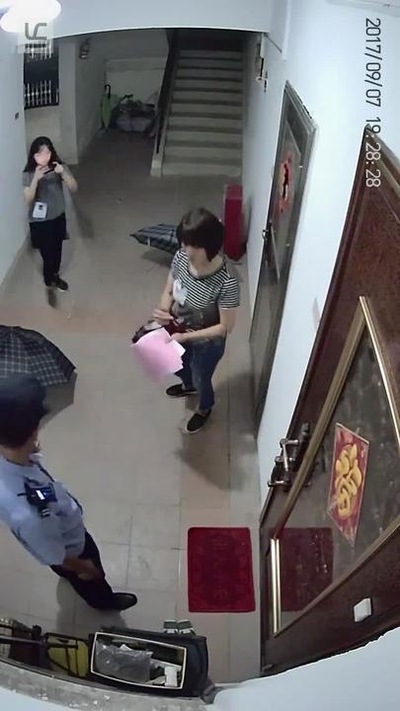 Two women and one man in uniform harassed Ms. Wu on September 7, 2017.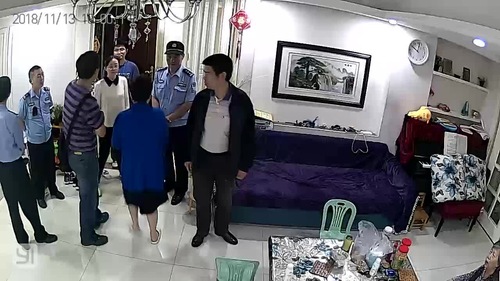 Seven people harassed Ms. Wu on November 13, 2018. (The woman in blue is Ms. Wu's daughter.)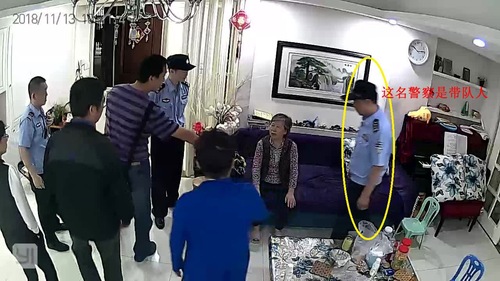 Ms. Wu (sitting on the couch) was harassed on November 13, 2018. (The Chinese caption says that the person circled led the harassment.)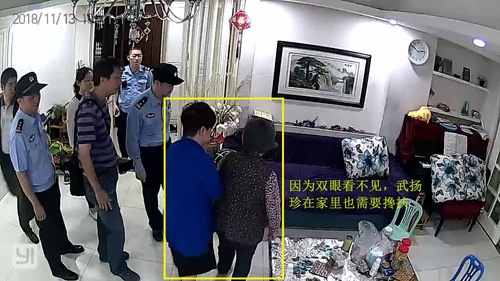 Ms. Wu harassed on November 13, 2018. (The Chinese caption notes that she needed her daughter's assistance even at home due to her blindness.)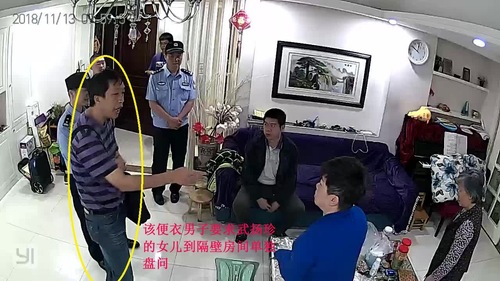 Ms. Wu was harassed on November 13, 2018. (The Chinese caption reads that the man in striped shirt ordered Ms. Wu's daughter to go into another room to be questioned.)
Related articles:
Woman Blinded While in Custody, Files Complaint Against Judges that Dismisses Her Case Against the Perpetrators
72-Year-Old Woman Loses Eyesight After Torture at Brainwashing Center