College Freshman Expelled for Doing Falun Gong Exercises in Dorm
October 06, 2019 | By a Minghui correspondent in Jiangsu Province
(Minghui.org) Ms. Wan Chunxiao had her college dream shattered for refusing to renounce Falun Gong, a peaceful meditation based on the principles of Truthfulness, Compassion, and Forbearance that has been persecuted by the Chinese communist regime since 1999.
The 20-year-old freshman was expelled from school on July 4, 2019.
A native of Harbin City, Heilongjiang Province, Ms. Wan began to practice Falun Gong in 2016. With improved health, she received better grades and was admitted to Nanjing University of Posts and Telecommunications (NUPT) in Jiangsu Province in September 2018, becoming a freshman in the School of Opto-Electronic Engineering.
Ms. Wan's roommate saw her doing the Falun Gong exercises in the dorm on May 1, 2019 and reported her to a counselor, who then urged her to give up her belief. As she refused, the counselor reported Ms. Wan to the school's Security Department.
Four officers from the Security Department, including director Yin Yunlin, met with Ms. Wan on May 12. Officer Chen Peng took notes of the interrogation on his computer.
Ms. Wan refused to renounce her belief as no law criminalizes Falun Gong and her right to freedom of belief should be protected. She, however, caved in under pressure from the officers and wrote a statement against her will on May 13 to promise she'd stop practicing Falun Gong.
The officers confiscated her Falun Gong books and informational materials and passed them to Xu Jing from the Xianlin Police Station. On May 28, NUPT announced that Ms. Wan would be on probation for one year.
Ms. Wan decided in early June to rescind the statement she'd written against her will and began to do the Falun Gong exercises again in her dorm. When officers from the Security Department talked to her again, Ms. Wan explained that practicing Falun Gong is allowed by the Chinese Constitution. She also declared that she voided the previous statement.
Officials from both Student Affairs and the Security Department then met with Ms. Wan on July 1. The Director of Student Affairs asked that she drop out of school or she would be expelled. Ms. Wan refused to quit school on her own initiative as she had done nothing wrong by practicing Falun Gong. Both the former counselor who reported her to campus police and the incoming counselor were in this meeting.
After the new academic year started on August 25, 2019, Ms. Wan found herself unable to register for classes. When she asked about it, officials said she had been expelled. When her parents went to the school for clarification, they were provided with a copy of the expulsion notice. Issued by the President's Office on July 4, this document was copied to the Chinese Communist Party Office, University Office, Academic Affairs Office, Security Department, Youth League Committee, and all schools on campus.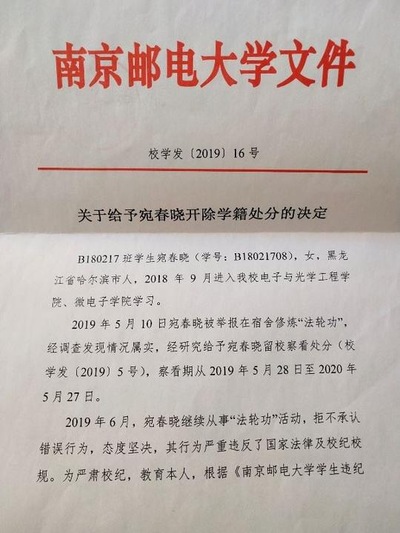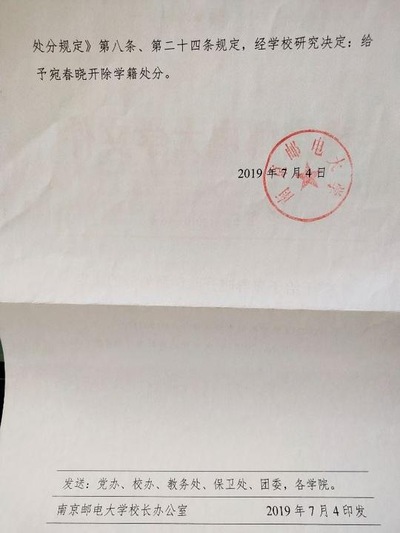 Expulsion notice of Ms. Wan Chunxiao from Nanjing University of Posts and Telecommunications (NUPT). With a document number of 2019-16 and dated on July 4, the notice wrote, "...Wan Chunxiao continued to practice Falun Gong in June 2019...the university has decided to expel Wan Chunxiao."
Key Responsible Personnel:
Nanjing University of Posts and Telecommunications (NUPT): +86-25-85866114Yin Yunlin, Director of Security Department: +86-25-85866109Chen Peng, Security Office: +86-25-85866111Yang Rui, former counselor: +86-15062283172Wang Meng, current counselor: +86-18252025875
President's Office: +86-25-85866888School of Opto-Electronic Engineering: +86-25-85866402
Admission: +86-25-85866668, +86-25-85866669Academic Affairs Office: +86-25-85866576, +86-25-85866287, +86-25-85866258, +86-25-85866259
Xu Jing, Xianlin Police Station: +86-25-85899990