Sweden: Falun Gong Bring Serenity and Color to Norrköping Health Festival
October 06, 2019 | By practitioners in Sweden
(Minghui.org) Falun Gong was among the more than 80 booths showcasing health-related lifestyles and products at the Health Festival in Norrköping Sweden on September 21, 2019. This is the third year that Falun Gong has joined the Norrköping Health Festival since its founding in 2017.
Falun Gong, an ancient traditional Chinese cultivation practice for improving mind and body, participated in the event with an origami lotus flower workshop and demonstrations of the five Falun Gong meditative exercises.
More than a thousand people visiting the event passed by the Falun Gong table, which was centrally located near the venue entrance.
Many stopped to watch the slow movements of the meditative exercises and take a flyer. Others participated in learning how to make their own colorful origami lotus flower.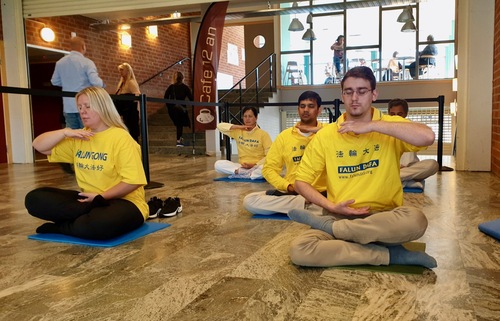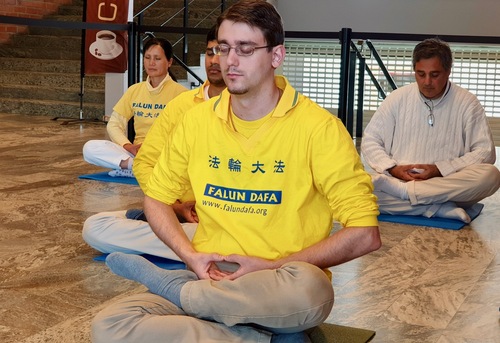 Falun Gong exercises demonstration at the Norrköping Health Festival
People were happy to hear that Falun Gong, also known as Falun Dafa, is a free practice that is spread voluntarily in over 114 countries around the world. Its positive effects on health are widely acknowledged.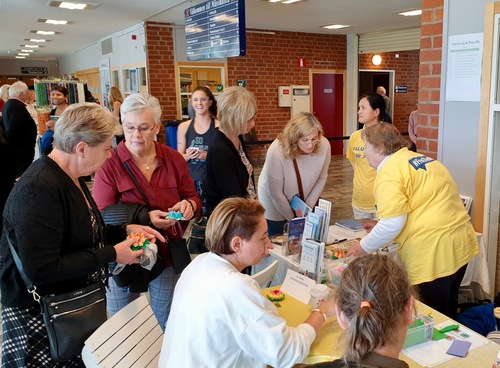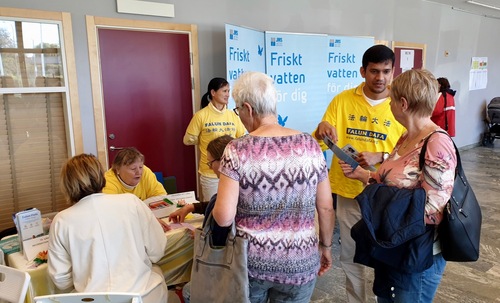 Visitors wanted to learn more about Falun Gong and why it is persecuted in China.
Two women stopped by and stayed to learn more about the philosophy of Falun Gong, which is based on the universal principles and values of Truthfulness, Compassion, and Forbearance.
One man who came to talk to practitioners said he had read a lot about the practice and the ongoing persecution of practitioners in China, and wanted to help stop the Chinese government from killing people for their beliefs. He signed a petition calling on the Swedish government to help end the persecution.
An origami lotus flower in progress
Norrköping is Sweden's eleventh largest city, with an inlet to the Baltic Sea, and was once known as a textile industry center. Nowadays, the city is famous for its large university campus, as well as its symphony orchestra, airport, and high-tech business center.