Auckland, New Zealand: Introducing Falun Gong During a Spring Celebration at the Botanic Gardens
October 15, 2019 | By a Minghui correspondent in New Zealand
(Minghui.org) Falun Gong (also known as Falun Dafa) practitioners held a celebration of spring activities at the Auckland Botanic Gardens on October 5 and October 6, 2019.
The Auckland Botanic Gardens covers an area of 64 hectares (158 acres) and is filled with tens of thousands of plants from all over the world. Falun Gong practitioners carefully placed Chinese elements throughout the entire botanical garden. Paper magpies that symbolize the spring were hung in the botanical garden's hall; Chinese knots that reflect Chinese traditions and good wishes were hung at the two ends of the hall; lanterns with the words "Truthfulness, Compassion, and Forbearance" were hung in the courtyard pavilion; girls in beautiful traditional Chinese clothes carried baskets and distributed handmade lotus flowers with small cards at the base that had the words "Falun Dafa is good."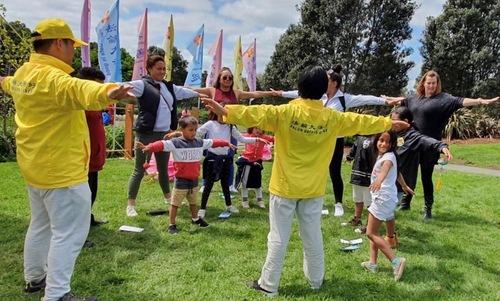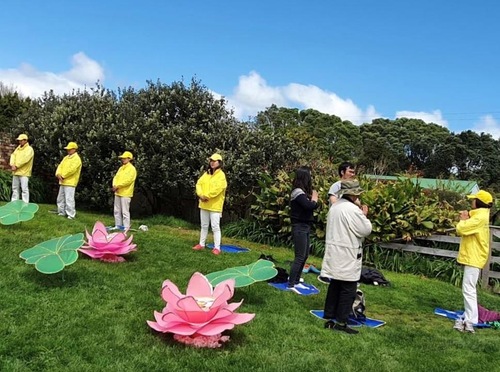 Practitioners demonstrate the exercises and members of the public learn about Falun Gong.
Falun Gong Draws Attention
Falun Gong practitioners demonstrated the five sets of exercises during the activities and many people went over to learn more about Falun Gong. Some people decided to learn the exercises on the spot, and 18 groups of people left their contact information so they could participate in one of the upcoming nine-day Falun Gong workshops.
Diep, a Vietnamese girl who immigrated to Germany with her parents when she was young, was in New Zealand for a vacation She had already learned the exercises from the Falun Dafa website and read the books online. She decided she wanted to practice Falun Gong.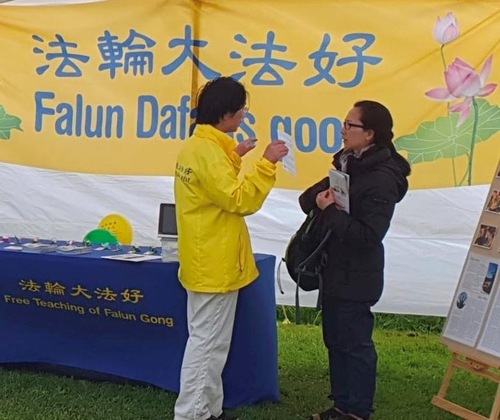 Diep (right) decides to start practicing Falun Gong.
She told a practitioner that she had shed tears while reading Falun Dafa books. The practitioner told her that she also had a similar experience when she started practicing and had enlightened that her true self in another dimension had felt deep gratitude for Master Li (the founder), as he had done so many things for practitioners. Hearing this, Diep was touched to tears. She said she would contact local practitioners when she returns to Germany.
Many people, including local Chinese and tourists, learned the exercises during the two days of activities.
The Art of Zhen Shan Ren Exhibition Touches Viewers
The Art of Zhen Shan Ren Exhibition was also held in the garden. Sharon Henderson said she felt compassion and harmony from the works in the exhibitio like the universe was united as one with the Creator at the center.
"The works make people feel calm and peaceful, and the energy field is very strong. This is a very beautiful and ainspirational art exhibition. The message it expresses is wonderful," she said.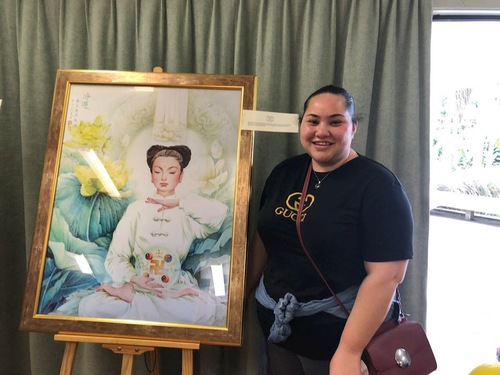 Sheridan commends the art exhibition.
Sheridan, a local resident, said the paintings allowed her to "feel compassion and admiration. I really love it! Very good!"
Paintings that displayed the Chinese Communist Party's (CCP's) persecution of Falun Gong practitioners in China made Sheridan feel very sad, she said, especially the painting about a little girl who was orphaned after her parents were persecuted to death. "It's really sad, but the painting is beautiful," she said.
Sheridan was even more shocked when she learned that the CCP had been conducting live organ harvesting from Falun Gong prisoners of conscience. She said that it was too evil and that more people should know about it and that these crimes must be stopped.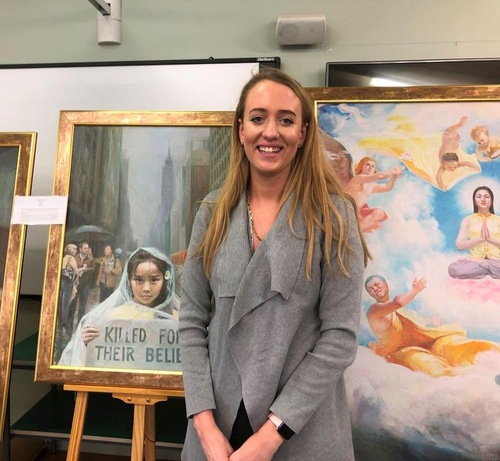 Sharon Henderson hopes more people will view the art exhibition
Sharon Henderson said, "The paintings make people feel calm and peaceful, and the energy field is very strong. This is a beautiful exhibition. The message expressed is very good."
Seeing paintings of practitioners sitting in meditation, she said, "I can see positive energy with good messages, just like kindness and understanding. If you believe in Truthfulness-Compassion-Forbearance, you are a good person."
She said she wished that everyone would follow the principles of Truthfulness-Compassion-Forbearance. She also hoped that more people would see the exhibition and understand the stories behind the paintings. The practitioners did not hurt anyone, but were tortured and killed by the CCP for their belief. She said that practitioners should continue to tirelessly tell people what is happening in China and make more people pay attention to the issue.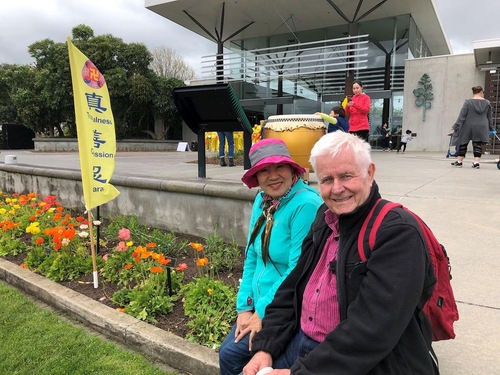 Jim (right) condemns the CCP's violence.
Jim was a teacher before he retired. He was very sympathetic to Falun Gong practitioners who are being persecuted in China. "I watched the movie The Bleeding Edge two years ago. It starred Miss Canada. I know about Falun Gong," he said.
"Falun Gong practitioners are subjected to disappearance in China [abducted and killed in the Chinese Communist Party's (CCP) state-sanctioned forced live organ harvesting]."
"China has a 5,000-year-old traditional culture, and Chinese people should be able to enjoy their freedom of speech and belief," he continued. "The CCP only wants to control the people. I am very disappointed at the CCP's rule. Falun Gong practitioners and Uighur people are persecuted. And there is the current Hong Kong incident."
The performances of the dragon dance team and waist drum team were especially well received. Practitioners were met with warm applause whenever they performed during the activities.
Pinky, a woman from India, especially liked the dragon dance performance. She asked if she could have a photo taken with the team when their performance ended. She said excitedly, "The event is so awesome!"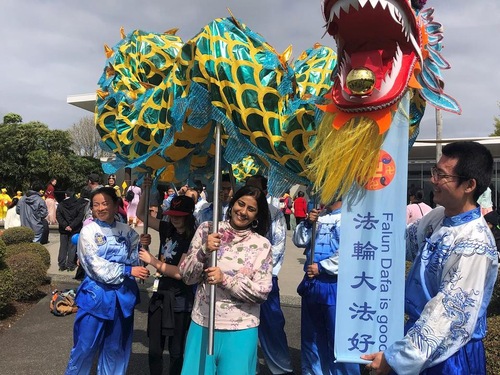 Pinky has a photo with the dragon dancing team.
"I am very grateful that we can have such an opportunity to see these beautiful, special and traditional examples of Chinese culture," Pinky said. "The costumes of the dragon-dancing team members are so beautiful. I like it very much!
"Walking in such a beautiful botanical garden, smelling the fragrance of flowers and plants, and watching these performances is really enjoyable. It also helps me understand Chinese culture more."
In the botanical garden, Falun Gong practitioners had many activities to introduce traditional Chinese culture in different exhibition areas, such as calligraphy, paper-cutting, hand-made lotus flowers, riddle guessing, traditional Chinese medicine, minority costume exhibitions, guzheng (a traditional Chinese musical instrument) performance, and so on.