India: Practitioners Spread Dafa During Dussehra Festival Season
October 14, 2019 | By practitioners in India
(Minghui.org) India is a land of festivals that celebrate the seasons and the elements of nature that light up people's lives. One such festival is Navratri/Dussehra, which is celebrated over a period of ten days, with October 8 being its primary date, and signifies the victory of good over evil. 
Falun Dafa practitioners from various cities in India organized group activities to spread the beauty of Dafa during this time.
Mumbai
Local practitioners booked a booth at a large festival in Vashi, a suburb of Mumbai. On the first day of the fair, they had an opportunity to demonstrate the Falun Dafa exercises on stage. Despite the festive hustle and bustle, thousands of people watched the exercise demonstration and took informational flyers. During the four-day event, a large number of people visited the Falun Dafa booth, and many learned the exercises. They also heard about the persecution of Falun Dafa practitioners in China.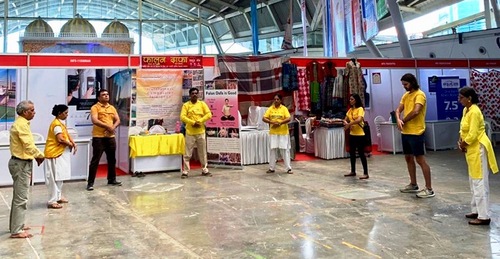 Practitioners from Mumbai demonstrate the exercises at their booth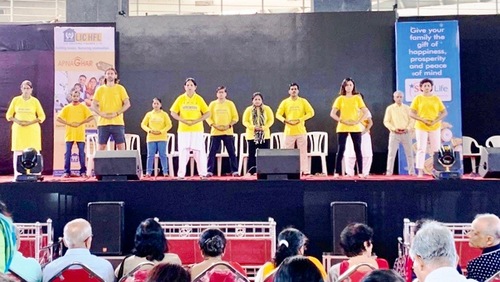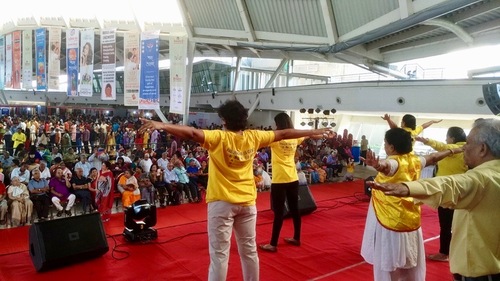 Practitioners from Mumbai demonstrate the exercises on stage
Mysur
Mysur, a city in south India known for its heritage structures and palaces, is famous for the spectacular illumination during Dussehra celebrations. Practitioners got permission to do the Falun Dafa exercises outside Mysur Palace, which is a famous tourist destination. Twenty practitioners from Bangalore participated in the activity. Many passersby took photos of the practitioners and inquired about the practice. Even police officers took flyers and were keen to know more about Falun Dafa. In the evening, practitioners demonstrated the exercises and passed out flyers at the Mysur consumer exhibition, which was visited by thousands of people.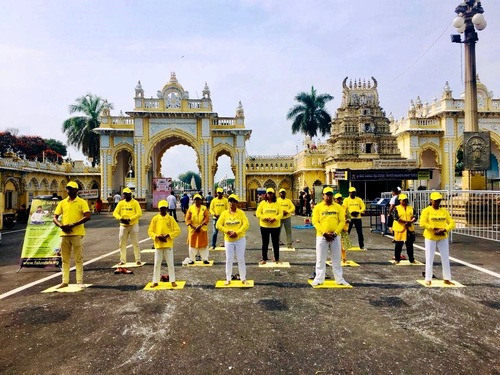 Practitioners demonstrating the exercises at the entrance to Mysur Palace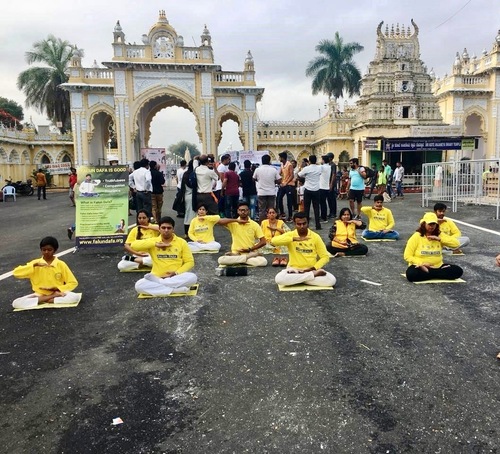 Practitioners meditating at the Mysur Palace gates
Handing out flyers at the Mysur Consumer Exhibition
Nagpur
In Nagpur, a city in the central part of India, practitioners demonstrated the exercises, distributed flyers, and offered books for sale at a large booth at Deeksha Bhoomi, where neo-Buddhism started in the last century as part of social reforms of the underprivileged masses. Thousands of people visited the event and many expressed a desire to learn the practice.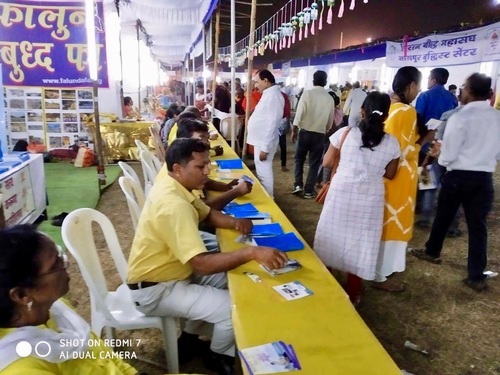 Practitioners from Nagpur at their booth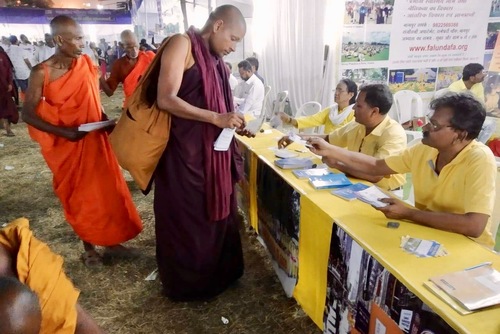 Practitioners from Nagpur giving informational flyers to Buddhist monks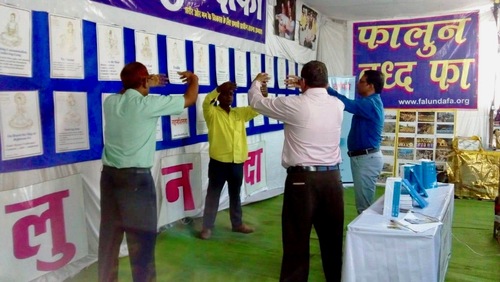 Practitioner from Nagpur teaching the second exercise