US Resident Calls for Release of Sister-in-law Who Has Become Unable to Recognize Family After Two Years of Detention for Her Faith
October 13, 2019 | By a Minghui correspondent
(Minghui.org) When Ms. Wang Haiyan's family was finally allowed to visit her for the first time in two years, they were heartbroken to see the once outgoing and energetic woman had become unresponsive to questions and unable to recognize any of them. Her son cried at the sight of his mother.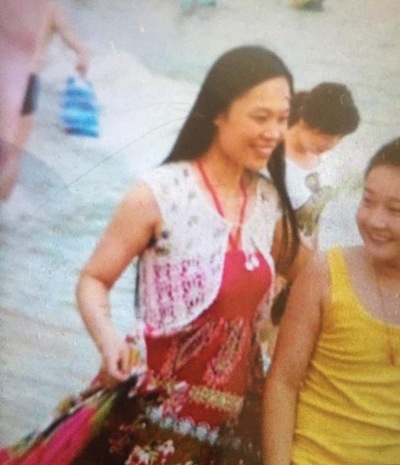 Ms. Wang Haiyan before being arrested
The Qinhuangdao City, Hebei Province resident is serving time at Hebei Province Women's Prison in Shijiazhuang City for her faith in Falun Gong, a spiritual discipline that has been persecuted by the Chinese communist regime since 1999.
According to a prison guard, Ms. Wang doesn't talk at all and neglects self-care, particularly personal hygiene.
Ms. Wang was arrested on May 20, 2017 after being reported for putting up banners about Falun Gong.
She was sentenced to four years and three months and fined 3,000 yuan by Haigang District Court on November 20, 2018. Her appeal was rejected by Qinhuangdao Intermediate Court in March 2019, and she was admitted to prison four months later.
Ms. Wang's family hadn't been allowed to visit her until recently. It's not known what torture she had been subjected to in the past two years that led to her current condition.
Ms. Wang's sister-in-law, Ms. Lu Caiyun, who currently resides in the US, called for her release during the U.N. summits in New York on September 24-28, 2019.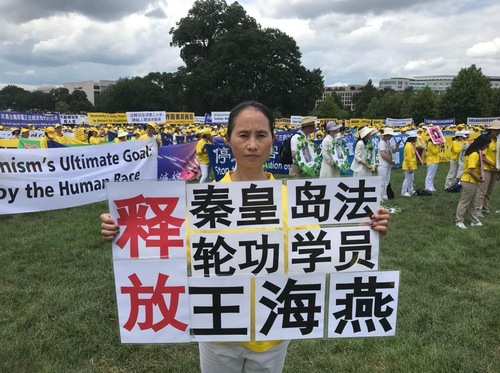 Ms. Lu Caiyun calling for the release of Ms. Wang during the rally in Washington DC on July 18, 2019, marking 20 years of persecution against Falun Gong
Ms. Wang began to practice Falun Gong in December 1996. She credits the practice for bringing her inner peace and getting rid of her hot temper. Her ankle injury and ear infection that caused almost complete hearing loss were also cured from doing the Falun Gong meditation.
For refusing to give up her faith, she has been repeatedly arrested and detained in the past 20 years.
Related reports:
Ms. Wang Haiyan Illegally Sentenced and Fined
Gravely Ill Woman Made to Stand Trial; Another Practitioner's Family Devastated by Persecution
"It Is Our Responsibility to Expose the Persecution" Says Protester at United Nations