85-Year-Old Ailing Mother Calls for Release of Daughter Awaiting Prison Sentence for Her Faith
January 06, 2019 | By a Minghui correspondent in Liaoning Province, China
(Minghui.org) The 85-year-old ailing mother of a Fushun City resident is calling for the acquittal and immediate release of her daughter, who is awaiting the verdict for not giving up her faith in Falun Gong, a spiritual meditation discipline that has been persecuted by the communist regime since 1999.
Ms. Liu Chunlan was arrested on April 24, 2018, for distributing Falun Gong informational materials. The police strip-searched her and several other practitioners that were arrested on the same day and drew two large tubes of blood from each of them.
Ms. Liu appeared in the Wanghua District Court on September 18 and is now awaiting her verdict in a detention center. Details about her hearing weren't available at the time of writing.
Ms. Liu's mother, Ms. Guo Meizhu, suffers from severe asthma and a 90-degree hunch. She has to rest every few steps she takes. Despite her physical limitations, she went to Jianshe Police Station on July 24 to seek Ms. Liu's release but was told that her case had been submitted to the court. Ms. Guo then traveled to the court, only to be stopped at the entrance by security. The judge in charge of Ms. Liu's case also refused to meet with her or talk to her on the phone. Ms. Guo left disappointed.
After several unsuccessful attempts, Ms. Guo wrote the judge a letter on December 31 to seek her daughter's release.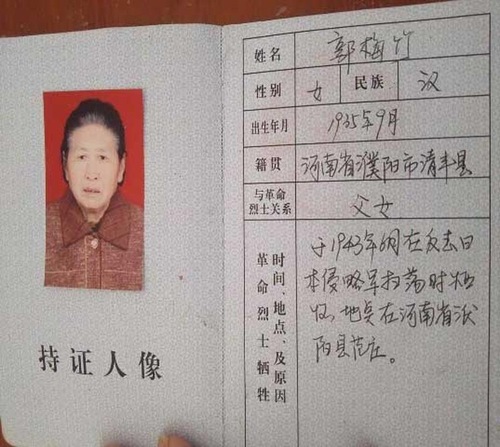 Ms. Guo Meizhu
Mother's Plea
Ms. Guo wrote: "My daughter suffered from severe arthritis and heart problems after her son was born. She spent a fortune seeking treatment but never improved. She began to practice Falun Gong after learning of its miraculous healing power. A miracle indeed happened, and she soon completely recovered.
"With good health and energy, she took good care of me and my husband. She came frequently to help us do grocery shopping and clean the house, especially when both my 86-year-old husband and I were struggling to care for ourselves due to the decline in our health and our advanced age.
"Our happy days didn't last very long before my daughter was arrested for her faith. The police not only confiscated 1,000 yuan in cash from her but also took the 8,000 yuan in cash I had saved for her son to go to college and for his computer.
"I have another daughter, but she is also ill and unable to take care of herself. Liu Chunlan's arrest has left us in dire straits.
"I visited Jianshe Police Station, Wanghua District Police Department, Wanghua Procuratorate, and Wanghua Court several times, but I was only given the runaround, and no one took responsibility for my daughter's case. My heart is broken whenever I think of my daughter.
"I ask the court acquit my daughter and release her as soon as possible."
Related reports:
Fushun City, Liaoning Province: 12 Arrested for Their Faith in 16 Days, 9 Remain Detained
Falun Gong Practitioners Strip-searched and Have Blood Drawn at Jianshe Police Station