A 60-year-old woman lost her life to the persecution of Falun Gong two months before the Chinese New Year. She was arrested six times, and twice imprisoned for refusing to renounce Falun Gong. Her health was in jeopardy when she was last released from prison in September 2018. She died in December despite extensive medical treatment.
A woman learned Falun Dafa and her family relationships were soon restored. She also rejoined the workforce and embraced the many opportunities it provided for her to cultivate her character, as she rooted out attachments of fear, reputation, and comfort.
Last year, 4,848 were arrested and 4,127 were harassed by communist authorities in China for practicing Falun Gong. Police targeted many of them as part of coordinated operations, including the "Knocking on Doors" campaign that began in 2017 and a crackdown on gangs, for which officers were incentivized to arrest Falun Gong practitioners instead to fill their quotas.
A couple was arrested in June 2016 for refusing to renounce Falun Gong. The wife was brutally beaten by police resulting in a torn muscle and ruptured tendon in her left calf. She never recovered after her release and died in October 2018. Her husband, who was given 8.5 years following their arrests, was not informed of her death.
The paintings had a big impact on visitors, many of whom recorded their impressions in the exhibition guestbook. Several media outlets reported on the event.
A Taiwan practitioner shares her experience in helping people at popular tourist destinations quit the CCP and the personal improvements that she made along the way.
~ Experience Sharing Conferences ~
~ Journeys of Cultivation ~
~ Improving Oneself ~
~ People in China Awaken to the Truth ~
~ Accounts of Persecution ~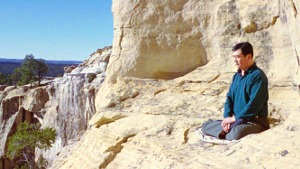 Master Li quietly watching the world from amidst the mountains after leaving New York following July 20th, 1999. (Published January 19, 2000)