Cangzhou, Hebei Province: Six Falun Gong Practitioners Arrested and More Harassed Ahead of Chinese New Year
January 19, 2019 | By a Minghui correspondent in Hebei Province
(Minghui.org) After a resident in Cang County was arrested in Huanghua City for giving away Chinese New Year paintings bearing messages about Falun Gong, authorities arrested five more Falun Gong practitioners, including three Cang County residents and two Huanghua City residents.
Falun Gong, also known as Falun Dafa, is a self-improvement practice based on meditation and the principles of Truthfulness-Compassion-Forbearance. It has been persecuted by the Chinese communist party since July 1999.
Mr. Wang Deyou from Junmazhan Village, Cang County went to a fair in neighboring Huanghua City on January 4 to distribute Falun Gong-themed Chinese New Year paintings (a traditional wall decoration that usually bears auspicious and festive phrases).
Officers from Changguo Town, Huanghua City arrested him and kept him at Huanghua City Detention Center. The police reported the case to Huanghua City Domestic Security Office, which in turn notified authorities in Cangzhou City.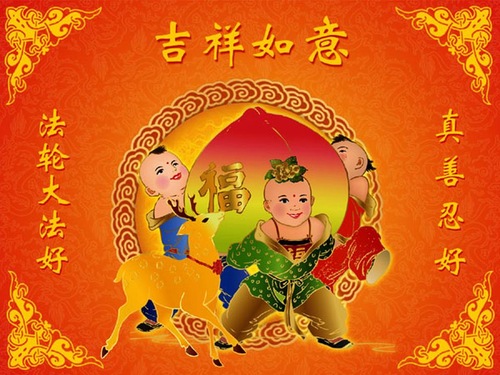 A typical Chinese New Year painting distributed by Falun Gong practitioners. The phrases read "Falun Dafa is good" and "Truthfulness-Compassion-Forbearance are good."
Officials in Cangzhou City ordered Cang County and Huanghua City, both under the administration of Cangzhou City, to intensify the persecution of their local Falun Gong practitioners.
Mr. Wang was interrogated with torture on January 7. The police attempted to force him to reveal the source of his new year paintings. His wife, who is on dialysis and depended on him to take care of her, was distraught to learn about his arrest. She visited the police station numerous times requesting her husband's release, but to no avail.
Through phone tapping and other technologies, Cang County police followed Mr. Teng Yiquan and a female practitioner surnamed Zhuang, both from Huanghua City, and three elderly female practitioners in Junmazhan Village who are in their 70s. The five practitioners were arrested at 4 p.m. on January 10 as soon as they arrived at the home of another practitioner in Junmazhan Village. They are currently held at Cangzhou City Detention Center.
At 7 p.m., police officers harassed numerous practitioners in Junmazhan and nearby villages. They confiscated Falun Gong-related books and New Year paintings. Mr. Teng's minivan was also taken away by police.
On the day when these five practitioners were arrested, the police set up a highway barricade near Junmazhan and to search for Falun Gong practitioners.
Related Article in Chinese:二零一九年一月十四日大陆综合消息