Harbin Woman Arrested Because of Flagged-ID, Tried with False Evidence
September 19, 2018 | By a Minghui correspondent in Heilongjiang Province, China
(Minghui.org) Ms. Cai Weihua and her husband were stopped by police on February 6, 2018, as the couple were about to board a train to visit her parents for the Chinese New Year holiday. The police had discovered that Ms. Cai was a Falun Gong practitioner after scanning her flagged-ID as she went through the security check.
The police took the couple to the security office and demanded to search their suitcase. Then they took them to their home and ransacked their residence.
Ms. Cai was tried in the Daowai District Court on September 12, 2018, following seven months of detention in Harbin No.2 Detention Center. Her lawyer pleaded non-guilty on her behalf and argued that most of the prosecution evidence was invalid, as it was either obtained through coercion or fabricated.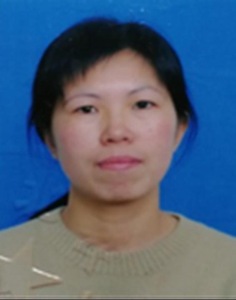 Ms. Cai Weihua
Forced to Sign False Interrogation Record after Police Threaten Safety of Son
In defending Ms. Cai's innocence, her lawyer argued that the police had abused their power in arresting his client and searching her baggage and residence. He said it was also an invasion of personal privacy for them to flag her ID and target her specifically for her spiritual belief in Falun Gong, since freedom of belief is protected by the law.
In addition to the unlawful arrest and home ransacking, the lawyer pointed out that the police also threatened her with the safety of her son and coerced her to plead guilty for having Falun Gong-related materials and to sign the interrogation record they had fabricated.
Ms. Cai testified in court that she didn't sign the interrogation record voluntarily. It was only after the police threatened to arrest her son and she grew worried about him that, against her will, she agreed to sign the list of false evidence fabricated by the police.
She now denied the police's accusation and confirmed that only her testimony during the trial was true and valid.
She also told the judge and prosecutor how she benefited both physically and spiritually from practicing Falun Gong.
No Physical Evidence Presented
The prosecutor presented several photos of items allegedly confiscated from Ms. Cai's home. Her lawyer argued that such unverified photos could not be used as evidence for the prosecution and that only physical evidence was valid.
In fact, this wasn't the first time the prosecutor had listed photographic evidence against Falun Gong practitioners. In mid-August, Ms. Qin Aimin was sentenced to four years by the same Daoli District Court over unauthenticated photo evidence.
Husband Unwittingly a Witness
After the police ransacked Ms. Cai's home, they forced her husband to sign the list of items confiscated from their home. Without realizing it, that made him a police witness, and he was later prohibited from attending Ms. Cai's trial.
After the lawyer rebutted the false evidence of interrogation record and photos, the prosecutor presented Ms. Cai's husband interview.
But when the lawyer asked to have him appear in court, the judge said that he would consider his request at a later time.
In fact, since Ms. Cai's arrest, her husband has filed several complaints with different government agencies to seek justice on her behalf. He also wrote her a touching letter and encouraged her to persevere in her faith despite the persecution. So it was highly unlikely that he would testify against Ms. Cai, according to her lawyer.
The judge finally adjourned the trial when the lawyer asked him to initiate the procedure to exclude illegal evidence.
Previous reports:Heilongjiang Woman Arrested, Home RansackedLetter from a Loving Husband to His Detained Wife